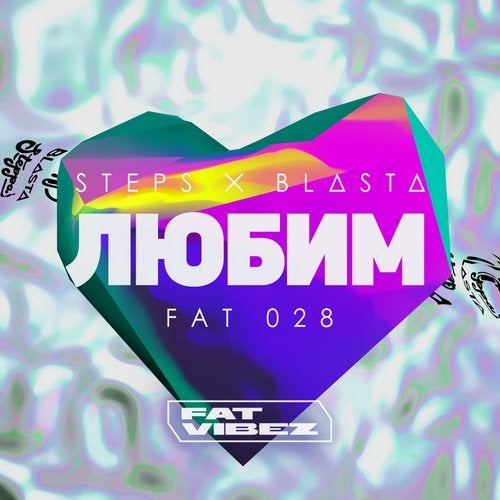 Style
2Step, Uk Garage, Bassline, Bass-House
Quality
MP3 320 kbps
Date
24/08/2020
Label
FAT Vibez
Cat
FAT028
Steps & BL∆ST∆ присоединились к FAT VIBEZ Records с новым релизом 'Любим'. Ориджинал гэридж саунд с наикрутейшим вокалом. EP включает в себя оригинал и VIP версию от BL∆ST∆, а также ремиксы от NCGNT, Hi Top, Baadwrk.• Steps, Blasta - Любим 2:59
• Steps, Blasta - Любим (VIP Mix) 3:27
• Steps, Blasta - Любим (Hi Top Remix) 4:22
• Steps, Blasta - Любим (NCGNT Easy-303 Mix) 3:43
• Steps, Blasta - Любим (NCGNT Easy-Peasy Mix) 3:50
• Steps, Blasta - Любим (Baadwrk Remix) 6:12
online
Британский лейбл 3000 Digital опубликовал статью о предстоящем релизе на FAT VIBEZ Records, Steps x BL∆ST∆ - Любим.
"Здесь, в Великобритании, гэридж действительно воспринимается как одно из наших самых драгоценных детищ. Несмотря на такое большое количество локальных жанров и музыкальных движений, нам посчастливилось получать влияние со всего мира. Именно поэтому нас так радует, когда звуки и идеи, появившиеся здесь, становятся глобальными. Мы видели это с дабстэпом, с граймом, и такое ощущение, что то же самое происходит с гэриджем, когда сегодня через моря Fat Vibez поставляет нам вкуснейший кусочек интернационального гэриджа для наших ушей."
ENG
In the UK, we do truly hold garage as one of our most treasured possessions. Despite so many different genres and musical movements forming here, we are a country blessed with worldwide influence wherever we look, which is why it is super exciting when the sounds and ideas formed here go on to become globalized. We've seen it with dubstep, with grime and now it seems that garage music is on a similar track as we today head across the water as Fat Vibez deliver a tasty piece of international garage for our ear drums.
What an exciting thing it is to see the vibrant 2-steppy ideas and themes within a garage original travelling so far, with the sound becoming enriched with the worlds additional input and engagement. The release in question takes the name 'Любим', or translated into English 'Love', a topic that seems so synonymous with the nostalgic garage hits we all seemed to grow up listening to.
The release itself is laid out expertly, with the bouncy, dance-inducing arrangements of the original version from Steps and Blasta taking centre stage amidst a flurry of expansive remixes.
There are five remixes all-told, which is what brings that extra level of energy and vim to the tracklisting, kicking off with Steps & Blasta's own charged up VIP mix, giving the track a slightly more melodic feel with bold chords and choppy rhythmic arrangements.
The Hi Top remix follows, working the track into a pulsating 4×4 roller, followed by the future-house like synthesizer warbles of NCGNT Easy's '303 Mix'. NCGNT isn't finished there though as the heavily filtrated 'Peasy' remix then follows, before Baadwrk delivers a dash of bassline spice to see the remainder of the EP out with an absolute bang.
It's geniunely so pleasing to see the UKG sound spreading further and further each week, which is why couldn't resist getting involved with this one.
Dead Link? (REPORT 1-5 Days) сообщить о ссылке на перезалив
Скачать альбом.
Категории
Новинки Басс Музыки
Теги
3D Stas
,
Agressor Bunx
,
Album
,
Alex Wicked
,
APHRODITE
,
Audio
,
Bad Syntax
,
BCee
,
Bes
,
Black Sun Empire
,
Break
,
Bryan Gee
,
Calibre
,
Cam Lasky
,
Camo and Krooked
,
Code Pandorum
,
Command Strange
,
Conrad Subs
,
Counterstrike
,
Current Value
,
Cutworx
,
DAVIP
,
DC Breaks
,
Deekline
,
Derrick
,
Detach
,
Diplo
,
DJ C-LeeN
,
Dj Hornet
,
DJ Hype
,
DJ Profit
,
DRS
,
Drumsound and Bassline Smith
,
Duoscience
,
Ed Solo
,
Electrosoul System
,
ENEI
,
Excision
,
Fabio
,
Floyd The Barber
,
Forbidden Society
,
Fred V
,
Friction
,
Furney
,
Grafix
,
Greekboy
,
Grooverider
,
Gydra
,
Holly
,
HYBRID MINDS
,
Intelligent Manners
,
John B
,
Kasper
,
Keeno
,
Krewella
,
L 33
,
Lady Waks
,
Let It Roll
,
London Elektricity
,
LOWRIDERZ
,
Mage
,
Mechanical Pressure
,
Mefjus
,
Metrik
,
Miss Mants
,
mSdoS
,
Mutantbreakz
,
nCamargo
,
Need For Mirrors
,
NELVER
,
Neonlight
,
Neuropunk
,
Noisia
,
Ozma
,
Pirate Station
,
Prodigy
,
Random Movement
,
Rene LaVice
,
Rossum
,
Shade k
,
Shiny Radio
,
Signal
,
Skrillex
,
SkyLabCru
,
SPY
,
Stanton Warriors
,
STATE OF MIND
,
STUNNA
,
Surreal
,
Technimatic
,
Teddy Killerz
,
TeeBee
,
The Upbeats
,
Tonika
,
TOP 100
,
Truth
,
Under Break
,
Windom R
,
Yellow Claw
,
ZARDONIC
Показать все теги