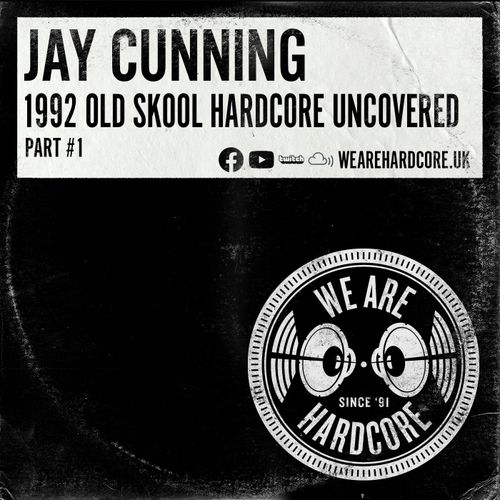 Styles
BreakBeat, UK Hardcore
Release
28/4/2021
Quality
MP3/128 kbps
Rar
108 MbPart 1 of digging deep in the 1992 Old Skool hardcore vault to find some hidden gems and lost b-sides.
Tracklist
1 Ц D.S.K.F. (Doctor, Skeme, Kick & Froggy) Ц New Science EP A1 Ц Not On Label [WG001]
2 Ц DJ Phantasy & DJ Gemini Ц Never Try The Hippodrome (Remix) Ц Spooky Toons [SPKY 999]
3 Ц Kenetic Ц Call Of The Wild Ц Boogie Beat Records [BOG B16T] Kenetic E.P
4 Ц Noise Factory Ц Set Me Free (Remix) Ц 3rd Party [3RD#2]
5 Ц Progression Ц A Day In The Jungle Ц Nuff Said! [PROG 01] The Bungalistic E.P.
6 Ц Zookeepers Revenge Ц AinТt Nobody Who Knows Ц Dance Bass [DANCEBASS 04]
7 Ц Harmony & Xtreme Ц Treats Ц Lucky Spin [LSR 007]
8 Ц The Good, 2 Bad & Hugly Ц Hardcore Raggamuffin Ц Ruff Kut [RUFF T4]
9 Ц Bay B Kane Ц Theme Spirit Ц Ruff Guidance [RGR 001]
10 Ц Cool Hand Flex Ц Out Of Control Ц De Underground Records [HN10A]
11 Ц Hackney Hardcore Ц Dancehall Dangerous! (Steve Johnson Remix) Ц Strictly Underground [STUR 16R]
12 Ц J.Higgs, J. Emery & I. Clifton Ц Sellout Ц Critical Rhythm [CRR 001]
13 Ц Lonosphere Ц Out Of Ear Ц Ionosphere Recordings [ION 01]
14 Ц Noise Factory Ц Behold The Jungle (Re-Issue) Ц 3rd Party [3RD#3] Alienation EP
15 Ц Rufige Kru Ц Menace Ц Reinforced [RIVET 1224]
16 Ц Slipmaster J Ц Symphonic Ц Lucky Spin [LSR 005]
17 Ц SMF Ц Guillotine Ц Rugged Vinyl [SMF0001]
18 Ц The Impact Crew Ц Feels Good Ц U No Dat [HN 04]
19 Ц The Nightbreed Ц Necropolis Ц Little Giant Music [bg26] The Nightbreed EP
20 Ц Hypno-Genesis Ц Take Control (Jungled Up To Fuck Mix) Ц Underground Frequency [UFR001]
21 Ц New Decade Ц ABC (Remix) Ц Out Of Romford [ROCC 002]
22 Ц S.L.M. Ц Nice СnТ Slow Ц Tone Def Records [007DJ]
23 Ц Nookie Ц Pedro Pulls An Essex Sort Ц Absolute [ABS 005 DJR]
24 Ц Sacred Ц Bass Keeps Going (Ju Ju Jump Up Mix) Ц Not On Label [SACD001]
25 Ц Noise Factory Ц Breakage #2 Ц 3rd Party [3RD#2]
26 Ц DТCruze Ц World Within A World (The Criminal Minds Mix) Ц Suburban Base [SUBBASE 17R]
27 Ц Cool Hand Flex Ц Lock Me Up Ц Ruff Groove [HN 05]
28 Ц DJ Massive Ц Ruff In The Comfort Zone Ц Hardcore Vinyl [HCV 005]
29 Ц DJ Phantasy & DJ Gemini Ц Ruff Beats Producing The Bass Ц Liquid Wax Recordings [HAN 007]
30 Ц Ellis Dee & DJ Swanne Ц Ruff Neck Bizznizz Ц Rough Tone [RT004]
31 Ц Foul Play Ц Ricochet Ц Oblivion Records [OR 001] Vol 1
32 Ц M-Beat Ц Lets Pop An E (Mix 1?) Ц Renk [12 RENKT 13]
33 Ц Project One Ц SmokinТ Chalice Ц Rising High [RSN 22]
34 Ц Rufige Kru Ц Jim Skreech Ц Reinforced [RIVET 1224]
35 Ц S.L.M. Ц Now IТm Finished (The Bells) Ц Tone Def Records [007DJ]
36 Ц Sub Love Ц Skank Mission Ц Earth Recordings [EARTHX5T] Twisted Techno EP
37 Ц Syko & Mak Ц Rough & Dangerous (Out Yer Bass Mix) Ц PM Recordings [PMT010] 3rd Degree EP
38 Ц The Skeleton Krew Ц Luv To Luv Ya Ц Skeleton Recordings [SKEL 002]
39 Ц Tic Tac Toe Ц Tripping On Sunshine Two Ц Tic Tac Toe [T.I.G. 459]
40 Ц Two Undercover Ц Unite Ц Deja Vu Recordings [DJV010]
41 Ц 4 Hero Ц We Bring The Trophy Ц Reinforced [RIVET 1223] Enforcers Vol.1
42 Ц Audio Maze & Dr S Gachet Ц The Way Of Life Ц Labello Blanco [LB 22]
Listen Online
.
Dead Link? (REPORT 1-5 Days) сообщить о ссылке на перезалив
Download for free music.