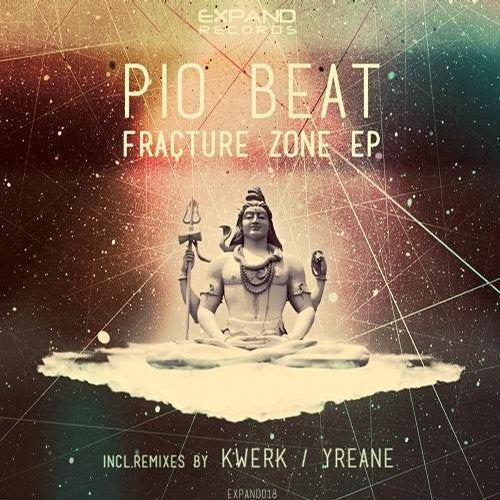 Style:
Breaks
Date:
7/04/2014
Quality:
MP3 320 kbps
Label:
Expand Records
Cat#
EXPAND018Expand Records comes back with brand new massive Tech-Funk EP by another emerging Russian artist Pio Beat! 2 brilliant originals are backed with superb remixes by one of the most promising UK Breaks artist Kwerk and Russian Breaks veteran Yreane. As a title track we have 'Fracture Zone' which is straight dance-floor killer. Tight beats perfectly cuts through deep live-sounding bassline, while ragged vocal brings some joy and uplifting vibes to the whole track. On the flip side here is 'Electro Shiva' which is more about darker side of Tech-Funk music. Powerful beats and bass are spiced up with some ethnic Indian motives and that works really well! If you want to add some hot spice into your DJ mix, this tune will help you for sure. Taking the remix duties on 'Fracture Zone' Kwerk adds some shuffle to the rhythm section and brings the whole groove to the next level. This remix has so much Funk, that probably even James Brown would love dance to this. Yreane's remix of 'Electro Shiva' is pure classic Tech-Funk monster. It's deep, cold, sinister and atmospheric. After gradually developing opening part, track drops to the magnificent breakdown and then comes with another surge of euphoric sound flow.
• Pio Beat - Fracture Zone (Original Mix) 6:47
• Pio Beat - Electro Shiva (Original Mix) 5:50
• Pio Beat - Fracture Zone (Kwerk Remix) 5:51
• Pio Beat - Electro Shiva (Yreane Remix) 7:08
Listen Online
.
Download for free music.
Категории
New Bass Releases.
Теги
3D Stas
,
Agressor Bunx
,
Album
,
Alex Wicked
,
APHRODITE
,
Audio
,
Bad Syntax
,
BCee
,
Bes
,
Black Sun Empire
,
Break
,
Bryan Gee
,
Calibre
,
Cam Lasky
,
Camo and Krooked
,
Code Pandorum
,
Command Strange
,
Conrad Subs
,
Counterstrike
,
Current Value
,
Cutworx
,
DC Breaks
,
Deekline
,
Derrick
,
Detach
,
Diplo
,
DJ C-LeeN
,
Dj Hornet
,
DJ Hype
,
DJ Profit
,
DLR
,
DRS
,
Drumsound and Bassline Smith
,
Duoscience
,
Ed Solo
,
Electrosoul System
,
ENEI
,
Excision
,
Fabio
,
Floyd The Barber
,
Forbidden Society
,
Fred V
,
Friction
,
Furney
,
Goldie
,
Grafix
,
Greekboy
,
Grooverider
,
Gydra
,
Holly
,
HYBRID MINDS
,
Intelligent Manners
,
John B
,
Kasper
,
Keeno
,
L 33
,
Lady Waks
,
Let It Roll
,
London Elektricity
,
LOWRIDERZ
,
Mage
,
Mechanical Pressure
,
Mefjus
,
Metrik
,
Miss Mants
,
mSdoS
,
nCamargo
,
Need For Mirrors
,
NELVER
,
Neuropunk
,
Noisia
,
Ozma
,
Pirate Station
,
Pola and Bryson
,
Prodigy
,
Random Movement
,
Rene LaVice
,
Rossum
,
Shade k
,
Shiny Radio
,
Signal
,
Skrillex
,
SkyLabCru
,
SPY
,
Stanton Warriors
,
STATE OF MIND
,
STUNNA
,
Surreal
,
Technimatic
,
Teddy Killerz
,
TeeBee
,
Tonika
,
TOP 100
,
Total Science
,
Truth
,
Under Break
,
Windom R
,
Yellow Claw
,
ZARDONIC
,
Zero T
Показать все теги