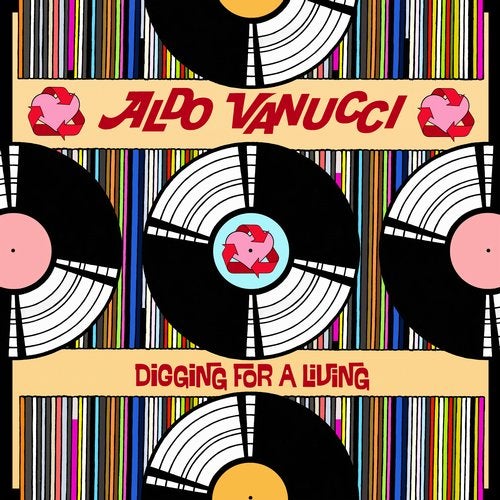 Style:
Breaks / Funk / Hip-hop
Format:
MP3/320 kbps
Release date:
12/04/2019
Label:
Jalapeno Records
Cat:
JAL299
Type:
AlbumAldo Vanucci/Dena Deadly — Ponderosa 4:34
Aldo Vanucci/Boo La La — All My Life 3:36
Aldo Vanucci/Kylie Auldist — You're All Show 4:13
Aldo Vanucci/Amie J — Naïve 5:03
Aldo Vanucci/Amie J — Breaking the Rules 4:05
Aldo Vanucci/ASM — Take Me to a Party 3:52
Aldo Vanucci/Kylie Auldist — Get a Hold on This 3:43
Aldo Vanucci/Kelly Hayden — Accumulation 3:49
Aldo Vanucci — What Happened? 4:09
Aldo Vanucci/Amie J — I Think I'm Gonna Make It 4:24
Aldo Vanucci — Knew You Were Coming 4:38
Aldo Vanucci/QNC — Spell It Out 4:12
Amazon
lbum titles can be a tricky thing to get right. That's why sometimes it's easy to keep it simple - you know, just stay factual and accurate. That's exactly what Aldo Vanucci has done with his second album here. 'Digging for a Living' is exactly what he does, so what better title could there possibly be! He's very good at it in fact. In addition to crate digging for his own tracks, he has supplied samples to the likes of Fatboy Slim and as a DJ is putting in the appearances worldwide. Coincidence? We think not…
Yes, his sophomore album is a widespan collection of soulful and funky cuts from a master in producing good-time beats that are ripe for the dancefloor. And it's destined to be a crowd pleaser – 12 storming tracks, fusing disco, hip hop, funk, soul, and breaks that showcase all his considerable talents. The record is not short of a curveball or two either. Funk laden cover versions of Foo Fighters and The Kooks sit comfortably beside his originals which see Aldo teamed up with some of the finest names in the business today.
Vocal contributions come thick and fast - Kylie Auldist (Cookin' On 3 Burners, The Bamboos, Kungs), international rap dons – ASM and underground hip hop crew QNC all get in on the act with our man Vanucci… Eclectic yet accessible, that is what this album, and indeed Aldo Vanucci is all about...
Dead Link? (REPORT 1-5 Days) сообщить о ссылке на перезалив
Скачать альбом.
Категории
Новинки Басс Музыки
Теги
3D Stas
,
Agressor Bunx
,
Album
,
Alex Wicked
,
APHRODITE
,
Audio
,
Bad Syntax
,
BCee
,
Bes
,
Black Sun Empire
,
Break
,
Bryan Gee
,
Calibre
,
Cam Lasky
,
Camo and Krooked
,
Code Pandorum
,
Command Strange
,
Conrad Subs
,
Counterstrike
,
Current Value
,
Cutworx
,
D-Sabber
,
DC Breaks
,
Deekline
,
Derrick
,
Detach
,
Diplo
,
DJ C-LeeN
,
Dj Hornet
,
DJ Hype
,
DJ Profit
,
DRS
,
Drumsound and Bassline Smith
,
Duoscience
,
Ed Solo
,
Electrosoul System
,
ENEI
,
Excision
,
Fabio
,
Floyd The Barber
,
Forbidden Society
,
Fred V
,
Friction
,
Furney
,
Grafix
,
Greekboy
,
Grooverider
,
Gydra
,
Holly
,
HYBRID MINDS
,
Intelligent Manners
,
John B
,
Kasper
,
Keeno
,
Krewella
,
L 33
,
Lady Waks
,
Let It Roll
,
London Elektricity
,
LOWRIDERZ
,
Mage
,
Mechanical Pressure
,
Mefjus
,
Metrik
,
Miss Mants
,
mSdoS
,
Mutantbreakz
,
nCamargo
,
Need For Mirrors
,
NELVER
,
Neonlight
,
Neuropunk
,
Noisia
,
Ozma
,
Pirate Station
,
Prodigy
,
Random Movement
,
Rene LaVice
,
Rossum
,
Shade k
,
Shiny Radio
,
Signal
,
Skrillex
,
SkyLabCru
,
SPY
,
Stanton Warriors
,
STATE OF MIND
,
STUNNA
,
Surreal
,
Technimatic
,
Teddy Killerz
,
TeeBee
,
The Upbeats
,
Tonika
,
TOP 100
,
Truth
,
Under Break
,
Windom R
,
Yellow Claw
,
ZARDONIC
Показать все теги