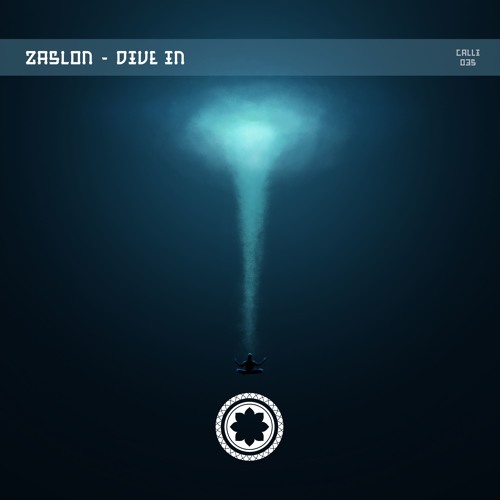 Style:
Breaks
Format:
MP3
Quality:
320 kbps
Release date:
13/06/2019
Label:
Calligraphy
Cat:
CALLI035
The world is imperfect. The human is unstable. Harmony is in permanent motion. Stand still for a moment, a minute, an hour. Go down and look into the depths of your consciousness. When you see a ray of light, float towards it, destroying the darkness of the abyss. There, on the surface, you can get a saving breath of air. Having tasted the darkness once, you know the price of light. Fill your lungs with it and sink again to overcome the fear.
Guys, Calligraphy label is happy to present you Zaslon - a new artist in our ranks! After the single we'll release the album. The intellectual and eclectic original was supported by cool remixes by famous breaks artists. Each author introduced a unique vision to the original idea, and as a result we have a many-sided and deep breakbeat of high quality. Have a nice dive and rhythmic meditation! • Zaslon — Dive In (Amritone Remix) 6:00
• Zaslon — Dive In (BORKA FM Remix) 6:44
• Zaslon — Dive In (Crakman Remix) 7:16
• Zaslon — Dive In (IMNAH Remix) 7:31
• Zaslon — Dive In (Original Mix) 6:04
• Zaslon — Dive In (Tandavibe Remix) 7:47
Amazon
Привет, друзья! Всех с наступившим летом! Ловите новый сингл от нового резидента с ремиксами от Borka Fm, Amritone, Crakman, Tandavibe и IMNAH. Делитесь хорошей музыкой с друзьями и миром!
Мир несовершенен. Человек нестабилен. Гармония - в постоянном движении. Замри на миг, минуту, час. Опустись на дно и загляни в глубины своего сознания. А когда увидишь спасительный луч света, плыви к нему навстречу, разрушая мрак бездны. Там, на поверхности, тебя ждёт спасительный глоток воздуха. Вкусив тьму однажды, ты узнал цену свету. Наполни им лёгкие и вновь погружайся, чтобы победить страх.
Друзья, лейбл Calligraphy рад представить вам Zaslon - нового артиста в наших рядах! Вслед за синглом ждите альбом. Интеллектуальный и эклектичный оригинал поддержали крутыми ремиксами известные артисты брейкс сцены. Каждый автор привнёс уникальное видение в первоначальную задумку, и на выходе мы имеем многогранный и глубокий брейкбит высокого качества. Всем приятного погружения и ритмичной медитации!
Dead Link? (REPORT 1-5 Days) сообщить о ссылке на перезалив
Скачать альбом.
Категории
Новинки Басс Музыки
Теги
Album
,
Ambient Dubstep
,
Bass
,
Bes
,
Big Beat
,
Breakbeat
,
Breakcore
,
Breaks
,
Brostep
,
Carnival
,
Chillstep
,
ChillTrap
,
Crossbreed
,
Cutworx
,
Darkside
,
Darkstep
,
Deathstep
,
Deep Drum and Bass
,
Deep Dubstep
,
DJ 007
,
DJ C-LeeN
,
Dj Gvozd
,
dj hornet
,
DJ Hype
,
DJ Profit
,
Drum and Bass
,
Drumfunk
,
Drumstep
,
Dub
,
Dubstep
,
Floyd The Barber
,
Frenchcore
,
Friction
,
Funky Breakbeat
,
Funky Breaks
,
Future Bass
,
Future Beats
,
Future Garage
,
Garage
,
Glitch Hop
,
Grime
,
Halfstep
,
Hard Dubstep
,
Hardcore
,
Hardstyle
,
In Beat We Trust
,
Industrial
,
Intelligent DNB
,
Intelligent Manners
,
Jump Up
,
Jungle
,
Lady Waks
,
Let It Roll
,
Liquid funk
,
London Elektricity
,
Master Stensor
,
Mechanical Pressure
,
Melodic Dubstep
,
Midtempo
,
Miss Mants
,
Moombahton
,
NELVER
,
Neurofunk
,
Neurohop
,
Noisia
,
Oldschool Drum and Bass
,
Oldschool Dubstep
,
Pirate Station
,
Progressive Breaks
,
Ragga Jungle
,
Record breaks
,
Reggae
,
Rene LaVice
,
Riddim
,
Rossum
,
Russian Drum and Bass
,
Sayruss
,
Skrillex
,
Soulful Drum and Bass
,
Speedcore
,
Take
,
Tearout
,
Techstep
,
TOP 100
,
Trap
,
Uk Garage
,
Uptempo
,
vocal drum and Bass
,
Vocal Dubstep
,
World Of Drum and Bass
,
брейкбит
,
брейкс
,
Глитч Хоп
,
Грайм
,
дабстеп
,
драм энд бейс
,
Пиратская Станция
,
Трэп
,
Хардкор
,
Хардстайл
Показать все теги