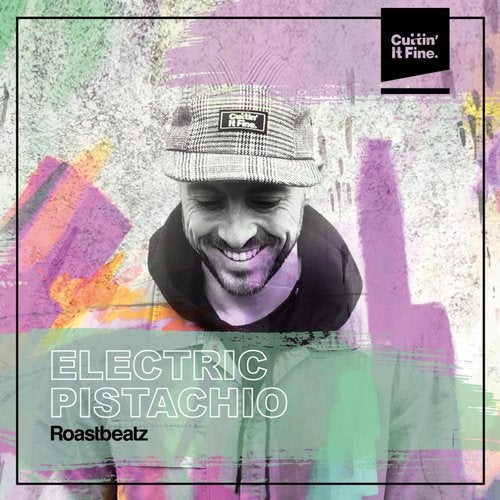 Music
Hip-hop, Breaks, Funky Breaks, Midtempo, Funk, Ghetto-funk, Glitch-funk, Breakbeat
Released
6/03/2020
Format
MP3,320kbps
Label
Cuttin' It Fine
Nr
CIF16
Type
Album1.Roast Beatz Feat. Kurnel MC, Natty & PRofit - Soul Food 04:11
2.Roast Beatz Feat Kylie Earl - Lose Yourself 04:48
3.Roast Beatz Feat PRofit - Home Grown 04:12
4.Roast Beatz Feat. Greg Blackman - The People 04:07
5.Roast Beatz Feat. Broken Poetz - Now You Know 04:08
6.Roast Beatz Feat. Figure Of Speech & Kristy Kurowsk - Take Me Back 04:49
7.Roast Beatz Feat. PRofit - Knock Knock 03:24
8.Roast Beatz Feat. MysDiggi and Ella Mae - Let it Go 04:26
9.Roast Beatz Feat. Feat Illvis Freshly - Road Runner 03:45
10.Roast Beatz Feat. Rider Shafique- Keep it Movin 04:05
11.Roast Beatz Feat. Kurnel MC Reach Out 04:01
12.Roast Beatz Feat. Triggs Vega - Sour Bliss 03:59
amazon
For this, the latest in a long line of high quality Cuttin' It Fine drops, we welcome the expertise of Roast Beatz, who here unveils a feature length album project entitled 'Electric Pistachio', featuring twelve wicked originals. The features really bring this one to life, with guest appearances from the likes of Kurnel MC, Natty, PRofit, Broken Poetz, Mysdiggi, Ella Mae and many more highly renowned names. For us, there are a couple of immediate standouts when talking through this one, the first of which has to be the skippy drumwork of 'Keep It Movin' alongside the smooth vocal presence of the legendary Rider Shafique, alongside the groovy-heavy rhythmic twists of 'The People' with the fabulous harmonies of Greg Blackman.
Like the nut this album has many health benefits. It's loaded with audio nutrients but will increase your chances of tinnitus. While low in calories it can assist with muscle growth from aggressive dancing also contributing to weight loss. It can help decrease stress and lower your blood pressure as has been designed to uplift, add dopamine and serotonin to the brain.
3 years in the making this album effortlessly hops between Roasts preferred genres of Hip Hop, Funk, Mid Tempo Breaks and Reggae.
All tracks have a sprinkle of positivity, kick starting with Soul Food featuring Kurnel MC, Natty and Profit. inviting you to their audio abode for some snacks and a knees up over a reggae sampled Hip Hop beat. It's hard not too high five a stranger while listening to this one.
Next up Kylie Earl puts a spring in your step by requesting you to Lose Yourself in a world of disco, snappy drums, synths, funk drenched guitars and keys. Grab her hand and forget about what you've got going on in life. Give in to the music and put a grin on your chops.
Then back down to earth with a four-finger slap into a 125bpm, Reggae infused mosh pit. Listen while Profit gives you the lowdown on his past and present in Homegrown. This is one for the clubs and the 90's kids with his references to sweaty raves, Biggie and Tupac all spat out effortlessly over this fast paced bassy stomper.
After getting roughed up in Profits manor Mr Greg Blackman offers some soothing vibes for The People. This one's a straight up feel good funk bonanza. Get your fingers snapping as GB doesn't hold back on waxing his pipes over Roasts dusty keys, horns and drums.
Hungry for more vibes? The plates half full. Broken Poetz drag you back to the dance floor while Roast serves up some seasoned synths accompanied by a funky back drop of neck snapping beats. If you didn't know…Now You Know.
After a very current mid-tempo sound we wind down, reminisce and Take You Back over a jazzy hip hop number with Figure of Speech and Kristy Kurowski. Expect super smooth flows and head nodding harmonies over this classic sounding hip hop track.
Now, time too rough it up a bit. Roast call's upon BC's finest Illvis Freshly to bless this sleazy sampled hip hop banger. Expect 808's, Synths and speedy hats giving this a 2020 feel. Kick back while the boys lay down some punchy vocals for all the Road Runners out there.
Hitting number 1 on various digital download stores this was many peoples summer jam! Its only right Roast got back in the lab with MysDiggi while adding Ella in the mix made this a mid-tempo, feel good anthem helping multiple listeners Let It Go.
PRofit comes back up to bat, or Knock Knock your door down with this breakbeat banger. The boys have shutdown raves whenever this is performed. Expect high energy raps, hard beats, crunchy synths and funky scratches making this a favourite for the dance floor.
We Keep It Movin' as Roast teams up again with Rider Shafique bringing Nu school hip hop sounds over African flutes and guitar. Combine this with Riders un-mistakable voice and all the elements combined produce a very unique sounding and dope track.
Reaching Out to his label mate Kurnel MC. They both deliver a very high energy positive club track. Guest guitar licks from Mr Stabalina, precise raps and flows from the Kurnel while Roast gets it ready for the party by sprinkling some funky cuts on the side.
Finishing this album with Sour Bliss. A track recorded in 2004. Bought back to life in 2018 and destined for release. Roast souped up this masterpiece from his old collaborator Triggs Vega, giving it a current feel. Still 100% Triggs and 100% relevant.
Dead Link? (REPORT 1-5 Days) сообщить о ссылке на перезалив
Скачать альбом.
Категории
Новинки Басс Музыки
Теги
2Step
,
Album
,
Ambient Dubstep
,
Bass
,
Bes
,
Big Beat
,
Breakbeat
,
Breakcore
,
Breaks
,
Brostep
,
Bryan Gee
,
Carnival
,
Chillstep
,
ChillTrap
,
Crossbreed
,
Cutworx
,
Darkside
,
Darkstep
,
Deathstep
,
Deekline
,
Deep Drum and Bass
,
Deep Dubstep
,
Diplo
,
DJ 007
,
DJ C-LeeN
,
Dj Gvozd
,
dj hornet
,
DJ Hype
,
DJ Profit
,
Drum and Bass
,
Drumfunk
,
Drumstep
,
Dub
,
Dubstep
,
Floyd The Barber
,
Frenchcore
,
Friction
,
Funky Breakbeat
,
Funky Breaks
,
Future Bass
,
Future Beats
,
GABBER
,
Garage
,
Glitch Hop
,
Grime
,
Halfstep
,
Hard Dubstep
,
Hardcore
,
Hardstyle
,
Hospital Podcast
,
In Beat We Trust
,
Industrial
,
Intelligent DNB
,
Intelligent Manners
,
Juke
,
Jump Up
,
Jungle
,
Lady Waks
,
Let It Roll
,
Liquid funk
,
London Elektricity
,
Master Stensor
,
Melodic Dubstep
,
Midtempo
,
Miss Mants
,
Moombahton
,
NELVER
,
Neurofunk
,
Neurohop
,
Noisia
,
Oldschool Drum and Bass
,
Oldschool Dubstep
,
Pirate Station
,
Prodigy
,
Progressive Breaks
,
Ragga Jungle
,
Random Movement
,
Record breaks
,
Reggae
,
Rene LaVice
,
Riddim
,
Rossum
,
Russian Drum and Bass
,
Skrillex
,
Soulful Drum and Bass
,
Speedcore
,
STUNNA
,
Take
,
Tearout
,
Techstep
,
TOP 100
,
Trap
,
Trip-hop
,
Uk Garage
,
Uptempo
,
vocal drum and Bass
,
Vocal Dubstep
,
World Of Drum and Bass
,
ZARDONIC
,
Пиратская Станция
Показать все теги