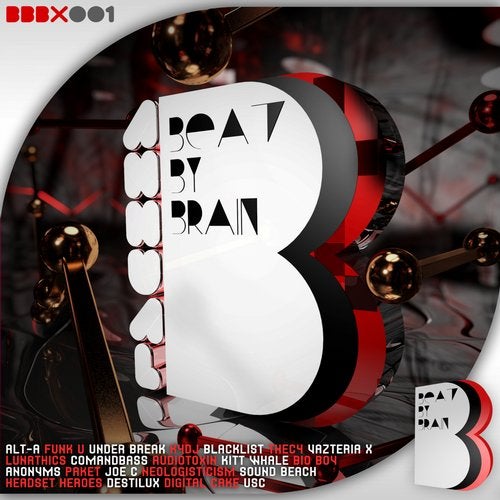 genre
Break-Beat, Breaks
released
2/01/2015
quality
mp3/320kbps
label
Beat By Brain
cat
BBBX001
type
Compilation
This is the new compilation published by "Beat By Brain" with the selection of the best sound appeared in 2014. A total of 25 productions with the best artists in Spektra Recordings: Funk U, Blacklist, Under Break, Alt-A, Digital Cake, K4DJ, thec4, Comandbass, Vazteria X, Audiotoxin, Anonyms, Joe C, Lunathics, BioBoy, Sound Beach, Destilux, Neologisticism and many more! Supported by Future Breakz Live (NSB Radio - UK), Breakonomics (RTE - Ireland), The Headset Hero's (NSB Radio - UK), Breakaholism (FM Show in future - Finland), DasDsDisco (NSB Radio - UK), The Lost Art - US, Breakscape with Bassica (NSB Radio - UK).—тарые добрый аннуалы от лейбла бит би брэйн. —амый крутой брейкс и брэйкбит от импринта вливалс€ в данные сборки итоги года. Ћучший брейк перед вами!
25 / 2:18:29
Funk U Ч Breakbeat (Alt-A Remix) 4:18
K4DJ Ч Feel Good 5:45
thec4 Ч I Need You 4:52
Kitt Whale Ч I Don't Want 5:01
Alt-A Ч Just Sayin 6:20
Under Break Ч Submarine 5:57
Anonyms Ч Kick Ass 5:07
Neologisticism Ч Amazon 4:24
Sound Beach Ч Sweet Haters 5:30
K4DJ Ч Let's Go 5:45
Comandbass Ч Tech-nica (VIP Mix) 7:12
Underground Sound Connection Ч Stereo Tube (thec4 Remix) 5:39
Digital Cake Ч 90's Kid 5:30
Blacklist Ч Flight Or Fight 6:26
Audiotoxin Ч Strangers In The Night 5:47
Alt-A Ч Move It Loose It (thec4 Remix) 5:37
BioBoy Ч Dancing In The Disco 6:27
thec4 Ч No Way (Alt-A Remix) 5:15
Comandbass, Anonyms Ч I Wanna Butter You Up (Headset Heroes Remix) 4:22
Paket Ч Crazy World 4:41
Kitt Whale Ч One Love 5:16
Vazteria X Ч Trance (Alt-A Remix) 5:17
Sound Beach, DestiluX Ч Just Release Me 5:53
K4DJ Ч Sexy Senorita (Lunathics Remix) 6:46
thec4 Ч Like That (Joe C Remix) 5:21
itunes
Dead Link? (REPORT 1-5 Days) сообщить о ссылке на перезалив
Download for free music.