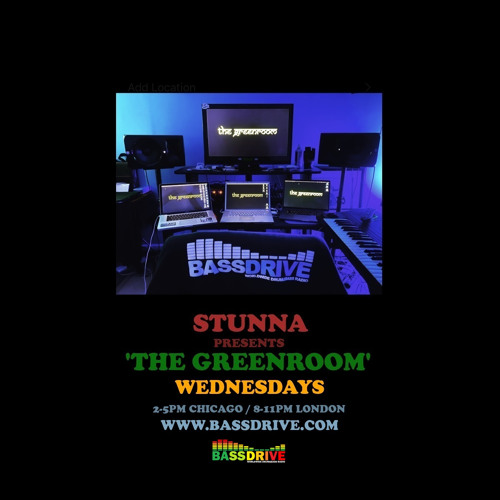 Genre
Liquid-D&B, Drum and Bass
Date
23-12-2020
Quality
[mp3/320 kbps]
Rar
411 Mb
(¬се сэты) All Episodes
USA Drum&Bass Show "The Greenroom" from dj Stunna on Bassdrive Radio.
tracklist
Х THREE (GOVERNMENTFUN)
Х TOO SOON (SOUL CONNECTION)
Х PARTY OVER (STIMPY)
Х STEP TO THIS (RIFT)
Х DANGEROUS JUNGLE (ONE MINDZ)
Х SWEET RELIEF ( BLADE )
Х INFLUENCED IN JAZZ (IMPRESSION)
Х STREET KNOWLEDGE (DAN GUIDANCE + FISHY)
Х DANGEROUS LIAISONS (SEBA + LOWQUI)
Х AN EVENING WITH (MONUMENT BANKS): ZERO T REMIX
Х 11TH DIMENSION (CAVERNOUS SPACE): GEETY REMIX
Х SOLACE (GEETY + SKYDATA)
Х FEEL YOUR FLOW (SKYWEEP)
Х REVERSE MOVEMENT (STIMPY)
Х GET DOWN (THE SKEPTICS + SKUDKID)
Х LIFT OFF THE ROOF (SPEAKER LOUIS)
Х WHAT (ONE MINDZ)
Х LIQUIFY (KIDSONIC)
Х GINGER SNAPS (COVERT GARDEN)
Х HELSINKI WATCH (JON CROSS)
Х BREAKDOWN (H2O + BOREDOME)
Х HYBRID REALITIES (H2O)
Х LOST WORLD (MOLECULAR)
Х STRINGER ( INSTAG8 )
Х LOOK YOUTHMAN (ONE MINDZ)
Х FADE TO GREY (RAY KEITH)
Х NAUSEA (EXTRACTION)
Х DELOREAN (KALM feat SPECTRUM)
Х SOUTH CENTRAL (GENOTYPE): JUST JUNGLE REMIX
Х CROFTERS (WAR)
Х THE IMAGE (IMRAN GRAFFITI)
Х JOHN ARNE RISE (MONUMENT BANKS)
Х SOUFFRIR C'EST VIVRE (FREEBIRD + MALUADE)
Х GENERATION GAP (STUNNA + AMANING)
Х NEVERLOVE (STUNNA + CONTOUR)
Х 2 SIDES 2 A STORY (STUNNA + CONTOUR)
Х BACK IN TIME (STUNNA)
Х AGE OF INNOCENCE (STUNNA)
Х LOST IN THE RAIN (STUNNA + DFUNK)
Х SUN RISING (mSdoS): STUNNA REMIX
Х SOULCATCHER (STUNNA feat PLACE 42)
Х THROUGH THE DISTANCE (STUNNA feat CHRISTINA TAMAYO)
Х HALLUCINATE (STUNNA + IKE RELEASE)
Х REFUSE THE FUTURE (STUNNA, AMANING, HENREE)
Х WAX POETIC (SUBMORPHICS): STUNNA REMIX
Х SPIRIT SCIENCE (STUNNA)
Х OCEAN OF STARS (STUNNA)
Х AFTER THE RAIN (STUNNA)
Х DAWN (STUNNA + ESCHATON)
Х CONSCIOUSNESS (INNASELF): STUNNA REMIX
Х REANIMATE (STUNNA + GREEKBOY)
Х DANCE WITH ME (STUNNA + INDIVISION)
Х HOLD ME DOWN (DEEPER CONNECTION): STUNNA REMIX
Х LESSONS (PATRICK CURRIER feat TIFFANY JOHNSTON): STUNNA REMIX
Х IMAGINARY STATE (STUNNA feat MC SOULTRAIN)
Х WORLD KEEPS TURNING (STUNNA + PHYSICS feat JERE GARCIA)
Х DRUMTOOLS (FURNEY + CONRAD)
Х JINGLEJUNGLE
Listen Online
.
Dead Link? (REPORT 1-5 Days) сообщить о ссылке на перезалив
Download for free music.