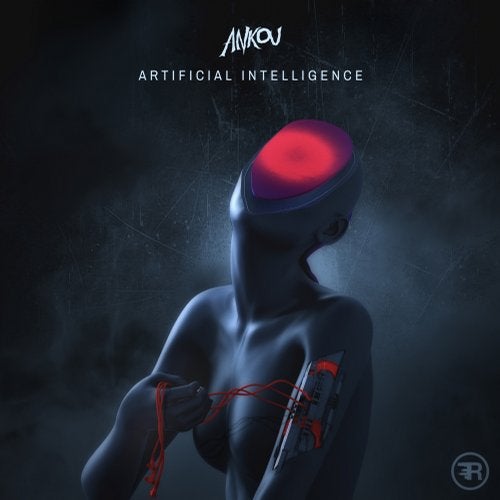 Style:
Drum and Bass / Neurofunk / Future Beats
Format:
MP3
Quality:
320 kbps
Release date:
09/04/2019
Label:
The Rust Music
Catalog:
RUST026 Ankou — Mannequin 2:59
Ankou — Artificial Intelligence 3:49
Ankou — Black Neons 3:45
Ankou — Sinister Smile 3:49
Ankou/ÆTERNA — Confess 3:38
Ankou — Morgue 3:46
Amazon
Across six data-rich drum and bass tracks on Artificial Intelligence, the Polish producer Ankou fleshes out a story of sentience searching for a body. Epic, theatrical chord progressions and pounding percussion are balanced by an omnipresent layer of glitch so detailed and dynamic. It's as if once Ankou created this thick layer of processed sound, he became incapable of controlling it. It trickles and crashes into every orifice and open space, like data soup moving swiftly and not gently through a birth canal. Each song blends seamlessly into the next. This creates deep interludes of rest that allow the listener to catch their breath. Ankou takes a loose approach to layering across Artificial Intelligence. His bit-crushed synthesis fans out into differing frequencies that still come back to smoothly congeal with one another. The result is a lush soundscape that's unmistakably digital yet seemingly alive. This breathing digital synthesis is the definitive mark of Artificial Intelligence, and it is maintained across the EP, including its two halftime tracks. Whether releasing with Vale, Renraku, or on a compilation from The Rust Music, Ankou's style has always been dark and dystopian. With this release, however, he creates a cohesive, thought-provoking narrative that guides the listener through that darkness. The debate over whether artificial intelligence is malevolent or benign will find no resolution here, but it will find a soundtrack. Artwork by ALTITXDE. Mastering by Ankou.
Dead Link? (REPORT 1-5 Days) сообщить о ссылке на перезалив
Скачать альбом.
Категории
Новинки Басс Музыки
Теги
Album
,
Bass
,
Big Beat
,
Breakbeat
,
Breaks
,
Brostep
,
Carnival
,
Crossbreed
,
Darkstep
,
Deathstep
,
Deep Dubstep
,
DJ C-LeeN
,
Dj Gvozd
,
Drum and Bass
,
Drumstep
,
Dubstep
,
Future Bass
,
Future Beats
,
Future Garage
,
Garage
,
Glitch Hop
,
Grime
,
Hardcore
,
Hardstyle
,
Intelligent DNB
,
Jump Up
,
Jungle
,
Lady Waks
,
Liquid funk
,
Melodic Dubstep
,
Midtempo
,
Moombahton
,
Neurofunk
,
Oldschool Drum and Bass
,
Pirate Station
,
Progressive Breaks
,
Riddim
,
Russian Drum and Bass
,
Soulful Drum and Bass
,
Techstep
,
TOP 100
,
Trap
,
Uk Garage
,
vocal drum and Bass
,
брейкбит
,
брейкс
,
дабстеп
,
драм энд бейс
,
Трэп
,
Хардкор
Показать все теги