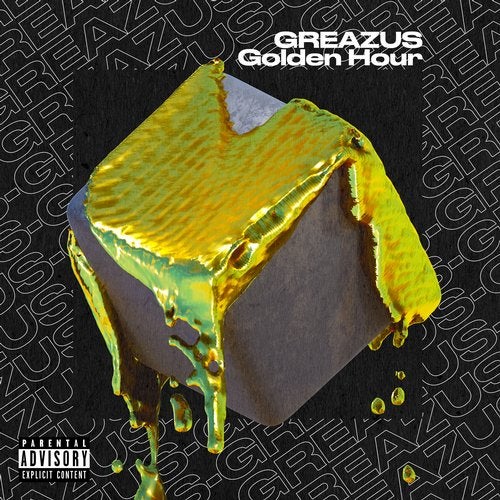 Style:
Future Beats, Halftime, Hybrid Bass/Trap, Jungle
Format:
MP3
Quality:
320 kbps
Release date:
24/04/2019
Label:
Aufect Recordings
Cat:
AUFLP001
Владельцы лейбла Ауфект, канадский дуэт GREAZUS, выпустили альбом «Golden Hour», состоящий из шестнадцати экспериментальных хафтайм-треков, среди которых есть бодрые коллабы с Shield и Sinistarr, а также и различными МС, что делает звучание ещё более интересным, граничащим с трэпом хайбрид-бейсом.1. Greazus, Emotionz — Bust 4:03
2. Greazus — Golden Hour 3:46
3. Greazus, Magugu — Lie Lie 2:46
4. Greazus — XoTiC 3:18
5. Greazus, Sinistarr — Ride 3:18
6. Greazus, Sammy Rich — Gap The Mind VIP 4:11
7. Greazus, Abstrakt Sonance — Fuck 'Em 4:55
8. Greazus, Shield — Roadtrip Riddim 3:38
9. Greazus, Daega Sound — Day In Day Out 4:59
10. Greazus, Abstrakt Sonance — Waterslide 3:28
11. Greazus, Sinistarr — Mother F 4:11
12. Greazus — IKC 4:19
13. Greazus — SMOOJ 4:08
14. Greazus — Tearz 3:28
15. Greazus — Bust (Instrumental) 4:11
16. Greazus — Gap The Mind VIP (Instrumental) 4:12
Amazon
Nearly two years in the making, GREAZUS brings us their debut long-player, featuring an all-star cast of collaborators. This record represents GREAZUS' vision and commitment to never being locked-down to a certain style, while still maintaining a recognizable sound. You can hear hybrid flavors of Grime, Jungle, Halftime, Beats and all matter of Bass, all under-pinned by their Hip Hop production style and execution. Their label, Aufect has become a haven for some of the most exciting producers in the underground, so its fitting that they bring this release home, so to speak. Committed to their philosophy of collaboration, this project has 9 feature tracks with 7 different artists. Showcasing producers Sinistarr, Shield, Abstrakt Sonance, Daega Sound, and Vocalists, Magugu, Emotionz and Sammy Rich. 16 cuts span the release and masterfully cover the bases of modern Bass Music, showing us why they're revered on the West Coast, as pioneers of their craft. Tracks like XoTiC, Golden Hour and Bust have GREAZUS show us why they are considered to be at the top of the North American Grime game. Each track banging with 808 sub pressure and infectious hooks. Mother F and Waterslide are perfect demonstrations of GREAZUS' Jungle prowess and ability to generate energy with rhythmic breakbeat edits and catchy basslines. While Roadtrip Riddim, Day In. Day Out, Fuck Em, Gap The Mind VIP deliver Halftime dancefloor swagger, with their well-known deep roots in Hip Hop. Showing diversity in their productions, cuts like Lie Lie, SMOOJ, IKC and Tearz round out the album with vibey rythms and melodies, showing the more musical side of GREAZUS - Music for the smokers.
Dead Link? (REPORT 1-5 Days) сообщить о ссылке на перезалив
Скачать альбом.
Категории
Новинки Басс Музыки
Теги
Album
,
Ambient Dubstep
,
Bass
,
Bes
,
Big Beat
,
Breakbeat
,
Breakcore
,
Breaks
,
Brostep
,
Carnival
,
Chillstep
,
ChillTrap
,
Crossbreed
,
Cutworx
,
Darkside
,
Darkstep
,
Deathstep
,
Deep Drum and Bass
,
Deep Dubstep
,
Diplo
,
DJ 007
,
DJ C-LeeN
,
Dj Gvozd
,
DJ Hype
,
DJ Profit
,
Drum and Bass
,
Drumfunk
,
Drumstep
,
Dub
,
Dubstep
,
Frenchcore
,
Friction
,
Funky Breakbeat
,
Funky Breaks
,
Future Bass
,
Future Beats
,
Garage
,
Glitch Hop
,
Grime
,
Halfstep
,
Hard Dubstep
,
Hardcore
,
Hardstyle
,
In Beat We Trust
,
Industrial
,
Intelligent DNB
,
Intelligent Manners
,
Juke
,
Jump Up
,
Jungle
,
Lady Waks
,
Let It Roll
,
Liquid funk
,
London Elektricity
,
Master Stensor
,
Melodic Dubstep
,
Midtempo
,
Miss Mants
,
Moombahton
,
NELVER
,
Neurofunk
,
Neurohop
,
Noisia
,
Oldschool Drum and Bass
,
Oldschool Dubstep
,
Pirate Station
,
Prodigy
,
Progressive Breaks
,
Ragga Jungle
,
Record breaks
,
Reggae
,
Rene LaVice
,
Riddim
,
Rossum
,
Russian Drum and Bass
,
Skrillex
,
Soulful Drum and Bass
,
Speedcore
,
STUNNA
,
Take
,
Tearout
,
Techstep
,
TOP 100
,
Trap
,
Uk Garage
,
Uptempo
,
vocal drum and Bass
,
Vocal Dubstep
,
World Of Drum and Bass
,
ZARDONIC
,
Глитч Хоп
,
Грайм
,
Пиратская Станция
,
Трэп
,
Хардкор
,
Хардстайл
,
брейкбит
,
брейкс
,
дабстеп
,
драм энд бейс
Показать все теги