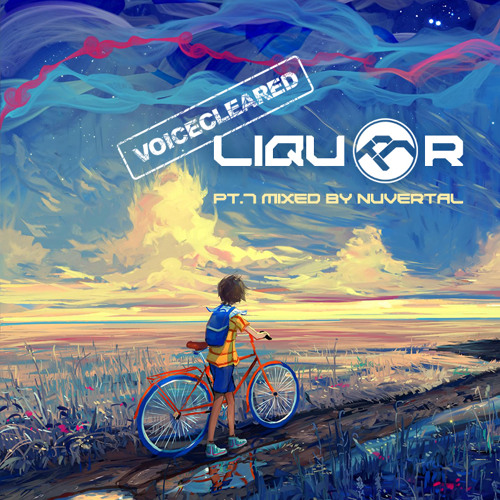 Style:
Drum and bass, Liquid funk, Intelligent, Soulful Drum and Bass, Vocal DNB
Released:
24/09/2019
Format:
MP3 128 kbps
Rar:
87Mb
All episodes (все сеты)
Liquor 7й ѕодкаст! 'эй йоу! ƒолгожданный 7-ой эпизод подкаста Liquor зар€жен и готов к бусту! ¬ этом выпуске: рекордное количество новобранцев, множество дабплейтов от именитых продюсеров, анонс следующей вечеринки Liquor и неизменно тепла€ атмосфера, рожденна€ из музыки отечественных драм-н-бейс авторов!
Tracklist
1. Mage Ч Vanilla Sky
2. Wanted ID Ч Izaura
3. Chillhomers Ч Disco
4. Meiko Ч Big City (Krot Remix)
5. Chillhomers Ч Good Time Tonight
6. Wanted ID Ч I DonТt Care
7. Nelver Ч Begins With You
8. Cnof Ч Holding On (Ft. Wednesday Ameila)
9. Zephyrway Ч Serenity
10. Mage Ч Caribbean Dream
11. Shiny Radio Ч The Fade
12. Nelver Ч Green Colours
13. Nichenka Zoryana Ч Media
14. Cnof Ч Night With You (Detect Theory Remix)
15. Bop x Subwave Ч Take It Off
16. Nichenka Zoryana Ч Jungle 1996
17. Meen Ч Trying Not To Love You
18. Whalespruce Ч Exosphere
19. Cnof Ч Revenge
20. Command Strange Ч Major Groove
21. Korgis Ч EverybodyТs Got To Learn Sometime (Cnof Bootleg)
22. Hybert Phillips Ч Inquisitor
23. EastColors & Noel Ч ID
24. Nicehnka Zoryana Ч Boom Boom
25. Malk Ч Move
26. Spectrah Ч Poseidon
27. Seibel Ч Curare
28. Psynchro Ч Glimpse
29. BRK Ч Funky
30. Grim Hellhound Ч Single Atom
31. Hybert Phillips Ч Persian Empire
32. Decline Ч Shape Charge
33. LSP Ч ћаленький ѕринц (Malk Remix)
34. Glacier Ч Remember Us
35. Mage Ч Empty Road
36. Threyedens Ч Gone
37. Nelver Ч SeptemberТs Melody
38. EastColors & Bert H Ч ID
39. Bert H Ч Old Days Were Better
40. Mastedix Ч Good Night
41. Shiny Radio Ч Calling (Feat. Coldstabs)
42. Joint Stock Galaxy Ч Two Little Mice
43. Synestika Ч Me & You
44. EastColors Ч ID (ft. LaMeduza)
45. Decline Ч Oasis
46. Nuvertal Ч Youth
47. Nuvertal Ч The Earth Forgives
48. Cnof & Epheemer Ч Cold Heart
49. EastColors Ч ID
50. Tracker Ч Layers of Fear
51. Nelver & Radicall Ч Hundred Lives
52. Detect Theory Ч Heavy Traffic
53. Nelver Ч Another Sun
54. John B Ч Mercury Skies (Mindhead Bootleg)
55. Gregory Doveman Ч Got Me Up (Chillhomers remix)
56. Harry Shotta & Erb n Dub Ч Where Do We Go From Here (2Whales remix)
57. Hyperion Vision Ч Alternative Future
58. MF Ч I Wrote Your Name (feat. Polina Tkachenko)
voiceless (no voice)
Listen Online
.
Edited: adminReason: add voiceless vers.
Dead Link? (REPORT 1-5 Days) сообщить о ссылке на перезалив
Download for free music.