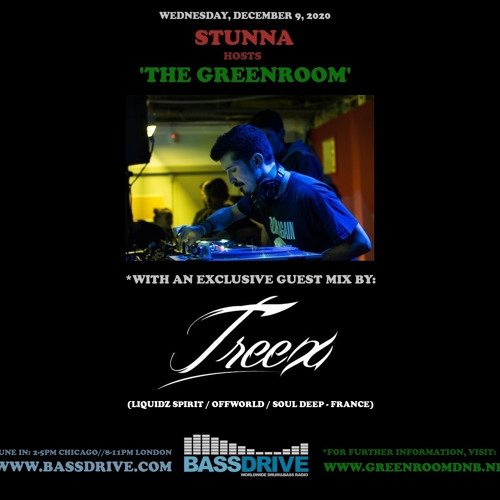 Genre
Liquid-D&B, Drum and Bass
Date
9-12-2020
Quality
[mp3/320 kbps]
Rar
411 Mb
(¬се сэты) All Episodes
USA Drum&Bass Show "The Greenroom" from dj Stunna on Bassdrive Radio.
tracklist
Х PRIMA DONNA (GLEN E STON + FLACO)
Х CLOUD FOREST (GREEKBOY)
Х CONTROL (PABLO + JORGE)
Х DREAM BEATS (TUFF GEE)
Х UPRISING DUB (SIMSTAH)
Х FLEX (ILL TRUTH)
Х THE SECRET (J PLATES)
Х ACTIVE (DJ TRACE)
Х RUDE BOY (D*MINDS)
Х CLOSER (SNOWTEK + FERICE)
Х GRANITE + DANDELIONS (FLOWRIAN)
Х A MIND FOREVER VOYAGING (HIGH CONTRAST)
Х DROID (GREEKBOY)
Х LOOKING BACK (HumaNature)
Х LOVE IN EXCESS (LENIZ)
Х WHEN WE FIGHT (MESSIAH + MINOS)
Х HOLD UP (MOSAIC)
Х CONSONANCE (M-ZINE, SCEPTICZ, LARIGOLD): ARCATYPE REMIX
Х TRAVEL GALAXY (OUTSIDER)
Х UPPER REACHES (R1C0)
Х MOVING ON (DSP)
Х CHICANE (ECHO MOTION)
Х REMEMBRANCE (HEFT)
Х BASEBALL (PABLO + JORGE)
Х KALI MIST (SIMSTAH, CHRIS HARMONICS, GLYPH)
Х VAGABONDS (GLEN E STON + FLACO)
Х FUNK MIRROR (TREEX): STUNNA REMIX
Х TURN ME ON (AMANING + STUNNA)
Х MISTY (STUNNA feat PLACE 42)
Х STRANGE JOURNEY (SUBMORPHICS + RANDOM MOVEMENT)
Х EASY DOES IT ( TYLER STRAUB )
Х JUST A DREAM (INDIDJINOUS)
Х FUTILE DREAM (OUTSIDER)
Х MORE BRILLIANT THAN THE SUN (HIGH CONTRAST)
TREEX Guest Mix
01. THE MAGIC (THIAGO PERY + SL9R): SUBSID REMIX
02. IN THE MOMENT (EMBERS OF LIGHT)
03. DO THE MATH (SIMSTAH)
04. CARRY ME HOME (REDEYES)
05. JUST A VISION (SOLID STATE): MARCUS INTALEX + ST FILES REMIX
06. FUNK 2002 (CONRAD SUBS)
07. UNITY (FLOWRIAN + SIMSTAH)
08. HAZE (FURNEY)
09. MADE FROM COTTON (PAUL SG)
10. FADING ( BLADE )
11. LET ME BE THE ONE (SATL)
12. MISS LOVEGOOD (TREEX)
13. DAY 4 (HUGH HARDIE)
14. DESTINE ( LSB )
15. PUMPKINS (PHAT + BRK)
16. ORGANISE (NOT4MANY feat CHIMPO, RAGO LOCO, CHUNKY, ROLLA): HALOGENIX REMIX
17. LEVITATION (INCIDENT)
18. THE RIDE (LJ HIGH)
19. LEVITATE (SATL)
20. GLAIVES (ELERE)
21. SO ADDICTED (TOTAL SCIENCE feat GRIMM)
22. JUST WORDS (SATL)
23. CONNECTIONS (RE-ADJUST)
24. FAITH OF THE SEVEN (MADCAP)
25. DREAMER (MISTRUST)
26. WHEELS (MIKAL)
27. 1sN2s (InMost + TEMAN)
28. SETBACK (DUNK): ENTA REMIX
29. EVERYTHING WILL BE (NYMFO)
30. FOSSIL (DATA 3)
31. BODYCLOCK (PHILTH)
32. RUDEBOI (NOTEQUAL)
33. ZAGA DAN (L-SIDE + MC GQ)
34. LEGIT ( BTK + FRISKE )
35. SPACE + TIME (SEBA + ROBERT MANOS)
36. STARSHIP (FRISKE)
37. RENEGADE SNARES (OMNI TRIO): BLADERUNNER REMIX
38. BELIEVE (MIST-I-CAL feat ROBERT OWENS)
39. HOPEFULLY (TREEX)
Listen Online
.
Dead Link? (REPORT 1-5 Days) сообщить о ссылке на перезалив
Download for free music.