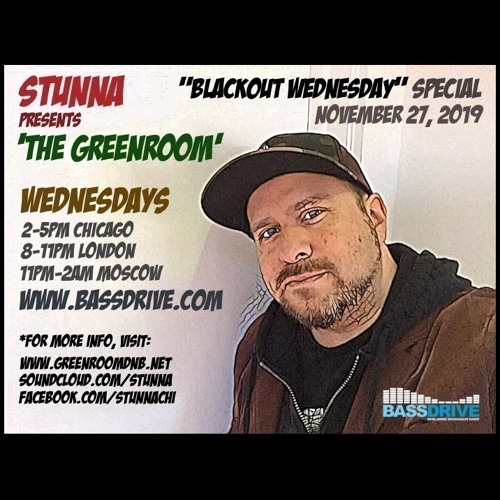 Genre
Drum and bass
Rar
411 Mb
Format/Quality
[mp3 320 kbps]
(Все сеты) All Episodes
Новый эфир Американского драм-энд-басс шоу "The Greenroom" от продюсера и ди-джея STUNNA на радио BASSDRIVE (Бассдрайв Радио)! Самые лучшие DNB сеты только тут!
Tracklist
• KING WILLIE (PASHA SOLECCI)
• TIME (ESC + ASKEL)
• NO REJECT (GUNSTON)
• LE CLEBS (JOAKUIM): ILL TRUTH REMIX
• STRANDED (TWINTONE)
• THE LINE (AARDONYX feat CLAIRE PILING): DJ RANSOME REMIX
• BREAK NECK (VILLEM + McLEOD)
• DESPERATION (WRECKLESS)
• NEVER LOVED LIKE THIS (ZERO T + PHASE)
• YELLOW BONE (EASTCOLORS + NOEL)
• FATAL ATTRACTION (TWEAKZ)
• UNTITLED BOOTY (SEVIN)
• TORN (COMMIX)
• THRUST (CALIBRE)
• SUPPOSED TO BE (SATL)
• SMOOTH DARKIGE (mSdoS)
• ETERNITY (DUOSCIENCE)
• BREATHE (CHANNELL + ZAR)
• ELECTRONICA (JOAKUIM)
• UTOPIA (UNTRUE)
• DIAGNOSTICS (VOYAGE)
• NOT NECESSARILY A MAN (KRUST): L-SIDE REMIX
• FISTCLAW (COVERT GARDEN): TREX REMIX
• WARNING (MADCAP)
• BURNING SKY (STUNNA)
• LOST NATION (STUNNA)
• COSMOS VIP (STUNNA)
• I CAN NOT SAY GOODBYE (DAN GUIDANCE)
• BLACK EYE (CHANNELL)
• THUG COPPER (SUBMARINE)
• RELAY (nCAMARGO)
• EMPIRE DUB (MADCAP)
• ARPY BOI (SINIC + WINGZ)
• HYPNOTIC DUB ( BOREDOME )
• YOU (MADCAP)
• ALL MY LIFE (SATL feat STEO)
• ORDINARY PEOPLE (STUNNA + KHARM)
• ONE STEP AT A TIME (TWINTONE)
• KAT SCAM ( TAELIMB )
• SALVADOR (SEQUENCES)
• SKI MASK (KASRA): ENEI REMIX
• NEEDLESS ALLEY (MINGUS)
• ABSOLUTE (PAUL T + EDWARD OBERON)
• DOG WASH (PHAT PLAYAZ)
• STRUGGLE TO THE GRAVE (RANDOM MOVEMENT)
• BREAK ( ROY GREEN, PROTONE, DUB LAB )
• EXTERNAL REALITY (SEBA): OM UNIT REMIX
• JAMMING (SPIRIT)
• SCHISM (THEORY)
• UNTITLED 003 (WILL MILES)
• MANTRA BOX (DERRICK + TONIKA)
• RESTRICT (CUTWORX)
• COSTA LESTE (DUOSCIENCE)
• BREATHE (REAL TRANSPORTED MAN + LABUA X): STUNNA REMIX
• 1999 (SEATHASKY): MONRROE REMIX
Online
A classically-trained keyboardist and working musician based in Chicago, STUNNA (aka J. Cappo) has crafted his own unique sound within the fast-paced world of Drum + Bass music. With a number of strong releases on various high-profile labels coupled with a solid Stateside and international touring schedule under his belt, this Grammy-nominated, URB 'Next 100' producer and host of BASSDRIVE Radio's popular weekly 'GREENROOM' show is determined to spread his own sound as well as exclusive tracks from talent around the world. As his prolific catalogue of solo productions, collaborations and remixes has gained global support from DOC SCOTT, LTJ BUKEM, FABIO, MARKY, LOXY, NOOKIE, BIG BUD, MARCUS INTALEX, CALIBRE and many more, it's going to be another busy year ahead!
Dead Link? (REPORT 1-5 Days) сообщить о ссылке на перезалив
Скачать альбом.
Категории
Новинки Басс Музыки
Теги
Album
,
Ambient Dubstep
,
Bass
,
Bes
,
Big Beat
,
Breakbeat
,
Breakcore
,
Breaks
,
Brostep
,
Carnival
,
Chillstep
,
ChillTrap
,
Crossbreed
,
Cutworx
,
Darkside
,
Darkstep
,
Deathstep
,
Deep Drum and Bass
,
Deep Dubstep
,
Diplo
,
DJ 007
,
DJ C-LeeN
,
Dj Gvozd
,
DJ Hype
,
DJ Profit
,
Drum and Bass
,
Drumfunk
,
Drumstep
,
Dub
,
Dubstep
,
Frenchcore
,
Friction
,
Funky Breakbeat
,
Funky Breaks
,
Future Bass
,
Future Beats
,
Garage
,
Glitch Hop
,
Grime
,
Halfstep
,
Hard Dubstep
,
Hardcore
,
Hardstyle
,
In Beat We Trust
,
Industrial
,
Intelligent DNB
,
Intelligent Manners
,
Juke
,
Jump Up
,
Jungle
,
Lady Waks
,
Let It Roll
,
Liquid funk
,
London Elektricity
,
Master Stensor
,
Melodic Dubstep
,
Midtempo
,
Miss Mants
,
Moombahton
,
NELVER
,
Neurofunk
,
Neurohop
,
Noisia
,
Oldschool Drum and Bass
,
Oldschool Dubstep
,
Pirate Station
,
Prodigy
,
Progressive Breaks
,
Ragga Jungle
,
Record breaks
,
Reggae
,
Rene LaVice
,
Riddim
,
Rossum
,
Russian Drum and Bass
,
Skrillex
,
Soulful Drum and Bass
,
Speedcore
,
STUNNA
,
Take
,
Tearout
,
Techstep
,
TOP 100
,
Trap
,
Trip-hop
,
Uk Garage
,
Uptempo
,
vocal drum and Bass
,
Vocal Dubstep
,
World Of Drum and Bass
,
ZARDONIC
,
Глитч Хоп
,
Пиратская Станция
,
Трэп
,
Хардкор
,
Хардстайл
,
брейкбит
,
брейкс
,
дабстеп
,
драм энд бейс
Показать все теги