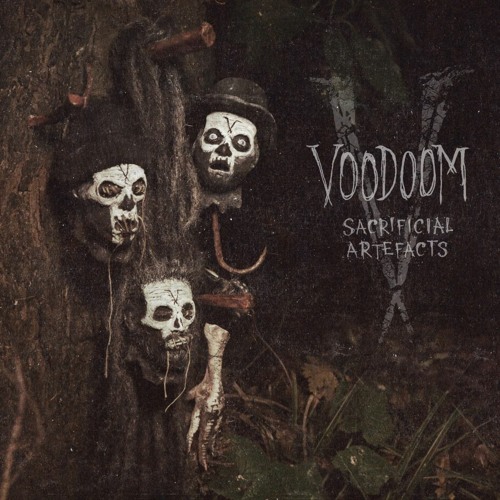 Music
Drum & Bass, Jungle, Darkamen
Released
20/03/2020
Format
MP3,320kbps
Label
Murder Channel / Redrum
Nr
MURCD044 / RED056
Type
Album/2CD
VOODOOM (Bong-Ra & Deformer)
1. VOODOOM — Alla Malla 5:24
2. VOODOOM — Kongo Nails 5:31
3. VOODOOM — Wisi Mang 5:53
4. VOODOOM — Sacrifice 5:05
5. VOODOOM — Rituals 6:19
6. VOODOOM — Kankan Un De 4:57
7. VOODOOM — Baar Baka 4:00
8. VOODOOM — Wasteland 5:38
9. VOODOOM — Voodoom 4:09
10. VOODOOM — Death Curse 3:45
11. VOODOOM — Blaka Smoko 6:16
12. VOODOOM — Tribesmen 5:46
13. VOODOOM — The Keeper 5:42
14. VOODOOM — Magic Noir 5:42
15. VOODOOM — Drums Of Damballa 4:36
16. VOODOOM — Kankan Un De (Bizzy B Remix) 4:59
17. VOODOOM — Blaka Smoko (Dub) 3:17
18. VOODOOM — Alla Malla (Dub) 3:03
19. VOODOOM — Tribesmen (Dub) 3:49
amazon
Deformer and Bong-ra are established names in the alternative dance scene and pioneers within extreme electronic breakbeat oriented music. Having successful solo careers, they joined forces on a side project in 2014 entitled VOODOOM. The project can be described as 'dark ritualistic jungle', inspired by oldschool UK Jungle combined with their menacing signature sound. Third member Scapu-Lox brings a totally unique ingredient to the music by adding vocals in Surinam language to the recipe.
In 2015 PRSPCT Recordings released their self-titled debut album and it hit like a bomb. It was picked up by BBC Radio and helped enforce a Jungle revival in the club scene. Their international performances, dressed up like haunting Voodoom priests, made VOODOOM a festival favorite. VOODOOM was soon invited by Japanese label MHz to produce a soundtrack for Q Hayashida's populair manga series 'Dorohedoro' which resulted in the track 'Blaka Smoko'. In 2017 PRSPCT Recordings released their ep 'Tribesmen' which again was very well received.
Since VOODOOM was always considered a side project, in 2017 Bong-Ra and Deformer decided to focus on different ventures and put VOODOOM on hold. Now for the first time all VOODOOM tracks are compiled on a double disc compilation CD, including the highly sought after 'Blaka Smoko' track, unreleased dubs, a special remix by UK Jungle pioneer Bizzy B and new artwork by Mike Redman. Junglists already know this is the real deal and you better believe it!
Dead Link? (REPORT 1-5 Days) сообщить о ссылке на перезалив
Скачать альбом.
Категории
Новинки Басс Музыки
Теги
Album
,
Ambient Dubstep
,
Bass
,
Bes
,
Big Beat
,
Breakbeat
,
Breakcore
,
Breaks
,
Brostep
,
Carnival
,
Chillstep
,
ChillTrap
,
Crossbreed
,
Cutworx
,
Darkside
,
Darkstep
,
Deathstep
,
Deep Drum and Bass
,
Deep Dubstep
,
Diplo
,
DJ 007
,
DJ C-LeeN
,
Dj Gvozd
,
DJ Hype
,
DJ Profit
,
Drum and Bass
,
Drumfunk
,
Drumstep
,
Dub
,
Dubstep
,
Frenchcore
,
Friction
,
Funky Breakbeat
,
Funky Breaks
,
Future Bass
,
Future Beats
,
Garage
,
Glitch Hop
,
Grime
,
Halfstep
,
Hard Dubstep
,
Hardcore
,
Hardstyle
,
In Beat We Trust
,
Industrial
,
Intelligent DNB
,
Intelligent Manners
,
Juke
,
Jump Up
,
Jungle
,
Lady Waks
,
Let It Roll
,
Liquid funk
,
London Elektricity
,
Master Stensor
,
Melodic Dubstep
,
Midtempo
,
Miss Mants
,
Moombahton
,
NELVER
,
Neurofunk
,
Neurohop
,
Noisia
,
Oldschool Drum and Bass
,
Oldschool Dubstep
,
Pirate Station
,
Prodigy
,
Progressive Breaks
,
Ragga Jungle
,
Record breaks
,
Reggae
,
Rene LaVice
,
Riddim
,
Rossum
,
Russian Drum and Bass
,
Skrillex
,
Soulful Drum and Bass
,
Speedcore
,
STUNNA
,
Take
,
Tearout
,
Techstep
,
TOP 100
,
Trap
,
Trip-hop
,
Uk Garage
,
Uptempo
,
vocal drum and Bass
,
Vocal Dubstep
,
ZARDONIC
,
Глитч Хоп
,
Грайм
,
Пиратская Станция
,
Трэп
,
Хардкор
,
Хардстайл
,
брейкбит
,
брейкс
,
дабстеп
,
драм энд бейс
Показать все теги