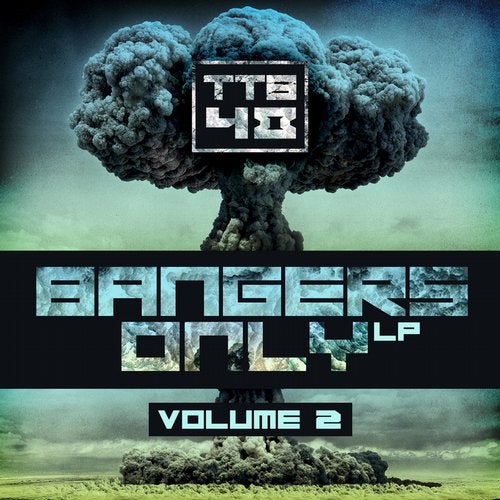 Music
Drum & Bass, Neurofunk, Jump up
Released
1/12/2014
Format
MP3,320kbps
Label
Ten Ton Beats
Nr
TTB40
Type
Compilation • Dangerous — Sick Pay (VIP Mix) 5:08
• maNga — Sandstorm 4:34
• Samy Nicks, Rekwest — Diagnosis (VIP Mix) 5:09
• Steampunk — Out tonight 4:45
• Just Mayhem — Once upon a time 4:29
• Rob Soundline — Tormented 4:23
• Bite Me — Dirty little Rotter 4:02
• Veak — Jungle War 4:32
• Dangerous — Set the trend (L-Ectric Remix) 4:24
• Uniques — Kangaroo Bass 6:14
• Mr Alf-e — Out my head (VIP Mix) 5:15
• Melysma — Wild Guess 6:39
amazon
The Bangers only series returns to Ten Ton Beats with a 12 track ensemble of all things big bad bashy and fiendishly skanktastick!!. Volume 2 does exactly what it says on the tin showcasing TTB's finest producers new and old to deliver a product full of bangers not even the most critical keyboard warrior could give bad press. The tagline no deadweight springs to mind when you look at the front to back fire track listing made up of the Ten Ton beats most battle hardened soldiers.
All of dnb's sub categories are represented on this various artist 12 track LP, Jump up, Liquid, Neuro, what I have decided to call down tempo filth……there is even a nod to the old skool with Kangaroo bass by dnb veteran Uniques. Ten Ton Beats is now 40 releases in and continues to move forward with unstoppable momentum. It is true to say TTB is now established and will continue to strive to find new talent to enable the drum and bass scene to grow.Bangers Only Volume 2 is a well thought out well executed 12 pack of delights, we at TTB HQ hope you will enjoy is as much as we have constructing it.
Dead Link? (REPORT 1-5 Days) сообщить о ссылке на перезалив
Скачать альбом.
Категории
Новинки Басс Музыки
Теги
Album
,
Ambient Dubstep
,
Bass
,
Bes
,
Big Beat
,
Breakbeat
,
Breakcore
,
Breaks
,
Brostep
,
Carnival
,
Chillstep
,
ChillTrap
,
Crossbreed
,
Cutworx
,
Darkside
,
Darkstep
,
Deathstep
,
Deep Drum and Bass
,
Deep Dubstep
,
Diplo
,
DJ 007
,
DJ C-LeeN
,
Dj Gvozd
,
dj hornet
,
DJ Hype
,
DJ Profit
,
Drum and Bass
,
Drumfunk
,
Drumstep
,
Dub
,
Dubstep
,
Frenchcore
,
Friction
,
Funky Breakbeat
,
Funky Breaks
,
Future Bass
,
Future Beats
,
Future Garage
,
Garage
,
Glitch Hop
,
Grime
,
Halfstep
,
Hard Dubstep
,
Hardcore
,
Hardstyle
,
In Beat We Trust
,
Industrial
,
Intelligent DNB
,
Intelligent Manners
,
Juke
,
Jump Up
,
Jungle
,
Lady Waks
,
Let It Roll
,
Liquid funk
,
London Elektricity
,
Master Stensor
,
Melodic Dubstep
,
Midtempo
,
Miss Mants
,
Moombahton
,
NELVER
,
Neurofunk
,
Neurohop
,
Noisia
,
Oldschool Drum and Bass
,
Oldschool Dubstep
,
Pirate Station
,
Progressive Breaks
,
Ragga Jungle
,
Record breaks
,
Reggae
,
Rene LaVice
,
Riddim
,
Rossum
,
Russian Drum and Bass
,
Skrillex
,
Soulful Drum and Bass
,
Speedcore
,
STUNNA
,
Take
,
Tearout
,
Techstep
,
TOP 100
,
Trap
,
Uk Garage
,
Uptempo
,
vocal drum and Bass
,
Vocal Dubstep
,
World Of Drum and Bass
,
Глитч Хоп
,
Грайм
,
Пиратская Станция
,
Трэп
,
Хардкор
,
Хардстайл
,
брейкбит
,
брейкс
,
дабстеп
,
драм энд бейс
Показать все теги