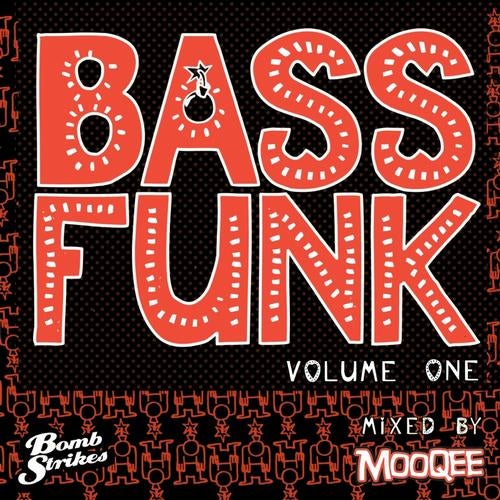 Music
Glitch Funk, Glitch Hop, Midtempo, Funky Breaks, Ghetto funk, Breakbeat, Jungle, Drum & Bass
Data
13/05/2013
Quality
mp3 320 kbps
Label
Bombstrikes
Cat
BOMBBASSF001
Type
Compilation
Mooqee's label Bombstrikes is doing all right for itself. So much so in fact that they've reached that milestone - a label's first compilation album. Here Mooqee has selected 25 sizzling bangers new and old that do it for him, and hopefully will do it for you too. Highlights include the compressed electro steamroller that is "Back To School", the crunch synth funky freakout of "Come On Bounce" and the devastating bass that's eaten all the pies of "Let's Do It Right Now". Heavy!Коллекция настоящего брейкбита, джангла и глитч фанка, гетто-фанка. слушаем и качаем бесплатно!
26 / 2:38:36
• Mooqee — Retro Intro 0:29
• Ali B — Beats On a String 4:38
• kontaktor — Back to School 4:12
• Neon Steve — Kill 'em With the Vibes (Original) 4:08
• Stereo Shiftaz — Come On Bounce 3:55
• Drumattic Twins — Meeting Point (HerbGrinder Remix) 4:52
• Pimpsoul — Bang Your Head (Acapella) 2:49
• OPIUO — Fizzle Tickler 7:00
• Mooqee, HerbGrinder — Sound Around Town 4:06
• SANTERO — Drop the Bomb (Stickybuds Remix) 4:49
• SANTERO — Drop the Bomb (110bpm Acapella) 2:59
• Pimpsoul — Lets Do It Right Now (Instrumental) 3:53
• All Good Funk Alliance — Throw Down (Featurecast Remix) 4:30
• McMash Clan — Swing Break (Radio Edit) 2:51
• Kraak & Smaak — Squeeze Me (A.Skillz Remix) 4:27
• Nick Thayer — Thizz Shake 4:40
• Brothers Bud — Like We Do 5:44
• Rory Lyons — Raging Speedhorn 3:27
• Neon Steve — Got This Feeling 3:45
• Rory Lyons — Shake Ya Mama 3:46
• Pimpsoul — Bang Your Head (Erb n Dub Remix) 4:28
• Featurecast — Ego Tripping (Featurecast Drum and Bass Remix) 4:38
• Mooqee, HerbGrinder — Rain (Original) 5:02
• Pimpsoul, Mooqee — Feeling Good (Tantrum Desire Remix) 4:57
• Rory Lyons — I Got 5 On It (Original) 4:21
• VA — Bass Funk Vol. 1: Mooqee (Continuous Mix) 54:12
itunes
One of the true originals in the game, Bombstrikes records have a come a long way from their beginnings to the position they now hold today. To celebrate their standing the label now unleash their first official compilation. As not only the label boss but also one of the labels biggest stars, who better to play selector on the compilation than the much loved Mooqee. The Compilation features highlights from the impressive Bombstrikes catalogue both old and new alongside tracks from Mooqee's favourite artists and labels of the moment. Not to mention some stone cold classics that have been inspirational and influential whilst still sounding fresh today. The compilation is not tied to any one genre but is best summed up by two words; Bass Funk. A lovingly compiled collection of 25 tracks that showcase the best of 'Bass Funk' and an equally impressive party starting mix from the man Mooqee himself.
Dead Link? (REPORT 1-5 Days) сообщить о ссылке на перезалив
Скачать альбом.
Категории
Новинки Басс Музыки
Теги
Album
,
Ambient Dubstep
,
Bass
,
Bes
,
Big Beat
,
Breakbeat
,
Breakcore
,
Breaks
,
Brostep
,
Carnival
,
Chillstep
,
ChillTrap
,
Crossbreed
,
Cutworx
,
Darkside
,
Darkstep
,
Deathstep
,
Deep Drum and Bass
,
Deep Dubstep
,
Diplo
,
DJ 007
,
DJ C-LeeN
,
Dj Gvozd
,
DJ Hype
,
DJ Profit
,
Drum and Bass
,
Drumfunk
,
Drumstep
,
Dub
,
Dubstep
,
Frenchcore
,
Friction
,
Funky Breakbeat
,
Funky Breaks
,
Future Bass
,
Future Beats
,
Garage
,
Glitch Hop
,
Grime
,
Halfstep
,
Hard Dubstep
,
Hardcore
,
Hardstyle
,
In Beat We Trust
,
Industrial
,
Intelligent DNB
,
Intelligent Manners
,
Juke
,
Jump Up
,
Jungle
,
Lady Waks
,
Let It Roll
,
Liquid funk
,
London Elektricity
,
Master Stensor
,
Melodic Dubstep
,
Midtempo
,
Miss Mants
,
Moombahton
,
NELVER
,
Neurofunk
,
Neurohop
,
Noisia
,
Oldschool Drum and Bass
,
Oldschool Dubstep
,
Pirate Station
,
Prodigy
,
Progressive Breaks
,
Ragga Jungle
,
Record breaks
,
Reggae
,
Rene LaVice
,
Riddim
,
Rossum
,
Russian Drum and Bass
,
Skrillex
,
Soulful Drum and Bass
,
Speedcore
,
STUNNA
,
Take
,
Tearout
,
Techstep
,
TOP 100
,
Trap
,
Trip-hop
,
Uk Garage
,
Uptempo
,
vocal drum and Bass
,
Vocal Dubstep
,
World Of Drum and Bass
,
ZARDONIC
,
Глитч Хоп
,
Пиратская Станция
,
Трэп
,
Хардкор
,
Хардстайл
,
брейкбит
,
брейкс
,
дабстеп
,
драм энд бейс
Показать все теги