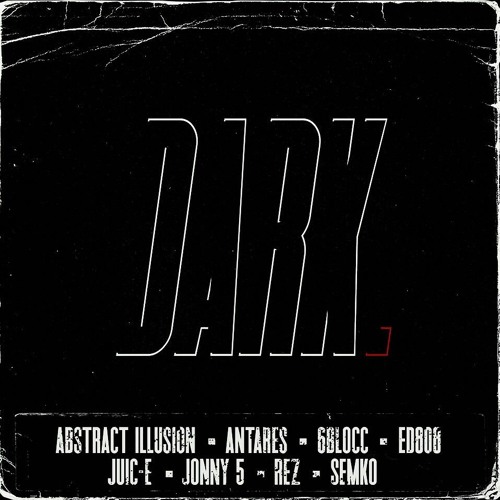 Genre
Drum & Bass, Jungle
Released
8/05/2020
Quality
mp3:320 kbps
Label
Good News Boppers
Cat#
DARK01DARK is a jungle / drum and bass compilation, concept put together by ed808
DARK will take you on a journey. Some of the tracks, like Rez's, are so dark they bring in punk elements, while simultaneously taking you on an epic soundscape of sonic milky ways. Jonny5 weaves 140 BPM elements into the mix and then takes you into the darkest breakbeat realm, offset by Abstract Illusion's old school Metalheadz and Star Wars infusion. 6blocc's sci-fi cinematic arrangement or Semko's fierce, choppy breaks contrast with Juice-E's 90s breakbeat, offset by melodic vocals reminiscent of Coco Bryce. And all of this is topped off by Antares and Ed808, who bring that uplifting yet dark, moody sound. Which, for many of us, evokes the spirituality of jungle music in its purest form.
-"DARK showcases break-centric, synth/melody heavy production that can be often missed or overlooked. These producers are top notch and every song on the compilation is in their own right, excellent and different from producer to producer." - Antares
The past year has seen humanity get even more battered than usual - topped off with a global pandemic. This Babylon (a term used by Rastafarians towards degenerate aspects of white culture), has and always will be, real. And finally, those oppressive structures have hit everyone. Hard.
As ed808 has documented this segment of time in DARK, in turn, the Jungle war dub takes on a new kind of redemptive spirituality. Both similar and different from its reggae roots. But always with a burning passion for the craft, in turn entering the listener into a sonic escape from these dark, uncertain times we're living in.
-"We are not in this music for accolades, approvals, or trophies of sorts. We produce music for enjoyment, meditation, and personal accomplishments. Which stems from the completion of our projects". - ed808! DARK takes on a new significance in the apocalypse of 2020!
8 / 48:27
6Blocc — Dark Times 5:26
Abstract Illusion — Tribal Darkness 5:28
Antares — Hold The Light 4:17
ed808 — The Dark 5:45
Jonny 5 — The Night Is Dark 8:28
Juic-E — Sleep 6:30
Rez — Dark Scrolls 6:24
Semko — Blinding 6:10
lossless/flac for request
Listen Online
.
Download for free music.
Категории
New Bass Releases.
Теги
3D Stas
,
Agressor Bunx
,
Album
,
Alex Wicked
,
APHRODITE
,
Audio
,
Bad Syntax
,
BCee
,
Bes
,
Black Sun Empire
,
Break
,
Bryan Gee
,
Calibre
,
Cam Lasky
,
Camo and Krooked
,
Code Pandorum
,
Command Strange
,
Conrad Subs
,
Counterstrike
,
Current Value
,
Cutworx
,
DC Breaks
,
Deekline
,
Derrick
,
Detach
,
Diplo
,
DJ C-LeeN
,
Dj Hornet
,
DJ Hype
,
DJ Profit
,
DLR
,
DRS
,
Drumsound and Bassline Smith
,
Duoscience
,
Ed Solo
,
Electrosoul System
,
ENEI
,
Excision
,
Fabio
,
Floyd The Barber
,
Forbidden Society
,
Fred V
,
Friction
,
Furney
,
Goldie
,
Grafix
,
Greekboy
,
Grooverider
,
Gydra
,
Holly
,
HYBRID MINDS
,
Intelligent Manners
,
John B
,
Kasper
,
Keeno
,
L 33
,
Lady Waks
,
Let It Roll
,
London Elektricity
,
LOWRIDERZ
,
Mage
,
Mechanical Pressure
,
Mefjus
,
Metrik
,
Miss Mants
,
mSdoS
,
nCamargo
,
Need For Mirrors
,
NELVER
,
Neuropunk
,
Noisia
,
Ozma
,
Pirate Station
,
Pola and Bryson
,
Prodigy
,
Random Movement
,
Rene LaVice
,
Rossum
,
Shade k
,
Shiny Radio
,
Signal
,
Skrillex
,
SkyLabCru
,
SPY
,
Stanton Warriors
,
STATE OF MIND
,
STUNNA
,
Surreal
,
Technimatic
,
Teddy Killerz
,
TeeBee
,
Tonika
,
TOP 100
,
Total Science
,
Truth
,
Under Break
,
Windom R
,
Yellow Claw
,
ZARDONIC
,
Zero T
Показать все теги