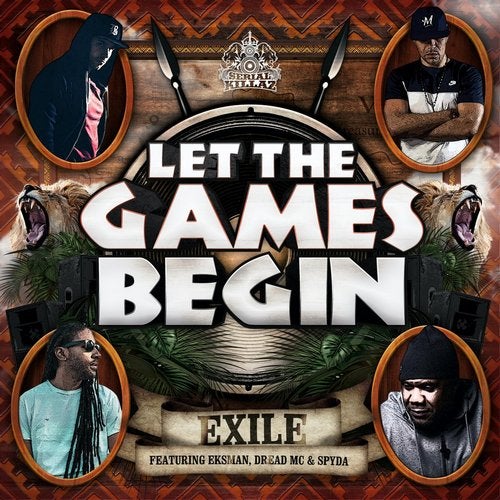 Style:
Drum and Bass, Jump Up, Ragga-Jungle
Date:
17/08/2020
Quality:
MP3 320 kbps
Label:
Serial Killaz
Cat#
KILLAZ064DIGSerial Killaz - выпустила в свет бомбезный EP. Тут огненая пятёрка Экзиль, Эмси Спайда, Эксман и Дред Эмси. Чудовещный джангл порыв ждёт вас в танце под эти треки. Если эти Ребята в деле, то их музыка была написана и предназначенна исключительно для танцпола. Музыка лейбла Сериал Киллаз это нечто такое, которое заставит вас кивать головой в любом настроении, их драм-н-бейс это всегда поднимающие тонус джангл и джамп ап мелодии. Рагга джангл предает драмнбассу именно ту самую изюминку, которой может воспользоваться толковый диджей, что бы раскачать свой танцпол.
Exile, MC Spyda - Salvation 5:37
Exile - Let the Games Begin 4:27
Exile, Dread MC - Eliminate 4:56
Exile, Eksman - Blueprint Stamp 4:50
Exile - Religion of Funk 5:12
Dead Link? (REPORT 1-5 Days) сообщить о ссылке на перезалив
Listen Online
.
Скачать альбом.
Категории
Новинки Басс Музыки
Теги
3D Stas
,
Agressor Bunx
,
Album
,
Alex Wicked
,
APHRODITE
,
Audio
,
Bad Syntax
,
BCee
,
Bes
,
Black Sun Empire
,
Break
,
Bryan Gee
,
Calibre
,
Cam Lasky
,
Camo and Krooked
,
Code Pandorum
,
Command Strange
,
Conrad Subs
,
Counterstrike
,
Current Value
,
Cutworx
,
DAVIP
,
DC Breaks
,
Deekline
,
Derrick
,
Detach
,
Diplo
,
DJ C-LeeN
,
Dj Hornet
,
DJ Hype
,
DJ Profit
,
DLR
,
DRS
,
Drumsound and Bassline Smith
,
Duoscience
,
Ed Solo
,
Electrosoul System
,
ENEI
,
Enigma Dubz
,
Excision
,
Fabio
,
Floyd The Barber
,
Forbidden Society
,
Fred V
,
Friction
,
Furney
,
Gancher and Ruin
,
Grafix
,
Greekboy
,
Grooverider
,
Gydra
,
HYBRID MINDS
,
Intelligent Manners
,
John B
,
Kasper
,
Keeno
,
Krewella
,
L 33
,
Lady Waks
,
Let It Roll
,
London Elektricity
,
LOWRIDERZ
,
Mage
,
Mechanical Pressure
,
Mefjus
,
Metrik
,
Miss Mants
,
mSdoS
,
Mutantbreakz
,
nCamargo
,
Need For Mirrors
,
NELVER
,
Neuropunk
,
Noisia
,
Ozma
,
Pirate Station
,
Prodigy
,
Random Movement
,
Rene LaVice
,
Rossum
,
Shade k
,
Shiny Radio
,
Signal
,
Skrillex
,
SkyLabCru
,
SPY
,
Stanton Warriors
,
STATE OF MIND
,
STUNNA
,
Surreal
,
Technimatic
,
Teddy Killerz
,
TeeBee
,
Tonika
,
TOP 100
,
Truth
,
Under Break
,
Windom R
,
Yellow Claw
,
ZARDONIC
Показать все теги