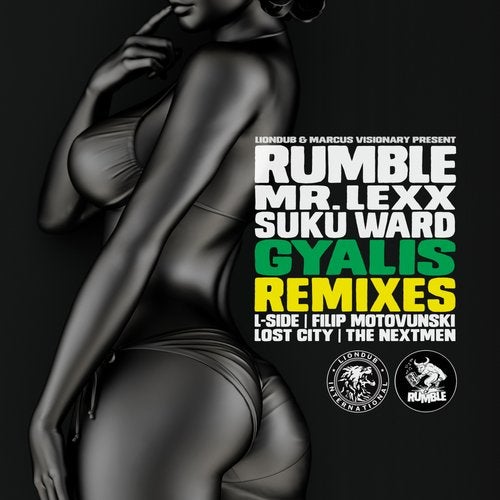 Style:
Drum and Bass, Jungle, Reggae
Date:
18/09/2020
Quality:
MP3 320 kbps
Label:
Liondub International
Cat#
RMBL007- Calling all gyalists! Rumble, Mr Lexx and Suku Ward have teamed up on Liondub International for a carnival-ready dancehall jammer "Gyalis" which is flipped in a multitude of ways by some of the best in the game; Filip Motovunski gets his low-slung swagger on, UK hip-hop legends The Nextmen get busy on the bashy tip, Lost City finds his way with a powerful tribal halftime twist while Sao Paulo's finest L Side provides the headshot with the immense roller version. Think "Night Flight" on a ragga vibe and you're in the right dance.
- Liondub & Marcus Visionary hit hard in the summer of 2017 with their Rumble single 'Gyalis' featuring Jamaican deep voice gods Mr. Lexx & Suku Ward in combination for the 1st time ever. The track was premiered by Toddla T on BBCR1 and featured by Mass Appeal with world-wide support. Fast forward and Rumble returns with the goods delivering 4 hefty remixes and a re-mastered original. Man of the moment L-Side kicks it off with a feisty jungle roller and Filip Motovunski hits with a tear out DnB number while The Nextmen and Lost City deliver two sub heavy bashment bangers for the ladies. Stay tuned as Rumble gear up to push out more Reggae and Jungle Bashment heat.
1. Rumble, Mr Lexx, Suku Ward - Gyalis [L-Side Remix] 4:21
2. Rumble, Mr Lexx, Suku Ward - Gyalis [Filip Motovunski Remix] 3:20
3. Rumble, Mr Lexx, Suku Ward - Gyalis [The Nextmen Remix] 3:44
4. Rumble, Mr Lexx, Suku Ward - Gyalis [Lost City Remix] 3:51
5. Rumble, Mr Lexx, Suku Ward - Gyalis 4:01
Listen Online
.
Download for free music.
Категории
New Bass Releases.
Теги
3D Stas
,
Agressor Bunx
,
Album
,
Alex Wicked
,
APHRODITE
,
Bad Syntax
,
BCee
,
Bes
,
Black Sun Empire
,
Break
,
Bryan Gee
,
Calibre
,
Cam Lasky
,
Camo and Krooked
,
Code Pandorum
,
Command Strange
,
Conrad Subs
,
Counterstrike
,
Current Value
,
Cutworx
,
D-Sabber
,
DC Breaks
,
Deekline
,
Derrick
,
Detach
,
Diplo
,
DJ C-LeeN
,
Dj Hornet
,
DJ Hype
,
DJ Profit
,
DLR
,
DRS
,
Drumsound and Bassline Smith
,
Duoscience
,
Ed Solo
,
Electrosoul System
,
ENEI
,
Excision
,
Fabio
,
Floyd The Barber
,
Forbidden Society
,
Fred V
,
Friction
,
Furney
,
Goldie
,
Grafix
,
Greekboy
,
Grooverider
,
Gydra
,
Holly
,
HYBRID MINDS
,
Intelligent Manners
,
John B
,
Kasper
,
Keeno
,
L 33
,
Lady Waks
,
Let It Roll
,
London Elektricity
,
LOWRIDERZ
,
Mage
,
Mechanical Pressure
,
Mefjus
,
Metrik
,
Miss Mants
,
mSdoS
,
Mutantbreakz
,
nCamargo
,
Need For Mirrors
,
NELVER
,
Neuropunk
,
Noisia
,
Ozma
,
Pirate Station
,
Prodigy
,
Random Movement
,
Rene LaVice
,
Rossum
,
Shade k
,
Shiny Radio
,
Signal
,
Skrillex
,
SkyLabCru
,
SPY
,
Stanton Warriors
,
STATE OF MIND
,
STUNNA
,
Surreal
,
Technimatic
,
Teddy Killerz
,
TeeBee
,
Tonika
,
TOP 100
,
Total Science
,
Truth
,
Under Break
,
Windom R
,
Yellow Claw
,
ZARDONIC
,
Zero T
Показать все теги