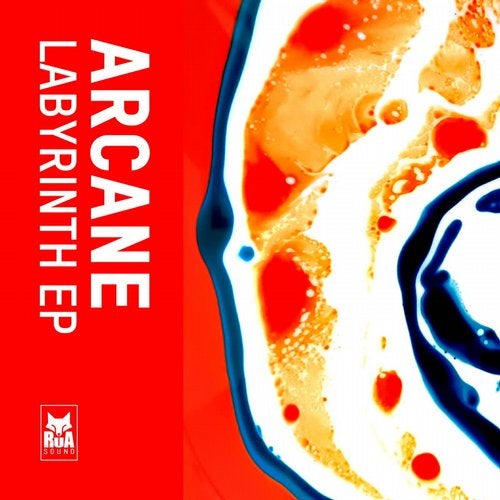 Style:
Drum and Bass, Jungle
Date:
11/09/2020
Quality:
MP3 320 kbps | FLAC
Label:
Rua Sound
Cat#
RUA011Irish label Rua Sound have built a reputation for releasing some of the most creative jungle music around, and this EP from newcomer Arcane is no different. If you're looking for harsh ragga jungle then this might not be the EP for you, but if you like your music packed with sophistication and creativity then it almost certainly is. Arcane has pulled off a masterclass in making music that takes you on a journey, and the constant evolution of 'Labyrinth' are a testament to that, as neon synths and chopped out vocals mutate in real time alongside precise break work. 'Voyage' is the standout track from the LP, as loping halftime touches gradually build into a sumptuously deep track with more vibes than you can throw a stick at; it reminds us of Mystic State or someone similar, and Arcane has done a fantastic job at taking the jungle formula and pushing its boundaries. First class.
Rua debutant Arcane arrives with a 4 track EP of jungle infused, bass driven goodness high on melodic content and percussive intricacy.
Title track – Labyrinth - hits that jungle funny bone from the outset, with delicately programmed drum flushes knitting together chimes, pads and chord progressions, all on top of 808s. For fans of Good Looking Records and Sully's modern output.
Premiered on Sherelle's BBCR1 show this week "Planet X", a collab with Samurai Breaks, provides dancefloor energy as old school jungle staples meet modern production manoeuvres. The pace here is unrelenting, the bass full frontal, and the energy undeniably soundsystem centred, while maintain the melodic signatures that tie the EP together.
"Voyages" harks back to earlier Rua Sound releases - a collage of genres, infectious halfsteppin' beat, deep subs & refined dancefloor pressure. What feels in the early stages like a beat tape track gradually builds into a dubby, bass-driven half-stepper for the beat heads.
"Temples" moves in a more drumfunk direction. A lurking low end underpins a furious drum workout, twisting and turning through several chapters. Arcane truly showing the flexibility of his production standard here, as well as his ability to merge old & new. Fire!
1. Arcane - Labyrinth 5:48
2. Arcane feat. Samurai Breaks - Planet X 5:03
3. Arcane - Voyage 6:55
4. Arcane - Temples 7:19
Listen Online
.
Download for free music.
Категории
New Bass Releases.
Теги
3D Stas
,
Agressor Bunx
,
Album
,
Alex Wicked
,
APHRODITE
,
Audio
,
Bad Syntax
,
BCee
,
Bes
,
Black Sun Empire
,
Break
,
Bryan Gee
,
Calibre
,
Cam Lasky
,
Camo and Krooked
,
Code Pandorum
,
Command Strange
,
Conrad Subs
,
Counterstrike
,
Current Value
,
Cutworx
,
D-Sabber
,
DC Breaks
,
Deekline
,
Derrick
,
Detach
,
Diplo
,
DJ C-LeeN
,
Dj Hornet
,
DJ Hype
,
DJ Profit
,
DLR
,
DRS
,
Drumsound and Bassline Smith
,
Duoscience
,
Ed Solo
,
Electrosoul System
,
ENEI
,
Excision
,
Fabio
,
Floyd The Barber
,
Forbidden Society
,
Fred V
,
Friction
,
Furney
,
Goldie
,
Grafix
,
Greekboy
,
Grooverider
,
Gydra
,
HYBRID MINDS
,
Intelligent Manners
,
John B
,
Kasper
,
Keeno
,
Krewella
,
L 33
,
Lady Waks
,
Let It Roll
,
London Elektricity
,
LOWRIDERZ
,
Mage
,
Mechanical Pressure
,
Mefjus
,
Metrik
,
Miss Mants
,
mSdoS
,
nCamargo
,
Need For Mirrors
,
NELVER
,
Neuropunk
,
Noisia
,
Ozma
,
Pirate Station
,
Pola and Bryson
,
Prodigy
,
Random Movement
,
Rene LaVice
,
Rossum
,
Shade k
,
Shiny Radio
,
Signal
,
Skrillex
,
SkyLabCru
,
SPY
,
Stanton Warriors
,
STATE OF MIND
,
STUNNA
,
Surreal
,
Technimatic
,
Teddy Killerz
,
TeeBee
,
Tonika
,
TOP 100
,
Truth
,
Under Break
,
Windom R
,
Yellow Claw
,
ZARDONIC
,
Zero T
Показать все теги