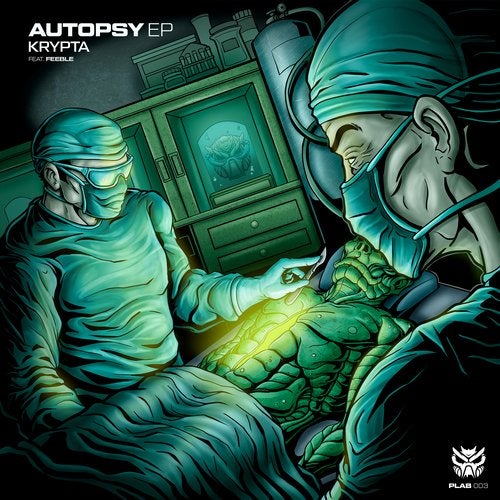 Style:
Drum and Bass
Date:
4/09/2020
Quality:
MP3 320 kbps
Label:
P LAB Recordings
Cat#
PLAB003P LAB Recordings proudly presents the highly anticipated debut release from Guernsey based Krypta. Autopsy EP, a journey into the sinister and deep landscape of tech Drum n Bass, Krypta has certainly found his own distinctive sound across this 4 track, perfectly finding the balance of rich dark textures and upfront running rhythms.
- Autopsy, featuring new comer Feeble, opens with a distinct mood that propels this EP in motion. Dark pads beneath distant grinding bass soon comes into focus for a drop that packs punch on every level. The drums are sharp and concise and the vibe is palpable. A fitting taste for what is to come.
- Residue is a solid broken beat workout, taking us through a desolate landscape to uncharted depths. The vocal sample whispering 'you should have saved me, you should have saved all of us' brings a feeling of supernatural uncertainty.
- Barracuda takes an ultra-modern approach to mid 2000's style techstep with a unique take on bass design that has a familiar feel from that era yet sounds incredibly fresh. Never a dull moment as edits and filtering create constant and consistent interest.
- Finally, Incision is a breathing, throbbing monster, packing an urgency within that is exaggerated by well-placed changes from standard drum n bass to half time, creating a gritty and relentless tension. The finer details and arrangement in this show a level of musicianship and composition worth celebrating.
- A truly captivating end to an EP that is clean, cohesive and conveys a convincing feeling of depth and darkness. This release is sure to be a weapon in the hands of anyone who grabs hold of it.
1. Krypta x Feeble - Autopsy 5:29
2. Krypta - Residue 4:53
3. Krypta - Barracuda 4:37
4. Krypta - Incision 4:30
Listen Online
.
Download for free music.
Категории
New Bass Releases.
Теги
3D Stas
,
Agressor Bunx
,
Album
,
Alex Wicked
,
APHRODITE
,
Audio
,
Bad Syntax
,
BCee
,
Bes
,
Black Sun Empire
,
Break
,
Bryan Gee
,
Calibre
,
Cam Lasky
,
Camo and Krooked
,
Code Pandorum
,
Command Strange
,
Conrad Subs
,
Counterstrike
,
Current Value
,
Cutworx
,
D-Sabber
,
DC Breaks
,
Deekline
,
Derrick
,
Detach
,
Diplo
,
DJ C-LeeN
,
Dj Hornet
,
DJ Hype
,
DJ Profit
,
DLR
,
DRS
,
Drumsound and Bassline Smith
,
Duoscience
,
Ed Solo
,
Electrosoul System
,
ENEI
,
Excision
,
Fabio
,
Floyd The Barber
,
Forbidden Society
,
Fred V
,
Friction
,
Furney
,
Goldie
,
Grafix
,
Greekboy
,
Grooverider
,
Gydra
,
HYBRID MINDS
,
Intelligent Manners
,
John B
,
Kasper
,
Keeno
,
Krewella
,
L 33
,
Lady Waks
,
Let It Roll
,
London Elektricity
,
LOWRIDERZ
,
Mage
,
Mechanical Pressure
,
Mefjus
,
Metrik
,
Miss Mants
,
mSdoS
,
nCamargo
,
Need For Mirrors
,
NELVER
,
Neuropunk
,
Noisia
,
Ozma
,
Pirate Station
,
Pola and Bryson
,
Prodigy
,
Random Movement
,
Rene LaVice
,
Rossum
,
Shade k
,
Shiny Radio
,
Signal
,
Skrillex
,
SkyLabCru
,
SPY
,
Stanton Warriors
,
STATE OF MIND
,
STUNNA
,
Surreal
,
Technimatic
,
Teddy Killerz
,
TeeBee
,
Tonika
,
TOP 100
,
Truth
,
Under Break
,
Windom R
,
Yellow Claw
,
ZARDONIC
,
Zero T
Показать все теги