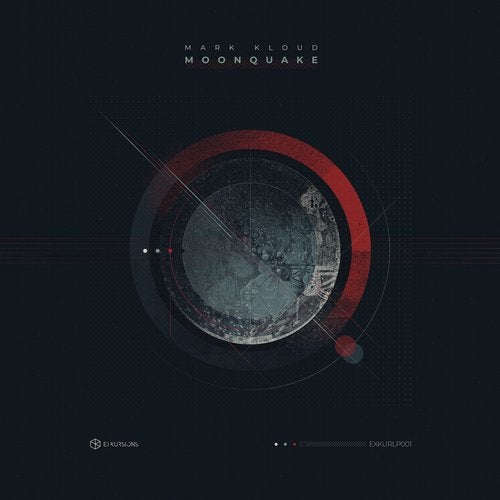 Style:
Drum and Bass, Deep-D&B, HalfStep
Date:
4/09/2020
Quality:
MP3 320 kbps
Label:
Exkursions
Cat#
EXKURLP001Lossless Music are extremely proud to present the stunning debut solo album from the Buffalo breakbeat scientist Mark Kloud. Ever since Mark sent over some demo tracks back in 2017 label boss Soul Intent has been watching and listening to Mark's output with great interest. Mark featured on DOPE005 with the beautiful jungle saturated track 'Strength'. Shortly after Soul Intent offered Mark the opportunity to write a long player for Lossless's leftfield and experimental sub-label Exkursions, which felt like the perfect home for Marks beautiful ambient 170BPM ventures. Moonquake features 11 striking tracks showcasing Mark's amazing skills as a producer, delving deep into ambient and ethereal soundscapes.
"We all deserve an Exkursion after the weirdness of 2020 and US artist Mark Kloud has the perfect trip with his debut album Moonquake. Already out in the wild, doing its thing digitally, here we find some of the best tracks on a special, not to mention limited, vinyl version. If you know Mark's output on the likes of Lossless, Paradise Lost and Onset, then you'll know the levels of deep we're talking here. Just as much informed by dub, techno and ambient as it is drum & bass, highlights include the palpitating dungeon jam 'Murder Too' and the stuttering, snake-like breaks of the untitled finale piece. And that's just the tip of this iceberg; tremors will persist for quite some time to come..."
1. Mark Kloud - Moonquake 5:21
2. Mark Kloud - Blood Dimmed Tide 7:07
3. Mark Kloud - Matter of Time 8:17
4. Mark Kloud - Cone 5:19
5. Mark Kloud - Murder Too 5:16
6. Mark Kloud - Static Peace 6:34
7. Mark Kloud - Sea Crest 6:44
8. Mark Kloud - Untitled 6:01
9. Mark Kloud - Small Town 6:46
10. Mark Kloud - This Space is Worn 5:37
11. Mark Kloud - Nigh 8:17
Listen Online
.
Download for free music.
Категории
New Bass Releases.
Теги
3D Stas
,
Agressor Bunx
,
Album
,
Alex Wicked
,
APHRODITE
,
Audio
,
Bad Syntax
,
BCee
,
Bes
,
Black Sun Empire
,
Break
,
Bryan Gee
,
Calibre
,
Cam Lasky
,
Camo and Krooked
,
Code Pandorum
,
Command Strange
,
Conrad Subs
,
Counterstrike
,
Current Value
,
Cutworx
,
D-Sabber
,
DC Breaks
,
Deekline
,
Derrick
,
Detach
,
Diplo
,
DJ C-LeeN
,
Dj Hornet
,
DJ Hype
,
DJ Profit
,
DLR
,
DRS
,
Drumsound and Bassline Smith
,
Duoscience
,
Ed Solo
,
Electrosoul System
,
ENEI
,
Excision
,
Fabio
,
Floyd The Barber
,
Forbidden Society
,
Fred V
,
Friction
,
Furney
,
Goldie
,
Grafix
,
Greekboy
,
Grooverider
,
Gydra
,
HYBRID MINDS
,
Intelligent Manners
,
John B
,
Kasper
,
Keeno
,
Krewella
,
L 33
,
Lady Waks
,
Let It Roll
,
London Elektricity
,
LOWRIDERZ
,
Mage
,
Mechanical Pressure
,
Mefjus
,
Metrik
,
Miss Mants
,
mSdoS
,
nCamargo
,
Need For Mirrors
,
NELVER
,
Neuropunk
,
Noisia
,
Ozma
,
Pirate Station
,
Pola and Bryson
,
Prodigy
,
Random Movement
,
Rene LaVice
,
Rossum
,
Shade k
,
Shiny Radio
,
Signal
,
Skrillex
,
SkyLabCru
,
SPY
,
Stanton Warriors
,
STATE OF MIND
,
STUNNA
,
Surreal
,
Technimatic
,
Teddy Killerz
,
TeeBee
,
Tonika
,
TOP 100
,
Truth
,
Under Break
,
Windom R
,
Yellow Claw
,
ZARDONIC
,
Zero T
Показать все теги