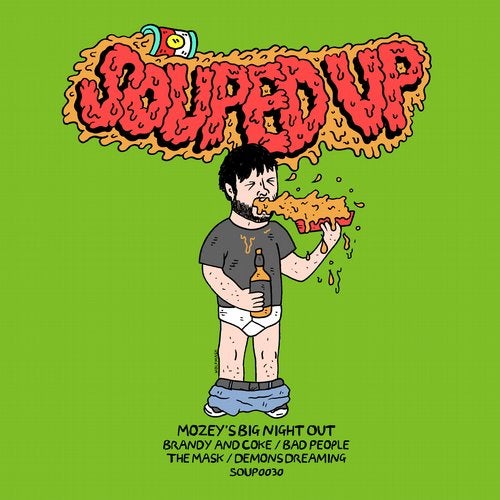 Style:
Drum and Bass, Jump up
Date:
10/09/2020
Quality:
MP3 320 kbps
Label:
Souped Up Records
Cat#
SOUP0030Few rising artists have turned as many heads this year as Mozey. And right here he proves the hype with a raucous night out with the Souped Up lads. First come the pre-drinks at his house. Enjoy a nice "Brandy & Coke" while the bassline sounds like a pack of stray dogs trying to eat your shoes. Next we hit the pub where we meet some very "Bad People" and shoo them away with eerie high frequency riffage and groaning bass textures. "The Mask" sees us hitting the club... Literally. The sound of the bass clanging like we're banging the walls because the music is goshdarned good. Finally we hit the sesh where things get twisted to the tune of "Demons Dreaming". You think you know big nights out? You've never raved with Mozey.
1. Mozey - Brandy And Coke 5:08
2. Mozey - Bad People 4:30
3. Mozey - The Mask 4:28
4. Mozey - Demons Dreaming 3:44
Listen Online
.
Download for free music.
Категории
New Bass Releases.
Теги
3D Stas
,
Agressor Bunx
,
Album
,
Alex Wicked
,
APHRODITE
,
Audio
,
Bad Syntax
,
BCee
,
Bes
,
Black Sun Empire
,
Break
,
Bryan Gee
,
Calibre
,
Cam Lasky
,
Camo and Krooked
,
Code Pandorum
,
Command Strange
,
Conrad Subs
,
Counterstrike
,
Current Value
,
Cutworx
,
DC Breaks
,
Deekline
,
Derrick
,
Detach
,
Diplo
,
DJ C-LeeN
,
Dj Hornet
,
DJ Hype
,
DJ Profit
,
DLR
,
DRS
,
Drumsound and Bassline Smith
,
Duoscience
,
Ed Solo
,
Electrosoul System
,
ENEI
,
Excision
,
Fabio
,
Floyd The Barber
,
Forbidden Society
,
Fred V
,
Friction
,
Furney
,
Goldie
,
Grafix
,
Greekboy
,
Grooverider
,
Gydra
,
Holly
,
HYBRID MINDS
,
Intelligent Manners
,
John B
,
Kasper
,
Keeno
,
L 33
,
Lady Waks
,
Let It Roll
,
London Elektricity
,
LOWRIDERZ
,
Mage
,
Mechanical Pressure
,
Mefjus
,
Metrik
,
Miss Mants
,
mSdoS
,
Mutantbreakz
,
nCamargo
,
Need For Mirrors
,
NELVER
,
Neuropunk
,
Noisia
,
Ozma
,
Pirate Station
,
Pola and Bryson
,
Prodigy
,
Random Movement
,
Rene LaVice
,
Rossum
,
Shade k
,
Shiny Radio
,
Signal
,
Skrillex
,
SkyLabCru
,
SPY
,
Stanton Warriors
,
STATE OF MIND
,
STUNNA
,
Surreal
,
Technimatic
,
Teddy Killerz
,
TeeBee
,
Tonika
,
TOP 100
,
Truth
,
Under Break
,
Windom R
,
Yellow Claw
,
ZARDONIC
,
Zero T
Показать все теги