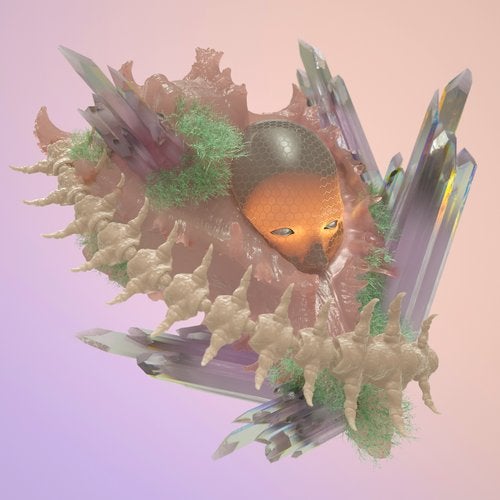 Style:
bass | idm | experimental | rave | breakbeat | jungle | happy hardcore
Date:
9/10/2020
Quality:
MP3 320 kbps
Label:
Hyperboloid
Cat#
HYPR085With his new album, "Ethereal", Famitsu took an ephemeral journey to virtually every corner of rave culture. Here are revisions of trance, sprays of gabba, breakbeat/jungle and house, and everything we danced and still dance on the wirehouses, factories, clubs and hangars for who knows how many years. But all this is not just a retrospective - Famitsu wrapped everything in a derealized shell, enveloped in iridescent neon light and put his trademark futuristic seal. And so, we own a powerful time machine of Famitsu Hyper brand on which we go on this crazy rave trip.
В своём новом альбоме "Ethereal" Famitsu совершил эфемерное путешествие фактически по всем уголкам рейва. Здесь и ревизии транса, и напыления габбы и брейкбит/джангл и хаус, и все что угодно, под что танцевали и танцуют на вэйрхаусах и заводах, клубах и ангарах уже на протяжении многих лет. Но это не просто ретроспектива — Famitsu завернул все в дереализированную оболочку, окутал переливающимся неоновым светом и поставил свою фирменную футуристическую печать. И вот, мы имеем мощную машину времени марки Famitsu Hyper, на которой и отправляемся в этот сумасшедший рейв трип.
Рецензия
на FAMITSU "Ethereal" в японском журнале
AVYSS
:
前作に引き続きモスクワのレーベル〈Hyperboloid Records〉からリリースされた今作でFamitsuはタイムカプセルに包まれ、レイヴカルチャーの儚い時間の旅に出たとのこと。トランス、ガバ、ブレイクビーツ/ジャングル、ハウスなどを歴史を潜り抜け、脱皮したシェルはネオンライトに照らされる。限定でカセット版もBandcampにて販売中。
• Famitsu, Wutine - Lapwings 3:43
• Famitsu - Flashing Circles 4:13
• Famitsu - In the Dawn 3:42
• Famitsu - Neon 3:12
• Famitsu - Ethereal 5:12
• Famitsu - She Is Real 4:00
• Famitsu - Tiger 4:07
• Famitsu - Tranceware 4:04
8 / 32:13
Listen Online
.
Download for free music.
Категории
New Bass Releases.
Теги
3D Stas
,
Agressor Bunx
,
Album
,
Alex Wicked
,
APHRODITE
,
Audio
,
Bad Syntax
,
BCee
,
Bes
,
Black Sun Empire
,
Break
,
Bryan Gee
,
Calibre
,
Cam Lasky
,
Camo and Krooked
,
Code Pandorum
,
Command Strange
,
Conrad Subs
,
Counterstrike
,
Current Value
,
Cutworx
,
DC Breaks
,
Deekline
,
Derrick
,
Detach
,
Diplo
,
DJ C-LeeN
,
Dj Hornet
,
DJ Hype
,
DJ Profit
,
DLR
,
DRS
,
Drumsound and Bassline Smith
,
Duoscience
,
Ed Solo
,
Electrosoul System
,
ENEI
,
Excision
,
Fabio
,
Floyd The Barber
,
Forbidden Society
,
Fred V
,
Friction
,
Furney
,
Goldie
,
Grafix
,
Greekboy
,
Grooverider
,
Gydra
,
Holly
,
HYBRID MINDS
,
Intelligent Manners
,
John B
,
Kasper
,
Keeno
,
L 33
,
Lady Waks
,
Let It Roll
,
London Elektricity
,
LOWRIDERZ
,
Mage
,
Mechanical Pressure
,
Mefjus
,
Metrik
,
Miss Mants
,
mSdoS
,
nCamargo
,
Need For Mirrors
,
NELVER
,
Neuropunk
,
Noisia
,
Ozma
,
Pirate Station
,
Pola and Bryson
,
Prodigy
,
Random Movement
,
Rene LaVice
,
Rossum
,
Shade k
,
Shiny Radio
,
Signal
,
Skrillex
,
SkyLabCru
,
SPY
,
Stanton Warriors
,
STATE OF MIND
,
STUNNA
,
Surreal
,
Technimatic
,
Teddy Killerz
,
TeeBee
,
Tonika
,
TOP 100
,
Total Science
,
Truth
,
Under Break
,
Windom R
,
Yellow Claw
,
ZARDONIC
,
Zero T
Показать все теги