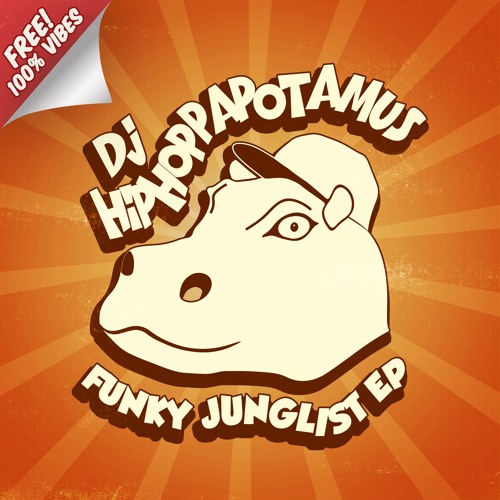 Style:
Drum and Bass, Jungle, Reggae, Afro, Jazz, Breaks, Funk, Samba/Soul
Date:
2/09/2020
Quality:
MP3 320 kbps
Label:
independentBristol-based Hiphoppapotamus spent some of his time making new music during the lockdown and four tracks that were lovingly created during that period have made it onto his high-rollin' Funky Junglist EP.
- Consisting of four fresh Jungle remixes of some of his favourite tracks in the world ever, Hiphoppapotamus has made sure that every one of them is brimming with the kind of positivity we're all on the look for currently. The first track of his favourite tracks to get an uplifting yet intense Jungle workout is Blind Melon's 1993 hit No Rain and following that is a raucous yet groove-heavy remix of Primal Scream's infamous classic Loaded that will have you dancing around your living rooms like no one is watching and guess what, they're not!
- Next up is the title track of the EP and this one features a raft of Reggae legends including Cutty Ranks, General Levy, Screechy Dan and Buju Banton and even though it has a slightly darker feel compared to the other tracks, there's still plenty of fun to be had along with extra percussive elements thanks to Hiphoppapotamus' good friends DJ Mook and Munki. Skankin' out to Simon & Garfunkel's sing-a-long classic Mrs Robinson is how we're rounding up this extremely lively EP and with all that has gone before, things could not end on a higher note and more enjoyable note.
• DJ Hiphoppapotamus - Blind Watermelon 6:14
• DJ Hiphoppapotamus x DJ Mook - Funky Junglist 3:58
• DJ Hiphoppapotamus - Loaded Junglist 4:45
• DJ Hiphoppapotamus - Samba & Garfunkel 4:09
Dead Link? (REPORT 1-5 Days) сообщить о ссылке на перезалив
Listen Online
.
Download for free music.
Категории
New Bass Releases.
Теги
3D Stas
,
Agressor Bunx
,
Album
,
Alex Wicked
,
APHRODITE
,
Audio
,
Bad Syntax
,
BCee
,
Bes
,
Black Sun Empire
,
Break
,
Bryan Gee
,
Calibre
,
Cam Lasky
,
Camo and Krooked
,
Code Pandorum
,
Command Strange
,
Conrad Subs
,
Counterstrike
,
Current Value
,
Cutworx
,
D-Sabber
,
DC Breaks
,
Deekline
,
Derrick
,
Detach
,
Diplo
,
DJ C-LeeN
,
Dj Hornet
,
DJ Hype
,
DJ Profit
,
DLR
,
DRS
,
Drumsound and Bassline Smith
,
Duoscience
,
Ed Solo
,
Electrosoul System
,
ENEI
,
Excision
,
Fabio
,
Floyd The Barber
,
Forbidden Society
,
Fred V
,
Friction
,
Furney
,
Goldie
,
Grafix
,
Greekboy
,
Grooverider
,
Gydra
,
HYBRID MINDS
,
Intelligent Manners
,
John B
,
Kasper
,
Keeno
,
L 33
,
Lady Waks
,
Let It Roll
,
London Elektricity
,
LOWRIDERZ
,
Mage
,
Mechanical Pressure
,
Mefjus
,
Metrik
,
Miss Mants
,
mSdoS
,
Mutantbreakz
,
nCamargo
,
Need For Mirrors
,
NELVER
,
Neuropunk
,
Noisia
,
Ozma
,
Pirate Station
,
Prodigy
,
Random Movement
,
Rene LaVice
,
Rossum
,
Shade k
,
Shiny Radio
,
Signal
,
Skrillex
,
SkyLabCru
,
SPY
,
Stanton Warriors
,
STATE OF MIND
,
STUNNA
,
Surreal
,
Technimatic
,
Teddy Killerz
,
TeeBee
,
Tonika
,
TOP 100
,
Total Science
,
Truth
,
Under Break
,
Windom R
,
Yellow Claw
,
ZARDONIC
,
Zero T
Показать все теги