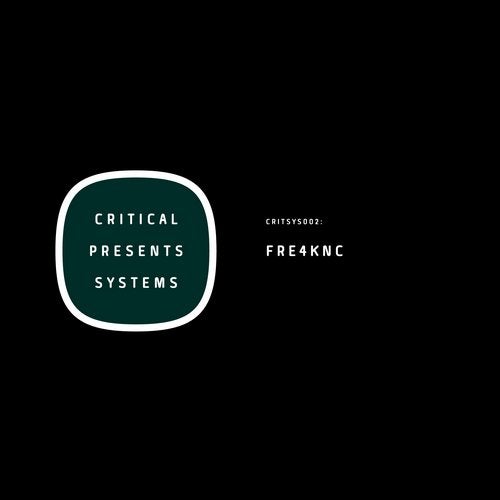 Style:
Drum and Bass
Date:
25/09/2015
Quality:
MP3 320 kbps
Label:
Critical Music
Cat#
CRITSYS002Holland may own the prize EDM jewels with your Hardwells and Garrixs but it's also home to the finest tech D&B medal cabinet in the world. Joining the likes of Noisia, Posij, June Miller and Black Sun Empire is Fre4knc, a man whose sound designs have already been celebrated by Samurai, Invisible and Dispatch. Now stepping up to Critical's "Binary" series the Fre4ky fellow lays down a quintet of dark, disturbing rollers; "The Misery" comes on strong like an I Am Legion cut thanks to the demonic command of Mongoose. "Rotor" is a nod to the late 90s era with a series of growling bass tones that conjure the spirits of "The Nine". "Fender Bender" is more elastic and funky in its creepy nature thanks to its heavily swung beats. "Rocket Science" is a grumpy halftimer, all grizzly and slouchy and full of Tobinisms. Finally "Rebus" closes the show on a drum-heavy, Doc Scott-style minimal flex with designs so dark they'll make you scared of the dark. Don't have nightmares.
- Dutch drum & bass continues from strength to strength as Fre4knc steps up for his first outing on Critical to bring back their Systems series. Drawing in the vocal talents of Mongoose for the half- stepping, amen edits of the seriously dangerous 'This Misery', Fre4knc runs through an array of drastic tech-infused productions that prove just why the likes of Kasra, Noisia, Icicle, Friction, Stray and Doc Scott are all championing his sound.
• Fre4knc, Mongoose - This Misery 5:15
• Fre4knc - Rotor 4:51
• Fre4knc - Fender Bender 5:20
• Fre4knc - Rocket Science 5:59
• Fre4knc x Silvahfonk - Rebus 6:25
Listen Online
.
Download for free music.
Категории
New Bass Releases.
Теги
3D Stas
,
Agressor Bunx
,
Album
,
Alex Wicked
,
APHRODITE
,
Audio
,
Bad Syntax
,
BCee
,
Bes
,
Black Sun Empire
,
Break
,
Bryan Gee
,
Calibre
,
Cam Lasky
,
Camo and Krooked
,
Code Pandorum
,
Command Strange
,
Conrad Subs
,
Counterstrike
,
Current Value
,
Cutworx
,
DC Breaks
,
Deekline
,
Derrick
,
Detach
,
Diplo
,
DJ C-LeeN
,
Dj Hornet
,
DJ Hype
,
DJ Profit
,
DLR
,
DRS
,
Drumsound and Bassline Smith
,
Duoscience
,
Ed Solo
,
Electrosoul System
,
ENEI
,
Excision
,
Fabio
,
Floyd The Barber
,
Forbidden Society
,
Fred V
,
Friction
,
Furney
,
Goldie
,
Grafix
,
Greekboy
,
Grooverider
,
Gydra
,
Holly
,
HYBRID MINDS
,
Intelligent Manners
,
John B
,
Kasper
,
Keeno
,
L 33
,
Lady Waks
,
Let It Roll
,
London Elektricity
,
LOWRIDERZ
,
Mage
,
Mechanical Pressure
,
Mefjus
,
Metrik
,
Miss Mants
,
mSdoS
,
nCamargo
,
Need For Mirrors
,
NELVER
,
Neuropunk
,
Noisia
,
Ozma
,
Pirate Station
,
Pola and Bryson
,
Prodigy
,
Random Movement
,
Rene LaVice
,
Rossum
,
Shade k
,
Shiny Radio
,
Signal
,
Skrillex
,
SkyLabCru
,
SPY
,
Stanton Warriors
,
STATE OF MIND
,
STUNNA
,
Surreal
,
Technimatic
,
Teddy Killerz
,
TeeBee
,
Tonika
,
TOP 100
,
Total Science
,
Truth
,
Under Break
,
Windom R
,
Yellow Claw
,
ZARDONIC
,
Zero T
Показать все теги