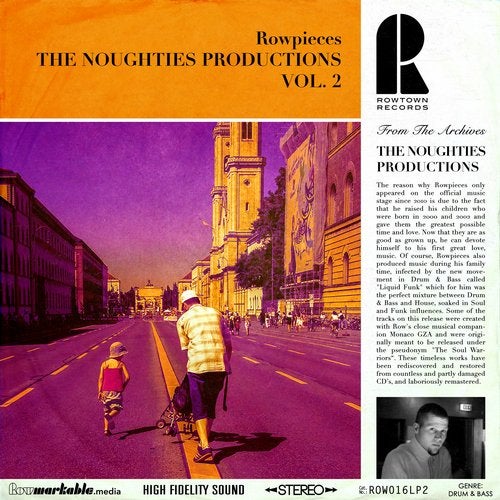 Style:
Drum and Bass
Date:
16/10/2020
Quality:
MP3 320 kbps
Label:
Rowtown
Cat#
ROW016LP2The reason why Rowpieces only appeared on the official music stage since 2010 is due to the fact that he raised his children who were born in 2000 and 2002 and gave them the greatest possible time and love. Now that they are as good as grown up, he can devote himself to his first great love, music. Of course, Rowpieces also produced music during his family time, infected by the new movement in Drum & Bass called "Liquid Funk" which for him was the perfect mixture between Drum & Bass and House, soaked in Soul and Funk influences. Some of the tracks on this release were created with Row's close musical companion Monaco GZA and were originally meant to be released under the pseudonym "The Soul Warriors". These timeless works have been rediscovered and restored from countless and partly damaged CD's, and laboriously remastered. On this album you can already hear the typical Rowpieces sound which he is well-known for.
1. Rowpieces - No Matter What (05:02)
2. Rowpieces - Easy Leasy (06:23)
3. Rowpieces - Come On (version 1) (05:57)
4. Rowpieces - Darlin' You (07:20)
5. Rowpieces - Everybody (version 2) (07:49)
6. Rowpieces - If Only You Believe (05:14)
7. Rowpieces & Monaco GZA - Lucero (05:55)
8. Rowpieces - Hectic Jungle (version 2) (07:50)
9. Rowpieces & Monaco GZA - Don't You Never Go Away (feat La Yee) (06:32)
10. Rowpieces & Monaco GZA - Don't You Never Go Away (feat La Yee - Half Tempo Recall) (01:35)
11. Rowpieces - Yeah! (07:19)
12. Rowpieces & Monaco GZA - I'm Thinkin' Of You (Version3) (05:55)
13. Rowpieces & Monaco GZA - On The Run (Interlude) (00:42)
14. Rowpieces - You Will Like It (05:16)
15. Rowpieces - The End Of An Era (07:53)
Listen Online
.
Dead Link? (REPORT 1-5 Days) сообщить о ссылке на перезалив
Download for free music.
Категории
New Bass Releases.
Теги
3D Stas
,
Agressor Bunx
,
Album
,
Alex Wicked
,
APHRODITE
,
Bad Syntax
,
BCee
,
Bes
,
Black Sun Empire
,
Break
,
Bryan Gee
,
Calibre
,
Cam Lasky
,
Camo and Krooked
,
Chase and Status
,
Code Pandorum
,
Command Strange
,
Conrad Subs
,
Counterstrike
,
Current Value
,
Cutworx
,
D-Sabber
,
DC Breaks
,
Deekline
,
Derrick
,
Detach
,
Diplo
,
DJ C-LeeN
,
Dj Hornet
,
DJ Hype
,
DJ Profit
,
DRS
,
Drumsound and Bassline Smith
,
Duoscience
,
Ed Solo
,
Electrosoul System
,
ENEI
,
Excision
,
Fabio
,
Floyd The Barber
,
Forbidden Society
,
Fred V
,
Friction
,
Furney
,
Goldie
,
Grafix
,
Greekboy
,
Grooverider
,
Gydra
,
HYBRID MINDS
,
Intelligent Manners
,
Jaybee
,
John B
,
Kasper
,
Keeno
,
L 33
,
Lady Waks
,
Let It Roll
,
London Elektricity
,
LOWRIDERZ
,
Mage
,
Mechanical Pressure
,
Mefjus
,
Metrik
,
Miss Mants
,
mSdoS
,
Mutantbreakz
,
nCamargo
,
Need For Mirrors
,
NELVER
,
Neonlight
,
Neuropunk
,
Noisia
,
Ozma
,
Pirate Station
,
Prodigy
,
Random Movement
,
Rene LaVice
,
Rossum
,
Shade k
,
Shiny Radio
,
Signal
,
Skrillex
,
SkyLabCru
,
SPY
,
Stanton Warriors
,
STATE OF MIND
,
STUNNA
,
Surreal
,
Technimatic
,
Teddy Killerz
,
TeeBee
,
Tonika
,
TOP 100
,
Truth
,
Under Break
,
Windom R
,
Yellow Claw
,
ZARDONIC
,
Zero T
Показать все теги