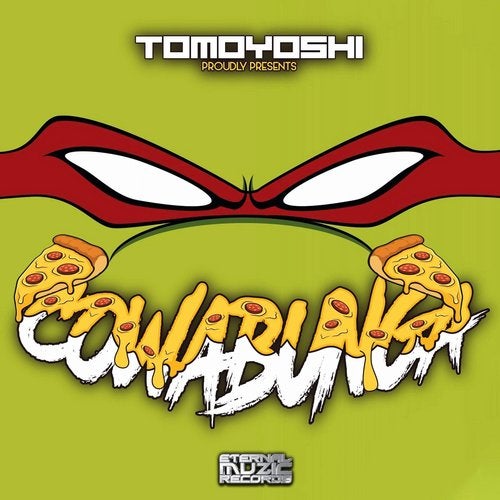 Music:
Drum and Bass, Jump Up
Quality:
MP3 320 kbps
Date:
9/11/2020
Label:
Eternal Muzic Records
Cat#
EMR601. Tomoyoshi - Cowabunga 4:28
2. Tomoyoshi - Absinthe 4:52
3. Tomoyoshi - Down 4:28
4. Tomoyoshi - Gambler 4:28
5. Tomoyoshi - Karma 4:09
6. Tomoyoshi - Open your eyes 4:06
7. Tomoyoshi - Wake Up 4:55
Pow! Tomoyoshi is not messing around or letting a small issue like the global pandemic get in his way right now; straight off the shots on his latest Low Down Deep EP comes this mini album sized chop walloper on Eternal. Seven tracks heavy, you can hear him digging into his influences and interests; the rolling techstep and early 2000s sound of 'Cowabunga', the stripped-back minimalism of 'Absinthe', the early, switchy, riffy jump up funk of tracks like 'Gambler', 'Open Your Eyes' and 'Down' and forward-thinking fusions that sound totally unique to him such as the dramatic blend of steel drums and rasping high-end ringtone bass on 'Karma' and the trippy delays and stretches on 'Wake Up'. Time to smell the Japanese coffee. Surf's up dudes.
Listen Online
.
Dead Link? (REPORT 1-5 Days) сообщить о ссылке на перезалив
Download for free music.
Категории
New Bass Releases.
Теги
3D Stas
,
Agressor Bunx
,
Album
,
Alex Wicked
,
APHRODITE
,
Audio
,
Bad Syntax
,
BCee
,
Bes
,
Black Sun Empire
,
Break
,
Bryan Gee
,
Calibre
,
Cam Lasky
,
Camo and Krooked
,
Chase and Status
,
Code Pandorum
,
Command Strange
,
Conrad Subs
,
Counterstrike
,
Current Value
,
Cutworx
,
DC Breaks
,
Deekline
,
Derrick
,
Detach
,
Diplo
,
DJ C-LeeN
,
Dj Hornet
,
DJ Hype
,
DJ Profit
,
DRS
,
Drumsound and Bassline Smith
,
Duoscience
,
Ed Solo
,
Electrosoul System
,
ENEI
,
Excision
,
Fabio
,
Floyd The Barber
,
Forbidden Society
,
Fred V
,
Friction
,
Furney
,
Goldie
,
Grafix
,
Greekboy
,
Grooverider
,
Gydra
,
HYBRID MINDS
,
Intelligent Manners
,
Jaybee
,
John B
,
Kasper
,
Keeno
,
Krewella
,
L 33
,
Lady Waks
,
Let It Roll
,
London Elektricity
,
LOWRIDERZ
,
Mage
,
Mechanical Pressure
,
Mefjus
,
Metrik
,
Miss Mants
,
mSdoS
,
nCamargo
,
Need For Mirrors
,
NELVER
,
Neuropunk
,
Noisia
,
Ozma
,
Pirate Station
,
Pola and Bryson
,
Prodigy
,
Random Movement
,
Rene LaVice
,
Rossum
,
Shade k
,
Shiny Radio
,
Signal
,
Skrillex
,
SkyLabCru
,
SPY
,
Stanton Warriors
,
STATE OF MIND
,
STUNNA
,
Surreal
,
Technimatic
,
Teddy Killerz
,
TeeBee
,
Tonika
,
TOP 100
,
Truth
,
Under Break
,
Windom R
,
Yellow Claw
,
ZARDONIC
,
Zero T
Показать все теги