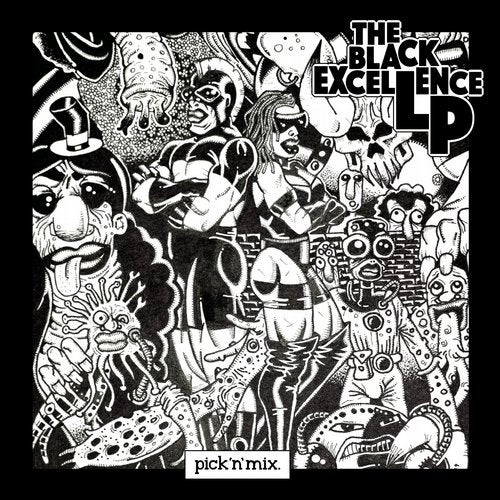 Music:
Drum & Bass
Quality:
MP3 320 kbps
Date:
30/10/2020
Label:
Pick 'N' Mix
Cat#
TBE0011. Lost Child & Kyst Cortez - Do The Most 4:06
2. Kanobie & Sahala - Carry On 4:56
3. Stranger - Her 4:24
4. Bunnie & Kyst Cortez - Be Free 4:47
5. the Heavies - The Moment 4:28
6. T64 - Abuja 5:10
7. R3dX & Kyst Cortez - Settle 4:24
8. Lost Child & Mykool - What Do You Mean You People 3:47
9. enta & Fatman - Legion 4:34
10. Amplify - Old School 4:31
11. 10AD & Breakout - World Of Pain 3:34
12. Diligent Fingers - Bruk Up Boris (Vocal Mix) 3:40
13. Diligent Fingers - Bruk Up Boris (Extended Instrumental Mix) 5:44
14. Lost Child - Revolution 4:37
15. BlckHry - Brainless 4:23
Pick N Mix need no introduction. Sticky fingers, stinky bangers; TJ's imprint is at the very forefront of dnb's exciting new generation. Now they raise the game once again, amplifying their message with arguably the most important album in the genre this year: 'The Black Excellence' is 100% created by artists and creatives of colour from the artwork to activation and it slams down any question of lack of diversity in the game. Featuring the likes of Amplify, BLCKHRY, Dilligent Fingers, Kyst Cortez and so many more, it runs the entire range of sounds from deep and soulful ('Be Free') to dark and slinky ('Settle') to savage and rasping ('Legion') and reflects how exciting and wide-range the dnb sound is when it comes from a diverse place. More albums like this, please.
Listen Online
.
Dead Link? (REPORT 1-5 Days) сообщить о ссылке на перезалив
Download for free music.
Категории
New Bass Releases.
Теги
3D Stas
,
Agressor Bunx
,
Album
,
Alex Wicked
,
APHRODITE
,
Bad Syntax
,
BCee
,
Bes
,
Black Sun Empire
,
Break
,
Bryan Gee
,
Calibre
,
Cam Lasky
,
Camo and Krooked
,
Chase and Status
,
Code Pandorum
,
Command Strange
,
Conrad Subs
,
Counterstrike
,
Current Value
,
Cutworx
,
DC Breaks
,
Deekline
,
Derrick
,
Detach
,
Diplo
,
DJ C-LeeN
,
Dj Hornet
,
DJ Hype
,
DJ Profit
,
DRS
,
Drumsound and Bassline Smith
,
Duoscience
,
Ed Solo
,
Electrosoul System
,
ENEI
,
Enigma Dubz
,
Excision
,
Fabio
,
Floyd The Barber
,
Forbidden Society
,
Fred V
,
Friction
,
Furney
,
Goldie
,
Grafix
,
Greekboy
,
Grooverider
,
Gydra
,
HYBRID MINDS
,
Intelligent Manners
,
John B
,
Kasper
,
Keeno
,
Krewella
,
L 33
,
Lady Waks
,
Let It Roll
,
London Elektricity
,
LOWRIDERZ
,
Mage
,
Mechanical Pressure
,
Mefjus
,
Metrik
,
Miss Mants
,
mSdoS
,
nCamargo
,
Need For Mirrors
,
NELVER
,
Neuropunk
,
Noisia
,
Ozma
,
Pirate Station
,
Pola and Bryson
,
Prodigy
,
Random Movement
,
Rene LaVice
,
Rossum
,
Shade k
,
Shiny Radio
,
Signal
,
Skrillex
,
SkyLabCru
,
SPY
,
Stanton Warriors
,
STATE OF MIND
,
STUNNA
,
Surreal
,
Technimatic
,
Teddy Killerz
,
TeeBee
,
Tonika
,
TOP 100
,
Total Science
,
Truth
,
Under Break
,
Windom R
,
Yellow Claw
,
ZARDONIC
,
Zero T
Показать все теги