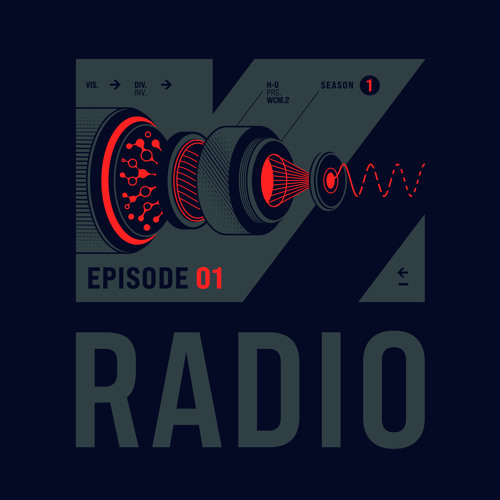 Styles
Drum & Bass, Future Beats
Released
6/01/2021
Quality
MP3/192kbps
Rar
82 Mb
ЂAll Mixes (Link)ї
With VISION Radio (f.k.a. Noisia Radio) we select what excites us in bass music; drum & bass, electronica, beats and whatever forward leaning sounds we can get our hands on. We champion our latest releases as well as tons of music from people you have or haven't heard yet. There's artist takeovers, guest mixes, a weekly Reload voted for by our Patrons and our host Dave, who is...well, Dave.
Hello person, welcome to the very first episode of VISION Radio (f.k.a. Noisia Radio). WeТre kicking things off with СThe TideТ by Noisia, the first release on VISION. We have СNonplusТ by IMANU in the remix by Skantia plus new music by Fracture, Yatuza, Tsuruda, Annix and more.
Tracklist
00:00 VISION Radio Intro
00:44 Noisia Ч The Tide [VISION]
04:30 IMANU Ч Nonplus (Skantia Remix) [VISION]
07:10 Fracture Ч Latee Killer [1985]
09:36 Yatuza Ч Scam [OYO]
11:25 Division Ч Deadly Fog [EKOU]
13:44 Tsuruda Ч No More [ALPHA PUP]
16:34 Molecular Ч NRG [SOFA SOUND]
18:59 Black Barrel & Nami Ч M4 [BANDCAMP]
20:57 SLWDWN Ч Echoes [IMPACT]
22:30 Saka Ч Stasis [INSPECTED]
24:36 Bass Brothers Ч Antisocial [SOUPED UP]
26:41 Zero T Ч MY WRLD 4EVR [CIA]
28:57 Dj Ride Ч Mudarsom (Feat. HØST) [DOME OF DOOM]
31:51 Annix Ч Equinox (Feat. Rider Shafique) [NEXUS]
33:46 Victim & Njin Ч Alien Trader [VISION]
36:04 Thys & Two Fingers Ч Charlatan [VISION]
40:16 RAM Trilogy Ч Iron Lung (SyRan Remix) [RAM]
42:26 Subp Yao Ч One Man (Feat. dOOp) [YUKU]
44:30 QZB Ч Elektron Dub [CRITICAL]
46:42 Emperor Ч Sunder [VISION]
51:18 MVRK Ч Saturn [BANDCAMP]
53:28 Noisia Ч Concussion [VISION]
55:43 LEViT∆TE Ч Protectors Story pt.2 [LEVITATE MUSIC]
57:41 Pure Shade Ч Sense Of Completion [INTRINZIC]
Listen Online
.
Dead Link? (REPORT 1-5 Days) сообщить о ссылке на перезалив
Download for free music.