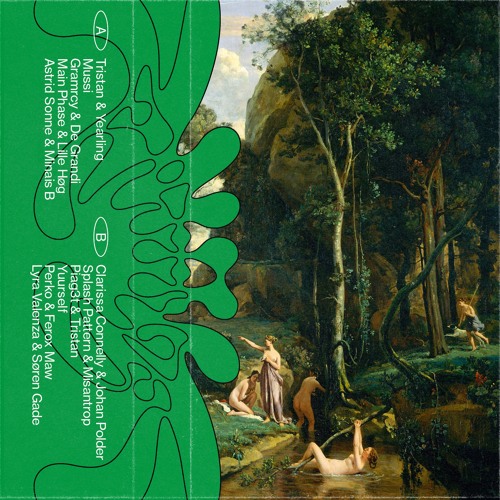 Style:
Drum and Bass, Ambient, Jungle, Techno
Quality:
MP3 320 kbps
Date:
19/02/2021
Label:
Petrola 80
Cat:
PET-010It feels almost surreal to complete the compilation trilogy 'Embrace, Expand, Exchange' that we started working on back in 2017. Originally inspired by the title of an internal Microsoft strategy, the concept of the three volumes was to embrace our surrounding scene, expand the horizon of @petrola-80, and to let artists close to the label exchange ideas with each other.
The third and final volume 'Exchange' is made up entirely by collaborations and it is definitely the most diverse-sounding release of the trilogy, spanning from ambient and experimental over jungle and techno to alternative pop. The most notorious development is arguably the presence of vocal and pop music on the compilation, something we will explore further on Petrola 80 in the future.
Within a total of 20 contributing artists, we are very proud to introduce 15 new faces in the Petrola 80 character gallery - producers, composers and musicians from Copenhagen, Denmark and beyond. However, it is also very fulfilling to see some kind of full cycle in the compilation trilogy, having five artists featured on 'Exchange' who also contributed to the 'Embrace' compilation back in 2018.
With this compilation release, we would like to inspire and encourage all artists to collaborate and exchange ideas with each other, and especially with people one doesn't usually collaborate with. You never know what comes out of it, but you rarely regret trying something new in order to get to know yourself better and improve your art.
11 / 48:39
Tristan, Yearling - Voicen 3:55
Mussi - Racing 3:31
Gramrcy, De Grandi - Sea in Air 5:36
Main Phase, Lille Høg - Hold On 6:47
Astrid Sonne, Minais B - Mistakes 4:45
Clarissa Connelly, Johan Polder - The Rider 3:20
Splash Pattern, Misantrop - Body Above The Law 4:08
Tristan, Piag3t - Curved Spring 4:08
Yuurself - Transformers 2:31
Perko, Ferox Maw - Utility Hack 5:37
Lyra Valenza, Søren Gade - Hold Fast 4:25
Listen Online
.
Dead Link? (REPORT 1-5 Days) сообщить о ссылке на перезалив
Download for free music.