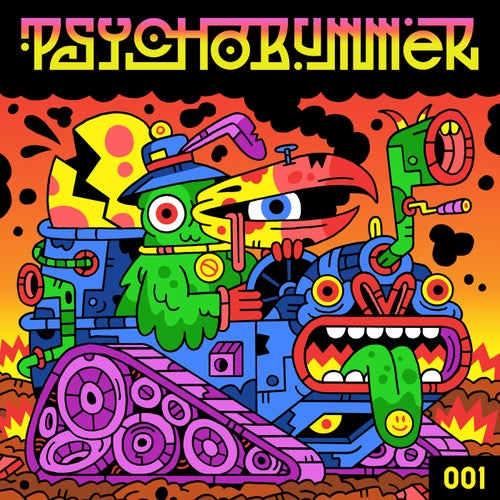 Style:
Drum and Bass, Jungle
Release:
12/03/2021
Quality:
MP3 320 kbps
Label:
Psycho Bummer
Cat#
PSYBUM001DJ Scam - Darkside Geezer 4:42
DJ Scam - Sodium Pentothal 4:15
DJ Scam - Black Swan 4:25
For the inaugural release of Psycho Bummer, we bring an EP from one of our label founders, DJ Scam (Brandon Ivers). Jungle and drum'n'bass was the starting point for us as DJs, friends, and collaborators, so it seemed fitting to begin the story here.
The EP's opener, 'Darkside Geezer', is a tribute to the transition point right before hardcore morphed into jungle in 1993. Although producers worked with a small palette of sounds back then, the emotion and freshness they were able to pull out of their limitations remains unrivaled. 'Darkside Geezer' imagines an alternate reality of that period, drawing parallels between it and the seeds of transition that 2020 brought us.
'Sodium Pentothal' is the roughest tune on this release, adopting the sonics of modern drum'n'bass production, but channeled through the tropes of the music in its early stages. DJs like Sherelle, Tim Reaper, and Coco Bryce played a tremendous role in inspiring us (and keeping us sane) over the last year, so we wanted to stick to the tempo they helped rekindle.
The closer, 'Black Swan', focuses on the simplicity of early hardcore and jungle, but breaks away with glassy chimes and a folding, geometric structure. Made with old samplers and tracker software, 'Black Swan' was the first track Scam did for this release and it helped set the tone for what followed.
Listen Online
.
Dead Link? (REPORT 1-5 Days) сообщить о ссылке на перезалив
Download for free music.