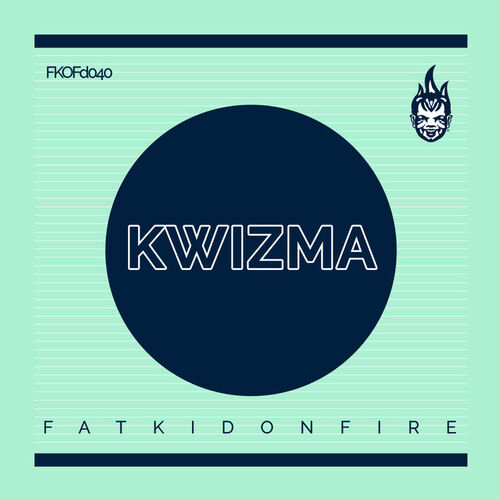 Style
Deep-Dubstep / Dubstep
Released
25/10/2019
Format
MP3,320kbps
Label
FatKidOnFire
Cat
FKOFd040
Review
What a year it has been for the team at FKOF, a brand and label project that continues to grow in both strength and popularity, flying the flag for dubstep worldwide. This latest project sees them invite in Kwizma for four original stormers, kicking off with the gnarly bass slaps and stripped back percussion of 'Mariana', followed by the super subtle steppers flavours of 'Sidewinder'. Next, 'Tananum' rolls into play with yet more incredibly precise drum processing, giving it a serious cool metallic edge, before we round up with the super spacey sub tones and haunted vocal sampling of 'The Mog'. Amazing stuff!
Kwizma — "Mariana" 5:31
Kwizma — "Sidewinder" 5:35
Kwizma — "Tananum" 5:34
Kwizma — "The Mog" 5:37
Online
We're quickly approaching the tail-end of yet another year under our belts, with attention slowly but firmly to 2020 and the celebrations it'll bring. It's #FKOF10 (a decade of all things FatKidOnFire) and we're stupidly excited to start sharing what we've got lined up to celebrate. But, in the meantime, because it seems our engines are finally firing on all cylinders after a bit of time off, we've got the latest FKOFd release for you. And, even if we say so ourselves, we've got four more monsters for your eyes, ears and definitely your subs…
But first, a tangent.
Looking back to the roots and early beginnings of FatKidOnFire, there were two DJ mixes that epitomised the 140bpm sound, hooked us in and set the standard for everything we've done since. The first, and not much needs to be said about it, is Caspa and Rusko's FABRICLIVE.37. If you know, you know. The second is Kryptic Minds' FACT mix 241. FACT241 dropped the summer FKOF opened its doors and has been a consistent fall-back for 140bpm mixes that inspire gunfingers and bass faces ever since. With the duo behind the mix parting ways a few years ago to focus on solo projects both within and outside the genre we all know and love, there was a bit of a gap in bass-led music that evokes the Kryptic Minds sound design, vibe and raw power. Sure, we had a few years of everyone trying to be KM and making 'dungeon', but not many got it right then and few have tried since.
But then we discovered Kwizma and all seemed right with the world. Hailing from the musical hotbed that is The Netherlands, Christian has seemingly put an up-to-date spin on the type of tunes Kryptic Minds were making in their dubstep heyday and built a loyal and engaged following around the world while doing so. Quite right too, if you ask us. Stark atmospheres, impeccable sound design, haunting vibes and more pressure than a sub addict can ask for. Here's FKOFd040…
'Mariana' sets the tone with its punchy percussives and rolling low end, clattering through your chest with a warming approach to 140bpm. Next up, we have the murky depths of 'Sidewinder', which is 2019 'dungeon' (as much as the term evokes a good cringe) as it should be. Trust us on this one. Then anthemic 'Tananum' drops with its kicks, spacious mix and sumptuous synths. Steppers forward for this one! We close out Kwizma's EP with 'The Mog', announcing itself with tribal vocals, raw power and the kind of kick drum that'll annoy the neighbours (or destroy the dance, your choice).
We're excited to welcome Kwizma to the FatKidOnFire family, and we're excited to see what the producer does next. We've heard a few more of the dubs he's sat on, so watch this guy. There's more heat coming if you dig his FKOFd040 EP and, if we've learned anything about you lot over the last ten years, we're pretty sure you will…
Dead Link? (REPORT 1-5 Days) сообщить о ссылке на перезалив
Скачать альбом.
Категории
Новинки Басс Музыки
Теги
Album
,
Ambient Dubstep
,
Bass
,
Bes
,
Big Beat
,
Breakbeat
,
Breakcore
,
Breaks
,
Brostep
,
Carnival
,
Chillstep
,
ChillTrap
,
Crossbreed
,
Cutworx
,
Darkside
,
Darkstep
,
Deathstep
,
Deekline
,
Deep Drum and Bass
,
Deep Dubstep
,
Diplo
,
DJ 007
,
DJ C-LeeN
,
Dj Gvozd
,
DJ Hype
,
DJ Profit
,
Drum and Bass
,
Drumfunk
,
Drumstep
,
Dub
,
Dubstep
,
Frenchcore
,
Friction
,
Funky Breakbeat
,
Funky Breaks
,
Future Bass
,
Future Beats
,
Garage
,
Glitch Hop
,
Grime
,
Halfstep
,
Hard Dubstep
,
Hardcore
,
Hardstyle
,
In Beat We Trust
,
Industrial
,
Intelligent DNB
,
Intelligent Manners
,
Juke
,
Jump Up
,
Jungle
,
Lady Waks
,
Let It Roll
,
Liquid funk
,
London Elektricity
,
Master Stensor
,
Melodic Dubstep
,
Midtempo
,
Miss Mants
,
Moombahton
,
NELVER
,
Neurofunk
,
Neurohop
,
Noisia
,
Oldschool Drum and Bass
,
Oldschool Dubstep
,
Pirate Station
,
Prodigy
,
Progressive Breaks
,
Ragga Jungle
,
Record breaks
,
Reggae
,
Rene LaVice
,
Riddim
,
Rossum
,
Russian Drum and Bass
,
Skrillex
,
Soulful Drum and Bass
,
Speedcore
,
STUNNA
,
Take
,
Tearout
,
Techstep
,
TOP 100
,
Trap
,
Trip-hop
,
Uk Garage
,
Uptempo
,
vocal drum and Bass
,
Vocal Dubstep
,
World Of Drum and Bass
,
ZARDONIC
,
Пиратская Станция
,
Трэп
,
Хардкор
,
Хардстайл
,
брейкбит
,
брейкс
,
дабстеп
,
драм энд бейс
Показать все теги