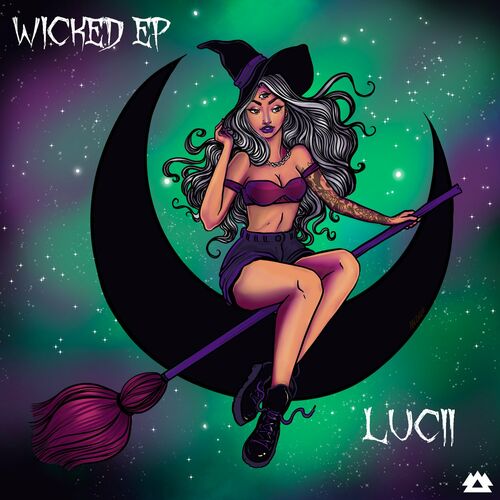 Style:
Dabstep
Release:
23/10/2020
Quality:
MP3 320 kbps
Label:
WAKAANLucii - Spell 3:25
Lucii - Till the Day I Die 2:31
Lucii, Point.Blank - Wonky 2:33
Lucii - Vibe 3:33
After receiving immense positive feedback on her recent single 'Till The Day I Die', freeform bass mainstay Lucii returns to the release radar with her sophomore EP, Wicked. The 4-track project arrives just in time for Halloween, the DJ/producer's favorite holiday, and highlights her knack for creating relentless bass cuts. Marking her debut EP release on WAKAAN, Wicked is out now across all streaming platforms.
The EP kicks off with 'Spell', a lively tune that immediately begins with a softly resonant vocal and deep, brooding tone. It quickly picks up its pace and introduces several hard-hitting, glitchy bass drops that round out the rest of the nearly three-and-a-half-minute sonic offering. 'Till The Day I Die' follows, and features Lucii utilizing the piano, her flowing hazy vocals, and otherworldly instrumentation to create an atmospherically heady dance music gem. The EP's penultimate headbanging-inducing track, 'Wonky', is a bass-laden club-ready weapon that serves as quintessential Lucii at her absolute best. The EP's final song, 'Vibe', is characterized by a harmonious vocal accompanied by a hefty, propelling beat that carries throughout its entirety.
Eager fans that have been awaiting Lucii's next release can now rejoice, and right in time for spooky season. With four original productions featuring Lucii's hardcore bass music sensibilities, her new EP is sure to entice listeners the world over.
"Halloween season has always inspired me ever since I was a little kid. I remember feeling so free to express myself every year, dressing up and wearing whatever costume I wanted. Going from door to door to get the delicious candy I had been craving. The inspiration for this EP was drawn from Halloween, showing both the creepy and beautiful side of my favorite Holiday while putting it into something I love.. music.
'Spell' is a dark song about toxic love and being trapped. 'Vibe' is about letting go and feeling nothing but happiness. 'Till The Day I Die' is what Sally would have sang to Jack in 'Nightmare Before Christmas'. And 'Wonky' w/ @point.blank well.. that's just it, a heavy song your gonna headbang to in your costumes.
'WICKED' is for my spooky ghouls out there, I hope you love it" - LUCII
Listen Online
.
Dead Link? (REPORT 1-5 Days) ñîîáùèòü î ññûëêå íà ïåðåçàëèâ
Download for free music.