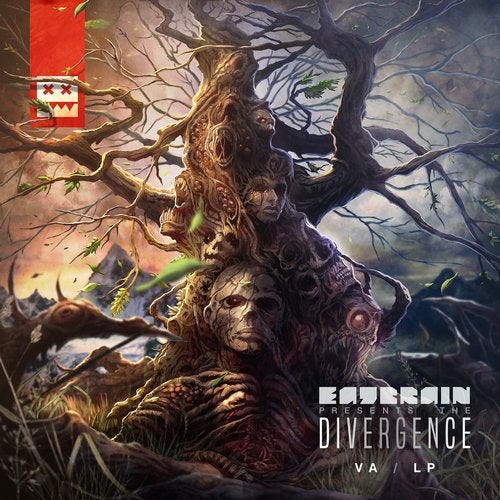 Style:
Neurofunk / Drum & Bass
Release date:
12-03-2018
Quality
MP3/320kbps +[Flac/Lossless]
Label
EatBrain
Cat
EATBRAINLP007
Type
Compilation
He perched upon the barren ledge, high above the valley beyond – the place where his people had resided for an aeon of peace, withdrawn from the overwhelming technologies of the outer rim, hiding in the obscurity of tranquility. The habitat below was a mere dot against his retina, his imagination doing the work in constructing an image of the bustle of the many lives within. He carried with him the sacred resin, and carried within himself the rite of his people, handed down between generations for as long as their history could remember. His sacrifice would ensure the peace of a generation more - his torment would be their strength. Civilizations that had come before tore themselves into pieces - times of peace held the unspoken lies of restrained savagery, the bitter truth of which came frequently, and bloodily as brothers and sisters set upon each other with unbridled hatred. That dark ferocity was within him now, carefully extracted from the minds of the populace by the ancient methods, he was the vessel of his peoples' catharsis. He hesitated a moment more, looking out to the distant peaks that had touched the heart of his eye since childhood, the gravity of the setting sun drawing his soul to the gold crested radiance of their summits. With a fluid motion he poured the resin down his gullet, felt it snaking through is entire being, searing the illumination of universal history deep within him. The staggering truths towered beyond him, twisting up in harmony before splitting, the many faces of darkness emerging, the true face of nature erupting in blackness, the unimaginable horrors that inhabit plains untouchable, the fiends that feed off life and light and invisibly, that grow in suffering… they felt his sight, knew they were exposed, their eyes turning inward to his psyche – tearing him apart, pushing through his body and erupting from within. The resin did its work… as the creatures unspeakable feasted on him across dimensions, roots burst from his ruined body, branches spiraling up trapping all in their path. A silence settled on the outcrop, nature threaded its fingers of wind through new grass, whilst the sun set against horrific merging of life and the terrifying living monument of DIVERGENCE.
Tracklist
1. Gydra - Scourge [4:22]
2. A.M.C - Spark Out [4:28]
3. Cod3x - Earthquake [4:14]
4. Jade & Mindscape - Outlaw [3:35]
5. Kolt - Perforate [4:06]
6. L 33 - Pulse Rate [4:16]
7. Mark Galaxy - Event Horizon [4:36]
8. Dabs - Impulses [4:51]
9. RedPill - Vicious [4:57]
10. Kursiva - Ice Cold [feat. Hijak] [3:46]
11. Hidden Forms - Random Funk [4:05]
12. Agressor Bunx - Poker Face [4:28]
13. Fragz - Get Access [5:01]
14. Mizo - Coliseum [5:09]
15. Gancher & Ruin - Insider [4:04]
16. Tobax - Iron Birds [4:24]
17. Task Horizon – The Void Between Worlds [4:57]
online
Dead Link? (REPORT 1-5 Days) сообщить о ссылке на перезалив
Скачать альбом.
Категории
Новинки Басс Музыки
Теги
Album
,
Ambient Dubstep
,
Bass
,
Bes
,
Big Beat
,
Breakbeat
,
Breakcore
,
Breaks
,
Brostep
,
Carnival
,
Chillstep
,
ChillTrap
,
Crossbreed
,
Cutworx
,
Darkside
,
Darkstep
,
Deathstep
,
Deep Drum and Bass
,
Deep Dubstep
,
Diplo
,
DJ 007
,
DJ C-LeeN
,
Dj Gvozd
,
DJ Hype
,
DJ Profit
,
Drum and Bass
,
Drumfunk
,
Drumstep
,
Dub
,
Dubstep
,
Floyd The Barber
,
Frenchcore
,
Friction
,
Funky Breakbeat
,
Funky Breaks
,
Future Bass
,
Future Beats
,
Garage
,
Glitch Hop
,
Grime
,
Halfstep
,
Hard Dubstep
,
Hardcore
,
Hardstyle
,
In Beat We Trust
,
Industrial
,
Intelligent DNB
,
Intelligent Manners
,
Juke
,
Jump Up
,
Jungle
,
Lady Waks
,
Let It Roll
,
Liquid funk
,
London Elektricity
,
Master Stensor
,
Melodic Dubstep
,
Midtempo
,
Miss Mants
,
Moombahton
,
NELVER
,
Neurofunk
,
Neurohop
,
Noisia
,
Oldschool Drum and Bass
,
Oldschool Dubstep
,
Pirate Station
,
Prodigy
,
Progressive Breaks
,
Ragga Jungle
,
Record breaks
,
Reggae
,
Rene LaVice
,
Riddim
,
Rossum
,
Russian Drum and Bass
,
Skrillex
,
Soulful Drum and Bass
,
Speedcore
,
STUNNA
,
Take
,
Tearout
,
Techstep
,
TOP 100
,
Trap
,
Trip-hop
,
Uk Garage
,
Uptempo
,
vocal drum and Bass
,
Vocal Dubstep
,
World Of Drum and Bass
,
ZARDONIC
,
Пиратская Станция
,
Трэп
,
Хардкор
,
Хардстайл
,
брейкбит
,
брейкс
,
дабстеп
,
драм энд бейс
Показать все теги