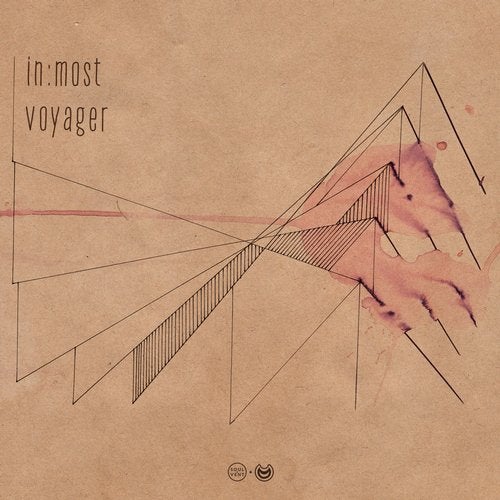 Music
Drum&Bass
Released
3/04/2020
Format
MP3,320kbps +[Flac/Lossless]
Label
Soulvent
Nr
SV065
Type
Album
12 months in the making, and undeniably worth every second of the wait. "Voyager" by In:Most is a 16-track odyssey, featuring appearances from scene stalwarts like Carasel and Lucy Kitchen, while flying high the flag of the next generation with fellow rising names like Walk:r and Mistrust. We welcome you to grab a 1st class ticket, sit back and relax, and enjoy the ride.1. In:most — Introduction 1:06
2. In:most — Stay 4:15
3. In:most — Fever Dreams feat. Mistrust 4:26
4. In:most — Home feat. Anastasia 4:33
5. In:most — Do You 4:24
6. In:most — Silver Lining feat. Walk:r 5:13
7. In:most — Katmai 4:24
8. In:most — Scuba 4:10
9. In:most — Glimmer feat. Lucy Kitchen 4:53
10. In:most — Picture Element (Interlude) 1:52
11. In:most — VR 4:25
12. In:most — The Watchman 4:31
13. In:most — Embers feat. Walk:r & Carasel 4:13
14. In:most — Notions 4:29
15. In:most — Fixated feat. Logistics 5:20
16. In:most — Harbour 3:36
itunes
IN:MOST - VOYAGER (SOULVENT)
UK duo In:Most deliver their debut album on Soulvent and it's a serious statement of intent. Opening and closing gently with piano strokes and charmed, emotional flurries of "Stay" and "Harbour"), the whole LP covers the full spectrum of drum & bass from classic vocal liquid ("Glimmer"), deep jazzy space-bound grooves ("Silver Lining") and grumpier, star-gazing dark funk ("Do You", "The Watchman") and cuts like "VR" that flip between three or four styles all in one, this is a highly accomplished debut album from a duo who are at the forefront of the new D&B generation. Ready for take-off?
INTERVIEW
Hi Guys, thanks for taking the time to speak to us today.
Can you give us a little background info about the people behind the Soulvent? Where you hail from, your musical background, where your passion for music started?
Jack: "Soulvent began back in late 2014 off the back of a previous joint venture between myself, Joe and Liam. Things weren't exactly moving in the direction we were hoping and not at the pace we felt they should have been, so we decided to call it a day and start fresh. We're all born and bred East London boys and all our lives have been very heavily passionate about music from a young age, whether that be consuming it or making it, it's in our blood."
Joe: "Yeah, the previous endeavour we were involved in actually gave us the collective confidence to really run with the concept of running a label. Music is a huge theme in my family personally, and so I think that definitely gave us all passion and drive to continue this legacy in our own way."
What first brought the 3 of you together? School friends? Work Colleagues? A love for the same kind of music?
Joe: "So I actually met Jack in the bathroom of a dubstep rave at a questionable Stoke Newington venue in roughly 2012. Off the back of his Hospital Records t-shirt, I mentioned my family background to him, which he understandably was doubtful of. However, he soon confirmed the truth of this fact and via our time co-running the first project, we really cemented the importance of our friendship.'
Liam: 'I would say our mutual love for Drum and Bass - and music in all forms - has played a massive part in how we've all stayed so close, but me and Joe have actually known and played music with each other for almost 25 years. Our families' gardens used to back onto each other in Hackney and Joe popped his head through the fence at 5 years old. The rest is history!'
I read on your Facebook bio that you met up for a pint in Shoreditch with the intention of setting up a digital music imprint. What was the catalyst of this meeting? Did you have a particular goal in mind or did you just want to release some great music?
Jack: "Every good idea happens over a pint no? I'd been writing and producing Drum & Bass for a couple of years and we had a few friends like Bryson, BMotion and GLXY who we felt could have been getting a lot more attention than they were. We felt that collectively, these names could go far if they had the right team of people behind them to truly look out for their best interests. All we've ever wanted as a label is to find those that we feel have something special and give them the platform to really show off what they can do."
Liam: "Joe and I also briefly tried our hand at making Liquid, unfortunately we were pretty shocking! We quickly decided we should let Jack (Pola) & co take centre stage and focus on working on getting these up and coming artists heard!"
After 6 years in operation what would you say is the most challenging thing about running a successful record label?
Joe: "I reckon the hardest thing is that there just aren't enough hours in the day! Naturally there are a lot of moving parts with something as expansive as a record label. We've constantly got to double check our work, keep on top of admin (the boring stuff really does matter), keep strong and healthy relationships with our artists… the list goes on. As the label was started as a passion project, we all still work full time hours in our respective jobs outside of the label - so I think that we all would love to have more time to dedicate to it. But we have been really lucky to gain some help in the form of Mike Coates and Ryan Gonsalves. We've known Ryan for years from our previous venture, while I met superfan Mike outside Lightbox in 2017. I simply don't think we could run things to the same standard we've set without the help of these two.
Mike: "I fully agree with Joe in that we'd all like to dedicate more time to Soulvent. I would love to quit my day job and do this full time. Maybe one day! Working around everyone's availability can be tough but we try to spend as much time together as possible. It's also getting to the stage now where we are inundated with great music - definitely not the worst problem to have. We've had to start taking a much longer term look at the release schedule to make sure we release as much of it as we can.'
Who do you think is making some of the most interesting/best music right now?
Jack: "Fair to say that all the artists we're working with at the moment are certainly on that list, otherwise we wouldn't be working with them! Jolliffe and good friend Terror are always surprising us with some stand out bits, while Walk:r is a name that people really do need to remember as he's going to be everywhere soon. In:Most are a pair that we're all extremely excited to work with moving forwards. Their debut album has been an absolute privilege to work on over the last 12 months."
Can you tell us about the first album that will be coming out on Soulvent since Pola & Bryson's debut back in 2016?
Liam: 'It's something really special for us, as it's the first artist album we've released since 'This Time Last Year'. As cliché as it sounds, from the first record on Soulvent, we vowed only to put out music when it really felt right. When In:Most sent through those demos, it instantly felt like "this was it, we have to go for it".'
Mike: "Not to be too cheesy but Voyager is/has been a journey on so many levels; Josh and Bailey travelling from Wales and Australia to Cambridge to work together, the evolution of their sound since their first release, the hard work throughout the process over the last 12 months to deliver the LP and finally the journey for the listener when they enjoy this album! For me, Josh and Bailey have been adapting their sound over the last 18 months or so, with their Crimson Eyes and Bonsai singles we saw them pair tunes with different vibes and I think that the album has that too. There are the classic In:Most liquid tunes that you would expect from the guys but also some that you wouldn't expect, which I think makes it extra special. And don't get me started on the quality of the tunes that didn't make the album cut - I for one will be on the case to see some of them come out on Soulvent as well in future."
What made you choose these particular artists for the next album release on the label?
Jack: "Josh and Bailey have been consistently improving with their production and compositional abilities over the last few years. It just felt right. They sent over a large enough number of very varied and unique demo's that we had no other option than to pitch it to them. They seemed very resistant at first, telling us that they weren't sure they were ready. I had to remind them that nobody is ready for their debut, they have to just commit, and the fans will love them more for doing so."
There seems to be a lot of collaboration with other artists on the album, what was the process when choosing who to collaborate with?
Jack: "That was something that the boys did almost entirely on their own. They have a great relationship with Logistics, Walk:r and Mistrust and those collaborations came about very naturally. The vocal features were a shared effort, the boys secured a few themselves and some were sorted out by us. It was very easy to get folks involved though as all we had to do was send the track over and they'd immediately be keen! Just goes to show how special their tracks really are."
Do you have a favourite track from the album?
Liam: 'All of em! Start to finish this record for me is flawless. Although I am a sucker for a garage number, so Scuba is always a winner in my book…'
Joe: 'I think Fever Dreams has slowly but surely become my favourite. Drawing from the lad's ability to switch between light & dark, I really like the stripped back approach on this one. While showcasing the talent Mistrust brings to the party, it also shows off some attention to detail between the 3.'
Mike: "I keep switching between Home ft. Anastasia and Glimmer ft. Lucy Kitchen. They are both fantastic and I really like the whole female vocal led liquid vibe. Both Anastasia and Lucy have great voices and the production is just superb. I think I hear something new every time I listen to them!"
Jack: "Mine has to be 'Do You'. I've been playing it in almost every set for well over 9 months now, it just goes off every time.
What else do you have planned for 2020? (Gigs, releases to watch out for?)
Liam: 'So much to talk about! Events wise we're really looking to hit it hard in 2020. We've already got Hospitality on the Beach to look forward to, among a host of UK shows being planned, and of course our birthday event at Miranda Ace Hotel, London on 15th May. In terms of music, naturally a lot of our focus is around In:Most this year, but we're also staying true to sourcing some of the best new talent the scene has to offer. I can't let on too much, but we've got some exciting bits in the pipeline from artists new and old to the imprint, so watch this space!'
Dead Link? (REPORT 1-5 Days) сообщить о ссылке на перезалив
Скачать альбом.
Категории
Новинки Басс Музыки
Теги
Album
,
Ambient Dubstep
,
Bass
,
Bes
,
Big Beat
,
Breakbeat
,
Breakcore
,
Breaks
,
Brostep
,
Carnival
,
Chillstep
,
ChillTrap
,
Crossbreed
,
Cutworx
,
Darkside
,
Darkstep
,
Deathstep
,
Deep Drum and Bass
,
Deep Dubstep
,
Diplo
,
DJ 007
,
DJ C-LeeN
,
Dj Gvozd
,
DJ Hype
,
DJ Profit
,
Drum and Bass
,
Drumfunk
,
Drumstep
,
Dub
,
Dubstep
,
Frenchcore
,
Friction
,
Funky Breakbeat
,
Funky Breaks
,
Future Bass
,
Future Beats
,
Future Garage
,
Garage
,
Glitch Hop
,
Grime
,
Halfstep
,
Hard Dubstep
,
Hardcore
,
Hardstyle
,
In Beat We Trust
,
Industrial
,
Intelligent DNB
,
Intelligent Manners
,
Juke
,
Jump Up
,
Jungle
,
Lady Waks
,
Let It Roll
,
Liquid funk
,
London Elektricity
,
Master Stensor
,
Melodic Dubstep
,
Midtempo
,
Miss Mants
,
Moombahton
,
NELVER
,
Neurofunk
,
Neurohop
,
Noisia
,
Oldschool Drum and Bass
,
Oldschool Dubstep
,
Pirate Station
,
Prodigy
,
Progressive Breaks
,
Ragga Jungle
,
Record breaks
,
Reggae
,
Rene LaVice
,
Riddim
,
Rossum
,
Russian Drum and Bass
,
Skrillex
,
Soulful Drum and Bass
,
Speedcore
,
STUNNA
,
Take
,
Tearout
,
Techstep
,
TOP 100
,
Trap
,
Uk Garage
,
Uptempo
,
vocal drum and Bass
,
Vocal Dubstep
,
World Of Drum and Bass
,
Глитч Хоп
,
Грайм
,
Пиратская Станция
,
Трэп
,
Хардкор
,
Хардстайл
,
брейкбит
,
брейкс
,
дабстеп
,
драм энд бейс
Показать все теги