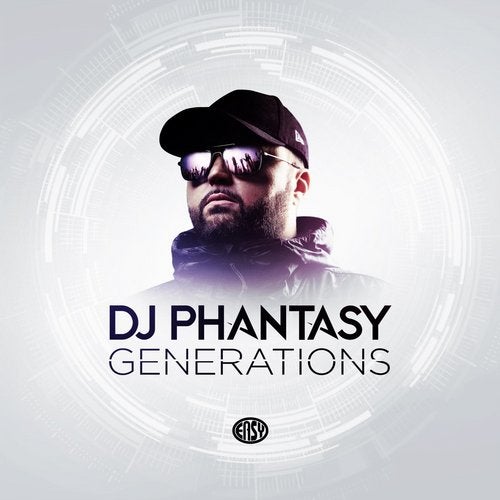 Genre
Drum & Bass, Jump up
Released
26/06/2020
Quality
mp3/320 kbps +[Flac/Lossless]
Label
Easy
Cat
EEDA001
Type
Album1. DJ Phantasy, TC, Cammie Robinson — Tell Me 4:35
2. DJ Phantasy — Space Time 4:25
3. DJ Phantasy — Party Girl 3:19
4. DJ Phantasy, The Ragga Twins — Run the World 3:19
5. DJ Phantasy, Meduza, GOODBOYS — Piece of Your Heart (DJ Phantasy Remix) 3:09
6. DJ Phantasy, Murdock — Never Letting Go 3:21
7. DJ Phantasy, Ben Snow — Terminate 4:06
8. DJ Phantasy, Macky Gee — Euphoria 4:24
9. DJ Phantasy — Can't Help Myself 3:35
10. DJ Phantasy, Doktor — Junglist 3:42
online
If there's one producer who's consistently been able to balance D&B cred with pop cachet is DJ Phantasy. With roots in UK hardcore, jungle and drum & bass that go back over 30 years, Phantasy also specializes in providing dancefloor fun on the level with the likes of Rudimental or Chase & Status. With his supergroup SASASAS, Phantasy sold out massive shows and created tracks that appealed to the OG junglists and EDM/pop fringe fans alike.
Phantasy's upcoming Generations LP is the musical follow-up to the book he wrote with UKF editor Dave Jenkins last year, Three Generations Deep and just as the book was, it's a love letter to drum and bass, meant to explore all the facets, subgenres and, well, "generations" of the genre. Featuring lots of collabs with a wide spectrum of artists from TC to Murdock to the Ragga Twins and, of course, one with his SASASAS partner in crime, Macky Gee, it's put together in an interesting way. Each collab track is a classic Phantasy dancefloor stepper that pays homage to and perfectly mixes in the style of the producer he was working with. Our Your EDM premiere, however, is slightly different.
Phantasy's remix of Meduza's "Piece of Your Heart" featuring Goodboys is the only remix on Generations and it truly is a drum & bass nod from Phantasy to the next generation of EDM. "Piece of Your Heart" was a huge hit in 2019, making number two on the UK singles charts and receiving a Grammy nomination for Best Dance Recording. The original track is a wonderful mélange of pop and EDM and really shows how assimilated into the pop world electronica has become.
While many drum & bass heads may not think that the afore-mentioned assimilation is a good thing, DJ Phantasy has always welcomed both diversity and progress in his music while making sure his beats are still fast, fun and heavy on the bass. With his remix of "Piece of Your Heart" likely to become one of the most recognized pop/D&B fusion tracks in recent years,it actually has a more chill vibe than many of the tracks on Generations. Still more than suitable for the dancefloor, Phantasy took a few cues from the original track in smoothing out both his bassline and synths while designing the background sound so that there's no mistaking that this is meant to be a rave track.
Dead Link? (REPORT 1-5 Days) сообщить о ссылке на перезалив
Скачать альбом.
Категории
Новинки Басс Музыки
Теги
Album
,
Ambient Dubstep
,
Bass
,
Bes
,
Big Beat
,
Breakbeat
,
Breakcore
,
Breaks
,
Brostep
,
Carnival
,
Chillstep
,
ChillTrap
,
Crossbreed
,
Cutworx
,
Darkside
,
Darkstep
,
Deathstep
,
Deep Drum and Bass
,
Deep Dubstep
,
Diplo
,
DJ 007
,
DJ C-LeeN
,
Dj Gvozd
,
DJ Hype
,
DJ Profit
,
Drum and Bass
,
Drumfunk
,
Drumstep
,
Dub
,
Dubstep
,
Frenchcore
,
Friction
,
Funky Breakbeat
,
Funky Breaks
,
Future Bass
,
Future Beats
,
Garage
,
Glitch Hop
,
Grime
,
Halfstep
,
Hard Dubstep
,
Hardcore
,
Hardstyle
,
In Beat We Trust
,
Industrial
,
Intelligent DNB
,
Intelligent Manners
,
Juke
,
Jump Up
,
Jungle
,
Lady Waks
,
Let It Roll
,
Liquid funk
,
London Elektricity
,
Master Stensor
,
Melodic Dubstep
,
Midtempo
,
Miss Mants
,
Moombahton
,
NELVER
,
Neurofunk
,
Neurohop
,
Noisia
,
Oldschool Drum and Bass
,
Oldschool Dubstep
,
Pirate Station
,
Prodigy
,
Progressive Breaks
,
Ragga Jungle
,
Record breaks
,
Reggae
,
Rene LaVice
,
Riddim
,
Rossum
,
Russian Drum and Bass
,
Skrillex
,
Soulful Drum and Bass
,
Speedcore
,
STUNNA
,
Take
,
Tearout
,
Techstep
,
TOP 100
,
Trap
,
Trip-hop
,
Uk Garage
,
Uptempo
,
vocal drum and Bass
,
Vocal Dubstep
,
World Of Drum and Bass
,
ZARDONIC
,
Глитч Хоп
,
Пиратская Станция
,
Трэп
,
Хардкор
,
Хардстайл
,
брейкбит
,
брейкс
,
дабстеп
,
драм энд бейс
Показать все теги