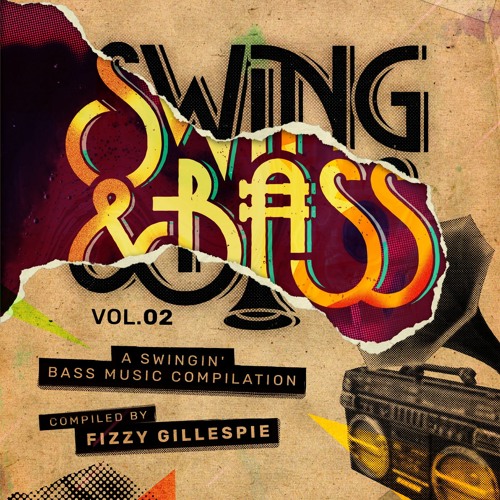 Genre
Drum & Bass, Swingnbass, Electro swing, Vintage, Jungle, Jump up
Released
26/06/2020
Quality
mp3/320 kbps +[WAV/Lossless]
Label
Swing & Bass
Type
Compilation
Swing & Bass is back with our second compilation album featuring 21 big tracks from some great producers from around the world. Expect a mix of swingin' bass infused sounds that will mash up any dancefloor! Step inside and see where Bowler Hats meets Bass and Lindy Hop meets Booty Pop! The album is free to download, but we are accepting donations, all of which will go to support music venues, which are suffering during the Covid19 pandemic. Thank you for your support and we hope you enjoy our sounds.
Compiled by Fizzy Gillespie
Mastering by Dr Meaker
Artwork by Michael Boulton Design1.Fleetwood Mac — The Chain (Dom James & Odylic Force Remix) 03:55
2.The Exciters — Blowing Up My Mind (Fizzy Gillespie Remix) 04:23
3.Ray Charles — Hallelujah I Love Her So (Dan de'Lion & Mista Trick Remix) 03:44
4.Skank Spinatra — Get Stacked 04:24
5.Don Johnston & Joe Alias — Fields (feat. dat Brass) 03:14
6.Freek & Kit — That's Life 05:10
7.Ella Fitzgerald — I've Got You Under My Skin (Mista Trick Remix) 03:39
8.Dr Meaker — These Sounds 03:45
9.Phil Mac — Definition Of A Boombastic Jazz 04:01
10.Jimi Needles — Happy Feet 03:57
11.Catjam — Houdini's Handbag 04:21
12.Pete Rodriguez — I Like It Like That (Breaksmiths Remix) 06:41
13.Crash Party — Accentuate 04:15
14.Cab Calloway — Minnie The Moocher (Duke Skellington & Fizzy Gillespie Remix) 03:49
15.Nappy Brown — Piddly Patter (Ed Spinna Remix) 03:36
16.Powello Bros. — Hide De Hoes 04:23
17.Randy Newman — You've Got A Friend In Me (DJ QuestionMark Remix) 03:42
18.Captain Flatcap — Bang Bang Boogie 05:05
19.Fizzy Gillespie & Duke Skellington — Joint Blast 03:56
20.The Vaude Villainz — Ballroom Bedlam 03:27
21.Extra Medium & WBBL — The Beat Goes On 04:39
22.Swing & Bass Vol. 2 Continuous DJ Mix (Mixed by Fizzy Gillespie) 45:39
itunes
Dead Link? (REPORT 1-5 Days) сообщить о ссылке на перезалив
Скачать альбом.
Категории
Новинки Басс Музыки
Теги
Album
,
Ambient Dubstep
,
Bass
,
Bes
,
Big Beat
,
Breakbeat
,
Breakcore
,
Breaks
,
Brostep
,
Carnival
,
Chillstep
,
ChillTrap
,
Crossbreed
,
Cutworx
,
Darkside
,
Darkstep
,
Deathstep
,
Deep Drum and Bass
,
Deep Dubstep
,
Diplo
,
DJ 007
,
DJ C-LeeN
,
Dj Gvozd
,
DJ Hype
,
DJ Profit
,
Drum and Bass
,
Drumfunk
,
Drumstep
,
Dub
,
Dubstep
,
Frenchcore
,
Friction
,
Funky Breakbeat
,
Funky Breaks
,
Future Bass
,
Future Beats
,
Garage
,
Glitch Hop
,
Grime
,
Halfstep
,
Hard Dubstep
,
Hardcore
,
Hardstyle
,
In Beat We Trust
,
Industrial
,
Intelligent DNB
,
Intelligent Manners
,
Juke
,
Jump Up
,
Jungle
,
Lady Waks
,
Let It Roll
,
Liquid funk
,
London Elektricity
,
Master Stensor
,
Melodic Dubstep
,
Midtempo
,
Miss Mants
,
Moombahton
,
NELVER
,
Neurofunk
,
Neurohop
,
Noisia
,
Oldschool Drum and Bass
,
Oldschool Dubstep
,
Pirate Station
,
Prodigy
,
Progressive Breaks
,
Ragga Jungle
,
Record breaks
,
Reggae
,
Rene LaVice
,
Riddim
,
Rossum
,
Russian Drum and Bass
,
Skrillex
,
Soulful Drum and Bass
,
Speedcore
,
STUNNA
,
Take
,
Tearout
,
Techstep
,
TOP 100
,
Trap
,
Trip-hop
,
Uk Garage
,
Uptempo
,
vocal drum and Bass
,
Vocal Dubstep
,
World Of Drum and Bass
,
ZARDONIC
,
Глитч Хоп
,
Пиратская Станция
,
Трэп
,
Хардкор
,
Хардстайл
,
брейкбит
,
брейкс
,
дабстеп
,
драм энд бейс
Показать все теги