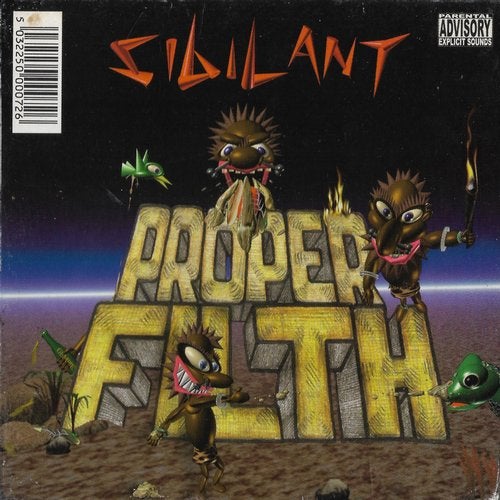 Style:
Drum and Bass, Breakbeat, Jungle
Date:
3/09/2020
Quality:
MP3 320 kbps | FLAC
Label:
Classic Goa Trax
Cat#
CGT034Sibilant is one of those amazing freestyle psychedelic projects of the 90s! Holland had a very vivid electronic music scene back in the days and all those different types of "boom boom" influenced eachother in a very unique way. The result? A bit darker experimental psychedelic trance music with breakbeat influences and even Drum n Bass influences allover by Dutch magician Lorenzo Zoeter!
- Classic Goa Trax (a sublabel of Suntrip Records) works together with Lorenzo Zoeter for this release, so the original artists get their part of the amazing music of the past! The album was originally released on Symbiosis Records in 1998!
1. Sibilant - It's a Nappy 7:11
2. Sibilant - Blitch 7:23
3. Sibilant - Fartgaz Investigator 7:01
4. Sibilant - Dodgy Salesman 7:21
5. Sibilant - Zoobubbles 6:23
6. Sibilant - Noisefarm 7:08
7. Sibilant - Pick My Nose 5:50
8. Sibilant - Mind the Step 7:27
9. Sibilant - Please Come In But Wipe Your Feet 6:59
10. Sibilant - Screecher Creature 8:08
Listen Online
.
Download for free music.
Категории
New Bass Releases.
Теги
3D Stas
,
Agressor Bunx
,
Album
,
Alex Wicked
,
APHRODITE
,
Audio
,
Bad Syntax
,
BCee
,
Bes
,
Black Sun Empire
,
Break
,
Bryan Gee
,
Calibre
,
Cam Lasky
,
Camo and Krooked
,
Code Pandorum
,
Command Strange
,
Conrad Subs
,
Counterstrike
,
Current Value
,
Cutworx
,
D-Sabber
,
DC Breaks
,
Deekline
,
Derrick
,
Detach
,
Diplo
,
DJ C-LeeN
,
Dj Hornet
,
DJ Hype
,
DJ Profit
,
DLR
,
DRS
,
Drumsound and Bassline Smith
,
Duoscience
,
Ed Solo
,
Electrosoul System
,
ENEI
,
Excision
,
Fabio
,
Floyd The Barber
,
Forbidden Society
,
Fred V
,
Friction
,
Furney
,
Goldie
,
Grafix
,
Greekboy
,
Grooverider
,
Gydra
,
HYBRID MINDS
,
Intelligent Manners
,
John B
,
Kasper
,
Keeno
,
Krewella
,
L 33
,
Lady Waks
,
Let It Roll
,
London Elektricity
,
LOWRIDERZ
,
Mage
,
Mechanical Pressure
,
Mefjus
,
Metrik
,
Miss Mants
,
mSdoS
,
nCamargo
,
Need For Mirrors
,
NELVER
,
Neuropunk
,
Noisia
,
Ozma
,
Pirate Station
,
Pola and Bryson
,
Prodigy
,
Random Movement
,
Rene LaVice
,
Rossum
,
Shade k
,
Shiny Radio
,
Signal
,
Skrillex
,
SkyLabCru
,
SPY
,
Stanton Warriors
,
STATE OF MIND
,
STUNNA
,
Surreal
,
Technimatic
,
Teddy Killerz
,
TeeBee
,
Tonika
,
TOP 100
,
Truth
,
Under Break
,
Windom R
,
Yellow Claw
,
ZARDONIC
,
Zero T
Показать все теги