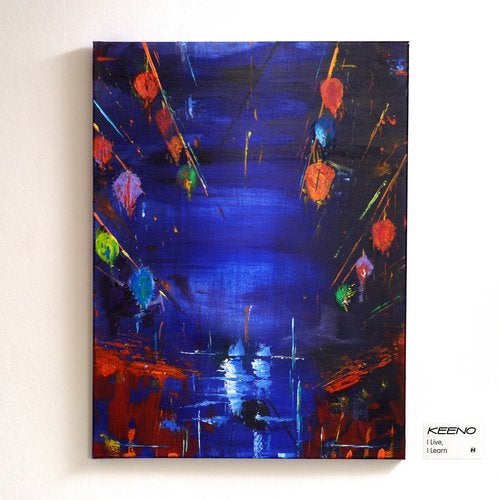 Style:
Drum and Bass, Liquid-fun, Soulful/Vocal-D&B, Intelligent
Quality:
MP3 320 kbps | FLAC Lossless
Date:
27/11/2020
Label:
Hospital Records
Cat:
NHS409DD1. Keeno feat. Fae.Vie - I Live, I Learn 4:55
2. Keeno - Severn Summers 4:13
3. Keeno feat. Kate Wild - Behind The Glass 5:08
4. Keeno - Antiphony 3:52
5. Keeno - When I Heard You 4:36
6. Keeno feat. Thomas Oliver - Sunflowers 4:34
7. Keeno - Pancake's Breakfast 3:18
8. Keeno feat. Etherwood - Fall Beneath You 4:39
9. Keeno - Breathing Room 1:30
10. Keeno feat. Telomic - Listen Close 4:17
11. Keeno & Obsel - Fear 4:50
12. Keeno - Oracle 4:55
13. Keeno feat. Whiney & Ebson - Unreachable 4:10
14. Keeno - The So-Called Impossible 5:06
Bringing his 2020 story to a gleaming crescendo with an exciting new chapter of music, Keeno graces the world of drum & bass with his very first solo album on Hospital Records, following his three previous triumphant albums on sister-label Med School. 'I Live, I Learn' is a divine body of work that goes above and beyond Keeno's previous repertoire with a fresh outlook on the distinct, classically-infused D+B style that he is loved for.
Album title-track 'I Live, I Learn (feat. Fæ Vie)' kickstarts the journey with a majestically cinematic introduction where Keeno's multi-instrumentalist training shines through as earnest pianos and strings are seamlessly intertwined, laying down the canvas for Fæ Vie to decorate with her beautiful melodies and heartfelt lyrics.
'Behind The Glass' instils immense euphoria and inspiration with the vocals of Kate Wild which uplift and teach the important lesson of self-love. Sublime flourishes and a bassline crafted with sonic precision elevate the irresistibly feel-good track into a world of its own. A future favourite of those who had his 'Sick Music 2020' contribution 'I Wonder' on repeat.
Transcendent atmospherics and soulful guitar grooves set the scene on 'Severn Summers' before splashy Amen breaks and jazzy chords ignite into an explosion of musical brightness. Exquisitely executed vintage vocal samples add to the cut's sublime flair. This is liquid drum & bass at its finest.
Teaming up with New Zealand based singer/songwriter, and no stranger to Hospital Records, Thomas Oliver brings his infectiously enlivening vibe to 'Sunflowers'. Pulsing sub basses, crisp breaks and a warm piano pair perfectly with the blissful vocals of Thomas Oliver. Other notable collaborations on the album include Whiney & Ebson on 'Unreachable', Etherwood on the well-received single 'Fall Beneath You' and rising star Telomic on 'Listen Close'.
Keeno's dedication to crafting his own unique sound has not gone unnoticed. His remarkable productions have been supported by esteemed tastemakers, including a 'Self-Certified Selection' from MistaJam on BBC Radio 1, plays from Rene LaVice and his music being aired across the UK airwaves from 1Xtra to 6Music. On top of this, Keeno also hosts his widely renowned 'Bristol Mix Series' streams showcasing the very best established and upcoming talent in drum & bass. The success of his 'Bristol Mix Series' has led to his very own bi-weekly residency at Basement 45 in Bristol, where you'll be able to catch Keeno spinning the latest D+B to his socially-distanced devotees.
Listen Online
.
Dead Link? (REPORT 1-5 Days) ñîîáùèòü î ññûëêå íà ïåðåçàëèâ
Download for free music.