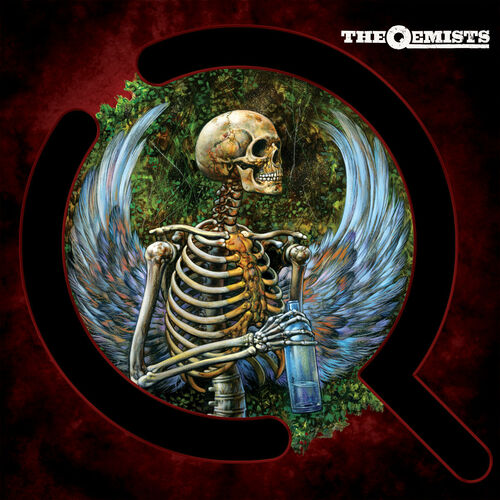 Genre
Drum & Bass, Break-Beat, Dubstep, Rock
Released
16/08/2010
Quality
mp3/320 kbps
+[lossless/flac]
Label
Ninja Tune
Cat
ZENCD159
Type
Album
The Qemists are an electronic music group from Brighton, United Kingdom. They are signed to Ninja Tune, a indie record label based in London. The band consists of bassist Dan Arnold, drummer Leon Harris, guitarist Liam Black and vocalists Bruno Balanta and Oliver Simmons.
Spirit in the System is the second studio album from British band The Qemists. The album was released on 7 July 2010 under record label Ninja Tune. On 26 May 2010, the band announced the album was complete. The album artwork was created by Glenn Fabry.01. The Qemists — Take It Back (feat. Enter Shikari)
02. The Qemists — Hurt Less (feat. Jenna G)
03. The Qemists — Dirty Words (feat. Matt Rose & Bruno Balanta)
04. The Qemists — Renegade (feat. Maxsta)
05. The Qemists — Fading Halo (feat. Chantal Of Invasion)
06. The Qemists — The Only Love Song (feat. MC ID)
07. The Qemists — Life's Too Short
08. The Qemists — Apocalypse (feat. Rob Of The Automatic)
09. The Qemists — Bones (feat. Kellermensch)
10. The Qemists — Your Revolution
online
flac arhive
- Japanese Edition +11 track (The Qemists - Affliction (bonus track) (3:49))
Вот он – второй альбом моих любимых музыкантов на современной брейкбит/ДнБ сцене – The Qemists, который вышел на лейбле Ninja Tune 16 августа 2010 года.
Первым делом, хочется ответить на главный вопрос, который всех мучает – на сколько он хуже шикарного дебютника? Ответ прост: НИ НА СКОЛЬКО. Он на столько лучше, что просто диву даешься. Три кита, на которых держится музыка парней: драйв, агрессия и массивность никуда не делись, а наоборот – после неровного и, местами, проваливающегося в дыры самоповторов Join The Q, ребята провели усердную работу над ошибками и выдали крепкий, как медицинский спирт, релиз, от которого все внутренний органы сходят с ума: пока на твоем лице каждый мускул пытается сосредоточиться, мозговые извилины пустились в пляс. На дебютном альбоме The Qemists провели масштабную работу по созданию запоминающихся мелодий в угоду разнообразию, здесь же больше экспериментов, как с вокалом, так и со звучанием.
Как и раньше, парни умело совмещают тяжесть гитар, с резвостью барабанов и любовно пеленают в электропокрывало свое дитя. На Spirit In The System всего поровну – есть как и Д'н'Б, так и старый добрый брейкбит, в стиле Capricorn или Boom Boom Satellites, когда живые инструменты нужны не для понта, или приправы к основному блюду, а выступают в качестве куска мяса, из которого делают отбивную электронным молотом. (рецензия честнейшим образом найдена в сети... спасибо, некто "swerZZZ")
P.S.: от себя могу добавить, что альбом действительно удался на славу... и, как действительно качественный продукт, его можно использовать во многих областях жизнедеятельности... например он послужит прекрасным саундтреком к какой-нить игре, типа GTA, ну или типа того... )))))
Dead Link? (REPORT 1-5 Days) сообщить о ссылке на перезалив
Скачать альбом.
Категории
Новинки Басс Музыки
Теги
Album
,
Ambient Dubstep
,
Bass
,
Bes
,
Big Beat
,
Breakbeat
,
Breakcore
,
Breaks
,
Brostep
,
Carnival
,
Chillstep
,
ChillTrap
,
Crossbreed
,
Cutworx
,
Darkside
,
Darkstep
,
Deathstep
,
Deekline
,
Deep Drum and Bass
,
Deep Dubstep
,
Diplo
,
DJ 007
,
DJ C-LeeN
,
Dj Gvozd
,
dj hornet
,
DJ Hype
,
DJ Profit
,
Drum and Bass
,
Drumfunk
,
Drumstep
,
Dub
,
Dubstep
,
Floyd The Barber
,
Frenchcore
,
Friction
,
Funky Breakbeat
,
Funky Breaks
,
Future Bass
,
Future Beats
,
GABBER
,
Garage
,
Glitch Hop
,
Grime
,
Halfstep
,
Hard Dubstep
,
Hardcore
,
Hardstyle
,
In Beat We Trust
,
Industrial
,
Intelligent DNB
,
Intelligent Manners
,
Juke
,
Jump Up
,
Jungle
,
Lady Waks
,
Let It Roll
,
Liquid funk
,
London Elektricity
,
Master Stensor
,
Melodic Dubstep
,
Midtempo
,
Miss Mants
,
Moombahton
,
NELVER
,
Neurofunk
,
Neurohop
,
Noisia
,
Oldschool Drum and Bass
,
Oldschool Dubstep
,
Pirate Station
,
Prodigy
,
Progressive Breaks
,
Ragga Jungle
,
Record breaks
,
Reggae
,
Rene LaVice
,
Riddim
,
Rossum
,
Russian Drum and Bass
,
Skrillex
,
Soulful Drum and Bass
,
Speedcore
,
STUNNA
,
Take
,
Tearout
,
Techstep
,
TOP 100
,
Trap
,
Trip-hop
,
Uk Garage
,
Uptempo
,
vocal drum and Bass
,
Vocal Dubstep
,
World Of Drum and Bass
,
ZARDONIC
,
Пиратская Станция
,
Трэп
,
брейкбит
,
брейкс
,
дабстеп
Показать все теги