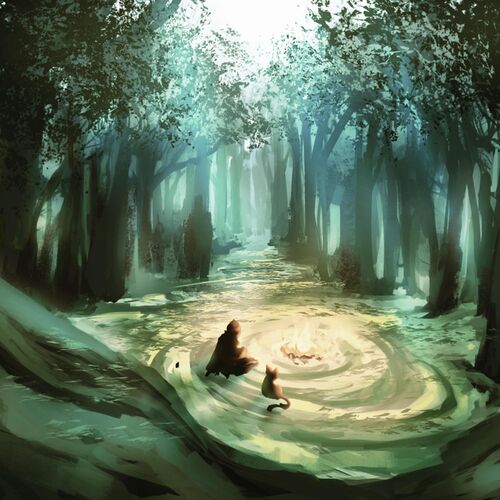 Music:
ChillOut, Future Garage
Quality:
MP3 320 kbps
Date:
18/11/2020
Label:
independent"Through the trials and the murky roads behind us, we move still. We're being watched but nonetheless we travel on unabated; eyes fixed. The roads are grey. The roads are uneven. The roads are perilous. But the cat and the boy prove the watchers wrong. They're now nearing the end of the road, on which they scuffle on top of."
- This specific body was inspired by many things including the late Clarck Ashton Smith, who once wrote - "The nostalgia of things unknown, of lands forgotten or unfound, is upon me at times. Often I long for the gleam of yellow suns upon terraces of translucent azure marble, mocking the windless waters of lakes unfathomably calm; for lost, legendary palaces of serpentine, silver and ebony, whose columns are green stalactites; for the pillars of fallen temples, standing in the vast purpureal sunset of a land of lost and marvelous romance. I sigh for the dark-green depths of cedar forests, through whose fantastically woven boughs, one sees at intervals an unknown tropic ocean, like gleams of blue diamond; for isles of palm and coral, that fret an amber morning, somewhere beyond Cathay or Taprobane; for the strange and hidden cities of the desert, with burning brazen domes and slender pinnacles of gold and copper, that pierce a heaven of heated lazuli."
• Toka - Shinzou 2:50
• Toka - Redamancy 4:37
• Toka - Lament 4:40
• Toka - Skirts of Mirkwood 4:35
Listen Online
.
Dead Link? (REPORT 1-5 Days) сообщить о ссылке на перезалив
Download for free music.