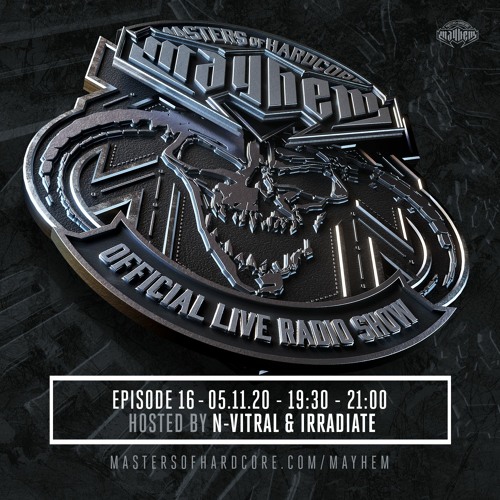 Style:
Gabber, Hardcore
Rar:
84 mb
Date:
5/11/2020
Quality:
[mp3/128 kbps]Masters, you know what time it is! We're delighted to welcome you back to another episode of Masters of Hardcore MAYHEM. Fasten your seatbelts and prepare for a wild ride accompanied with the wildest and most mindblowing hardcore. In the spotlight we have our latest label signing and certified bomb-dropper N-Vitral with us for the first half of the show before the up and coming sensation Irradiate takes over to close down the show with a bang.
Tracklist
Radical Redemption & D-sturb - Ride on our enemies (Tha Playah remix)
Dither - Addiction
Angerfist - Reprogrammer
Imperial & Irradiate - Fastlife
Rebelion & Deadly Guns - Misery
Irradiate & Hardstyle Pianist - Rebel Heart (ft. Diandra Faye)
Juice WRLD - Lucid Dreams (Irradiate bootleg)
N-Vitral & Imperial - ALPHA
Irradiate - Wanna Fly
Irradiate & DRS - My Soul
Irradiate - One Night Stand
Irradiate - Last Breath
Deadly Guns & Dither - Sick in the Head
Anime & Deadly Guns - Let it Burn
Irradiate - Burn
Irradiate ft. MC Katić - Lone Wolf
Irradiate - Paparazzi
Dimitri K - Firestorm
Cryogenic & MBK - I am the Mfking drop Bombs
not full...
Listen Online
.
Dead Link? (REPORT 1-5 Days) сообщить о ссылке на перезалив
Download for free music.
Категории
New Bass Releases.
Теги
3D Stas
,
Agressor Bunx
,
Album
,
Alex Wicked
,
APHRODITE
,
Audio
,
Bad Syntax
,
BCee
,
Bes
,
Black Sun Empire
,
Break
,
Bryan Gee
,
Calibre
,
Cam Lasky
,
Camo and Krooked
,
Chase and Status
,
Code Pandorum
,
Command Strange
,
Conrad Subs
,
Counterstrike
,
Current Value
,
Cutworx
,
DC Breaks
,
Deekline
,
Derrick
,
Detach
,
Diplo
,
DJ C-LeeN
,
Dj Hornet
,
DJ Hype
,
DJ Profit
,
DRS
,
Drumsound and Bassline Smith
,
Duoscience
,
Ed Solo
,
Electrosoul System
,
ENEI
,
Excision
,
Fabio
,
Floyd The Barber
,
Forbidden Society
,
Fred V
,
Friction
,
Furney
,
Goldie
,
Grafix
,
Greekboy
,
Grooverider
,
Gydra
,
HYBRID MINDS
,
Intelligent Manners
,
Jaybee
,
John B
,
Kasper
,
Keeno
,
L 33
,
Lady Waks
,
Let It Roll
,
London Elektricity
,
LOWRIDERZ
,
Mage
,
Mechanical Pressure
,
Mefjus
,
Metrik
,
Miss Mants
,
mSdoS
,
Mutantbreakz
,
nCamargo
,
Need For Mirrors
,
NELVER
,
Neonlight
,
Neuropunk
,
Noisia
,
Ozma
,
Pirate Station
,
Prodigy
,
Random Movement
,
Rene LaVice
,
Rossum
,
Shade k
,
Shiny Radio
,
Signal
,
Skrillex
,
SkyLabCru
,
SPY
,
Stanton Warriors
,
STATE OF MIND
,
STUNNA
,
Surreal
,
Technimatic
,
Teddy Killerz
,
TeeBee
,
Tonika
,
TOP 100
,
Truth
,
Under Break
,
Windom R
,
Yellow Claw
,
ZARDONIC
,
Zero T
Показать все теги