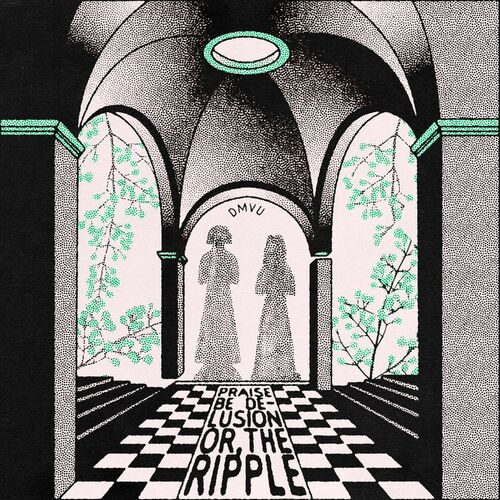 Style:
Trap, ChillTrap, ChillOut, Hip-Hop, Future Beats
Release:
26/02/2021
Quality:
MP3 320 kbps
Label:
Dome Of Doom
Cat#
DOD096
15 / 59:06
DMVU - Passed 3:32
DMVU - Rhinestones 4:07
DMVU - Words like Ghosts 4:00
DMVU, Nebr, The Tiger - The Spectator 3:43
DMVU - Breaking off the Pieces (that keep me intact) 5:14
DMVU - My Foolish Heart 3:55
DMVU - The Sun and The Shadow 4:13
DMVU - Easy Does It 2:31
DMVU - Hiding 3:14
DMVU - Inside My Dreams I Dream 5:19
DMVU - Old Growth 3:04
DMVU - Stillness 3:06
DMVU - Moon Mask 3:58
DMVU - Creature Comforts (the return of pocket rocks) 2:34
DMVU - Dorothy 6:45
Denver, Colorado's DMVU returns to Dome of Doom for the release of Praise Be Delusion or, The Ripple. The 15-track, hour long LP is scheduled to land across DSPs and limited edition cassette February 26, 2021. DMVU joined Dome of Doom in 2020 with the release of Two Pairs of Eyes, Gazing Only at Each Other and quickly follows with another album of blissful and contemplative electronic music. Praise Be Delusion or, The Ripple is an important continuation of the sound DMVU established last year. A spellbinding piece of art that exemplifies the phoenix rising moment of an artist pushing beyond genre expectation associated with past works.
Where the title for Two Pairs of Eyes, Gazing Only at Each Other was pulled from Charlie Kaufman's 2008 drama film Synecdoche, New York, DMVU's new record finds another pocket of the arts with its influence point: the revered culture of the '50s and '60s beat poet movement. DMVU adds, "The title, Praise Be Delusion, or The Ripple, is actually from one of my all time favorite poems by Jack Kerouac, entitled "Mexico City Blues (228th Chorus)" or "Praised Be Man." This poem in particular means a lot to me in a sense that I spent a lot of my life traveling alone. You learn a lot when you are on the road by yourself, about people and places. You learn a lot about yourself as well. The title is kind of an ode to the knowledge I've gathered through traveling. Meeting new people and seeing old friends."
DMVU put together Praise Be Delusion or, The Ripple in his basement recording studio located in Denver, initiating many of the tracks from original piano compositions. The oldest material on the LP dates back to 2016, with half of the album captured over the last six months as the pandemic has sunk into every fiber of life. Melancholic moods derived from the chaos of these times played a major part in molding the tonality of the LP, as did heartbreak and many other personal experiences. Praise Be Delusion or, The Ripple has the most live piano takes on any of his records and involves a high degree of micro-layering that unfolds with close inspection. Radio show samples sourced from the '40s and '50s are sprinkled all over, providing an entirely different dimension to the record. Futuristic synth tones, lush drums, and cascading rolls of piano lines dominate the majority of the album, with these rustic radio samples adding a tethered portal that hops back and forth from the past to the present.
Dynamic layering of keys, piano, wind instruments, hand clapping, drums, vocal additives, and many other sounds enlarge the panoramic essence of Praise Be Delusion or, The Ripple, paced with medium and slower paced BPMs to showcase an abundance of nuance and feeling. Crescendos are built out of detailed song structures and elongated passages of solo lines, mainly paved by a sense of journey that permeates deeply into the records' tonality. Praise Be Delusion or, The Ripple features Detroit, Michigan's Nebr, The Tiger, adding socially conscious lyrical interjection on the striking piece "The Spectator." A close friend of DMVU's, Nebr, The Tiger adds a poetic depth that's parallel in form with the sentiment of the music. When thinking of the musical influences that dominated his life while shaping Praise Be Delusion or, The Ripple, DMVU cites Aphex Twin, James Blake, JPEGMAFIA, Squarepusher, Bon Iver, and Flying Lotus. Those more immediate include his good friend Phil, who created the album art for both Praise Be Delusion and Two Pairs of Eyes, piano mentor and also friends of many years, Chance, his parents, and his cat Dude.
Listen Online
.
Dead Link? (REPORT 1-5 Days) сообщить о ссылке на перезалив
Download for free music.